Root River (MN) – Chatfield to Whalan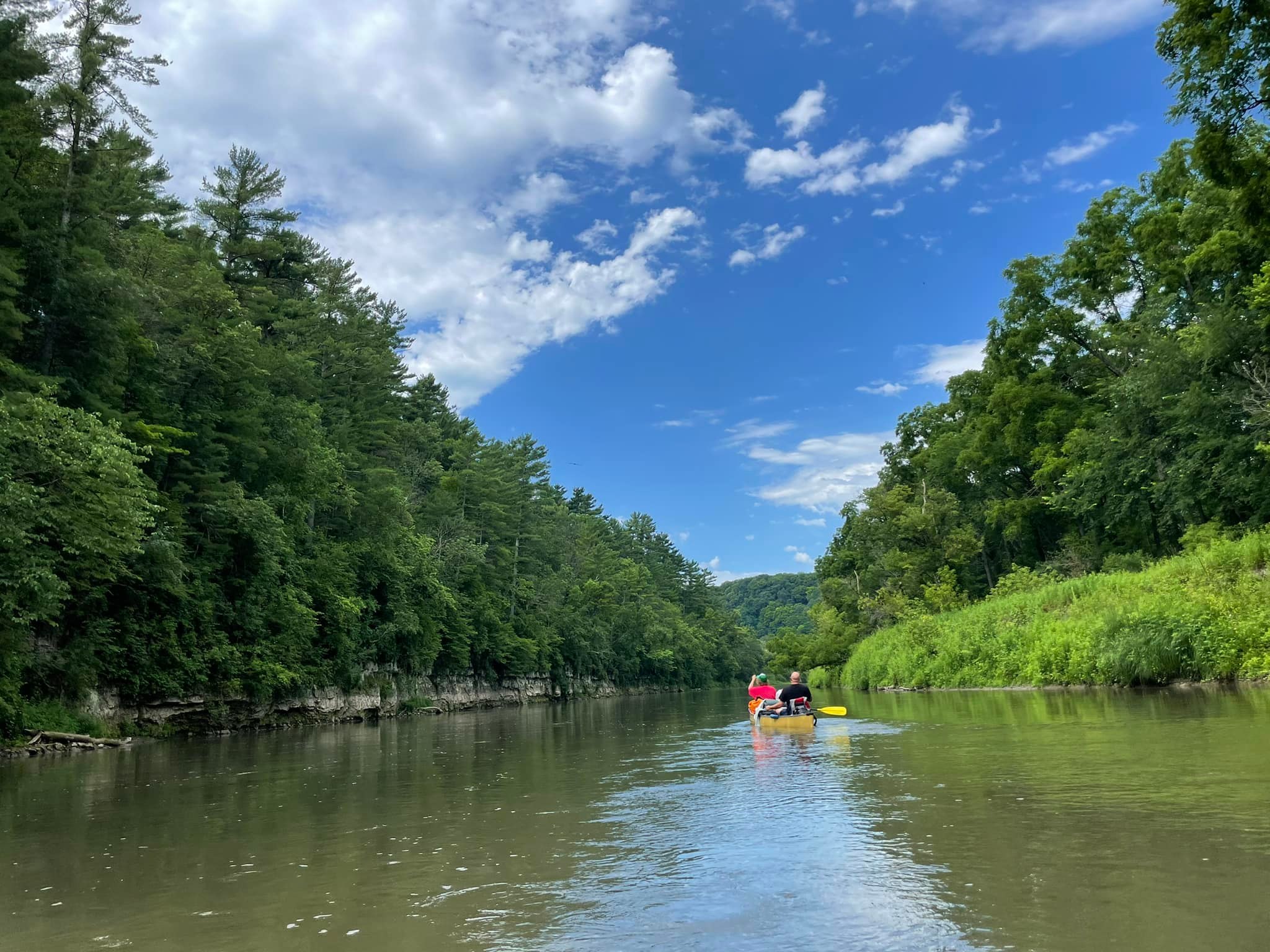 Put-in:
Parsley Bridge Canoe Access
Take-out:
Root River Access and Picnic Area (Hwy 16)
Time:
Three-day camping trip
Our group tends to stick to rivers in Northern Wisconsin but this year we decided on something new. Since these waters were unknown to all of us, there was a decent effort put into researching it.
Parsley Bridge Canoe Access offers a paved parking lot with a gravel turnaround loop and restrooms. The trail to the river is narrow and has a gradual gradient, only a few canoes at a time can be loaded. Additionally, a car can't be driven down to the landing at Parsley Bridge. The drive from Parsley to the takeout on Hwy 16 is around 20 minutes and is all county highway driving.
First Day went pretty well. We pushed off around 3pm and were expecting to have a short 2.5 hour paddle. It was easy paddling in calm waters. The river bottom is sand and rock and the visibility is low, quite muddy-colored. Parts of the river are lined with beautiful sandstone bluffs full of swallow's nests. Soaring bald eagles were spotted almost immediately. A lot of wildflowers line the banks of the river. Some of it may be Wild Parsnip so be aware.
When we came to where the first option for our first night camp was to be (Pilot Mound Campsites) we found it to be completely overgrown. Most of us paddled right by it since the sign was facing toward land and we didn't spot a viable access point as the banks are pretty high all along the river. The second Pilot Mound site was the same- completely overgrown and no access point like we're used to on the Namekagon and Flambeau rivers, and the sign was turned away from the river. There was a picnic table at the second site but it looked unsafe for use. This was a real bummer since part of the research we'd done included contacting the MN DNR about the sites and there was no mention that they were no longer maintained. Perhaps if we had a grass cutting tool among our gear, we could've done our own maintenance and stayed. We decided to paddle on and hoped for an island to set up camp. We paddled about an hour and a half further before spotting some accessible property. After investigating the spot and deciding there was no way this was state-owned, we decided to take a path to find a property owner. He granted us full access and even brought us a firepit to use. He completely turned our evening around and was so accommodating we briefly considered staying there another night!
He ended up being an avid paddler himself and gave us several tips about the river. He said that the state had stopped maintaining the campsites about six years ago (2016) because of budget cuts and suggested that we stay at the Moen Bridge Landing for our final night because the rest of the sites would be the same as Pilot Mound.
Once we pushed off to begin Middle Day, we had a fun day of paddling and stopping for swimming. Easy paddling once again, some shallow spots of scraping but never for too long a distance. Spotted more bald eagles, belted kingfishers, turkey vultures, and swallows. The river continued to be murky and sleepers were nearly impossible to spot. Heeding Don, the landowner's advice, we got to Moen Bridge Landing and began unloading gear. This spot was not ideal- river access is a steep sandstone gravel ramp, eroded in spots, leading to a sandstone gravel lot. There was a handicap-accessible porta-potty and some mowed green space where we were able to pitch tents. There was no garbage receptacle so whoever had been there last left their trash exposed in a heap against the outside of the porta-potty. We bagged it so we didn't have to look at or smell it. Some positives about staying there though- across the river was a dairy farm with rolling hills so the scenery wasn't lacking. There was little light pollution so the stars were sparkling. There was little traffic but it seemed the cars that did go by were speeding. Other than the few cars and a little dairy farm noise, it was a pretty quiet spot for the night.
Since we had a lot more paddling for Last Day than planned, we pushed off earlier than normal. The paddle started out just as the last two days, calm with wildlife (birds and a quick glimpse of a leaping whitetail) and exposed stone bluffs. We were shocked to find that both Whispering Pines campsites had been maintained and would've been camp-able. Note though, that neither site had signage. We could see a post where a sign had likely been but otherwise there was nothing. The banks are still high here but the access point is clear. Not much to tie boats to so might have to haul them onto shore for overnight. A picnic table, fire pit, and pit toilet are (supposed to be) available at all the sites mentioned.
There was more scraping and sleepers as well as riffles on this leg. Fun little chutes and easily navigable. Just as you hit the bend before the Power Plant Campsites, there's an old abandoned power plant, towering on the right side of the river. An island splits the river briefly and there are slight rapids on both sides. Most of us went left of the island but there were no issues on either side. We didn't stop to check out the Power Plant campsites but only one of them appeared camp-able. After these sites, the landscape becomes more flat farmland and a lot of it is posted.
Just after the Hwy 250 bridge there was an influx of tubers. Other than Don, we hadn't seen a single person or group on the river up until this point. We'd end up sharing the river with tubers along with a few kayakers all the way to the takeout.
The takeout at Root River Access and Picnic Area (Hwy 16) allowed us to line up all six vessels to unload. There is a gravel parking lot with a restroom and a turnaround loop closer to the river for easier loading/unloading. It seemed to be a pretty popular takeout point probably because the next takeout is after the hazard of debris left in the river from demolition of an old bridge.
We'll likely do this trip again and hopefully the river clears up after a few years. Paddling time was as expected even in spots with strong headwinds from the west. It was a bummer that we didn't know about the sites but we're glad we found safe places to stay. We had a blast and the Root River treated us well. The landscapes and scenery of the Root River will be hard to beat.
Addendum from the Webmaster:
Thanks Brianne C for the review! WisconsinRiverTrips.com is always very appreciative of guest reviews, and if you the reader is ever interested in submitting one, you can use this online form.
Root River Overview from the Webmaster:
For more information on the North Branch, see this overview map.
Chatfield Access to North/Middle Branch Confluence: 4.5 miles.
North/Middle Branch Confluence to Parsley Bridge/Hwy 52: 3.8 miles.
Parsley Bridge to Hwy 16 Picnic Area: 27.9 miles.

Parsley Bridge/Hwy 52 to Moen's Bridge/Hwy 21: 14.4 miles.
Moen's Bridge/Hwy 21 to Hwy 250: 11.6 miles.
Hwy 250 to Confluence with the South Branch: 1.1 miles.
Confluence with the South Branch to Hwy 16 Picnic Area: 0.8 miles.

Hwy 16 Picnic Area to Whalan: 3.4 miles.
Whalan to Peterson: 10.9 miles.
Peterson to Hwy 16: 2.4 miles.
Hwy 16 to Rushford: 3.0 miles
Rushford to Cushion Peak: 13.4 miles.
Cushion Peak to Hwy 76: 3.4 miles.
Hwy 76 to South Fork Confluence: 1.8 miles.
South Fork Confluence to Hwy 25: 5.2 miles.
Hwy 25 to Hwy 16: 6.2 miles.
Hwy 16 to Hwy 26:  2.7 miles.  A generic and straight stretch of the root river with fast current. Scenery isn't elite, but there are a few nice river bluffs.
Hwy 26 to Mouth on Mississippi: 3.3 miles.
Trip Map
Overview Map
Photos
How did your trip turn out?

Questions or comments?

Feel free to leave your feedback.