Koshkonong Creek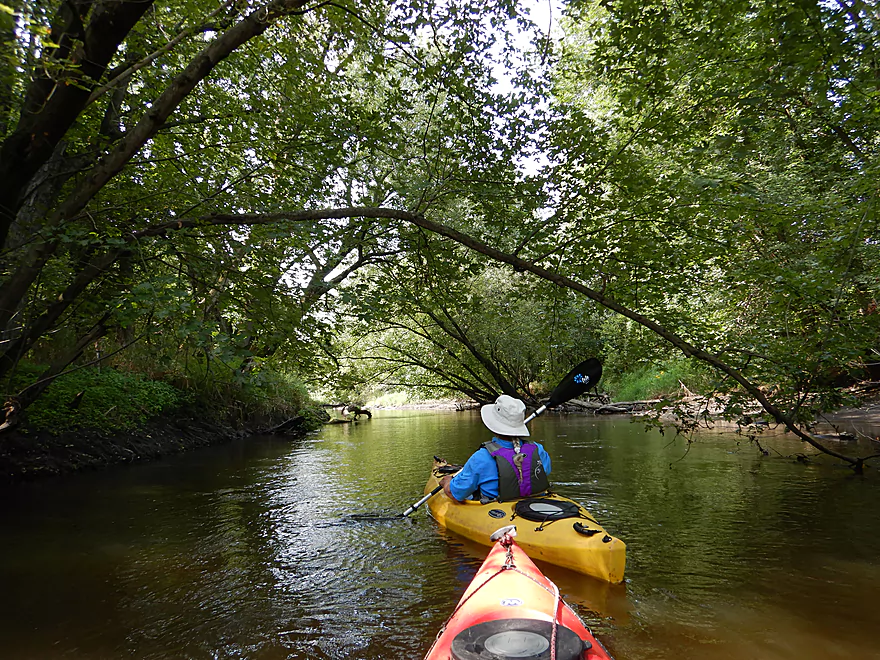 Put-in:
Jefferson Street, Cambridge
We launched northwest of Jefferson Street.  At first it seemed like a good access option with a mowed pull-off, but it was surprisingly muddy and a steep ledge by the water was obscured by tall grass.  When lowering my boat down, it escaped and I had to wade in the muck up to my knees and extend my paddle all the way out to barely reel it in.
The first 0.7 miles flow through the center of Cambridge and honestly wasn't that impressive.  Just upstream from Hwy 18, the local sanitation plant empties its effluent into the creek and for much of the trip I smelled a faint hybrid smell of chlorine and laundry detergent.  The creek here is extremely muddy and flanked by a thick canopy of trees, reminding me somewhat of the Baraboo River.  Also like the Boo, it had a big logjam that was an absolute pain to get through.  Being constantly barked at by a local dog added insult to injury.
After the Main Street bridge, the creek undergoes one of its many transformations.  Here it was actually quite nice with some light riffles and an attractive bankside by Westside Park which included a "Wild Thing" sculpture.  We then paddled under the W. Water Street bridge where most paddlers put in (we saw at least 6 paddlers start their trip here).  In hindsight I wish we had started our trip here as well.  It's a nicer launch area, and the preceding 0.7 miles aren't worth it (especially with the logjam).
The next two miles represent another transformation and a weak part of the creek.  Here the channel is 3-4′ deep, the water murky with a lot of deadfall, and mud is everywhere.  This is one of the muddiest creeks I've done.  The banks are a bit messy and filled with tall invasive cow grasses.  On the plus side, large overhanging branches create the occasional canopy effect.  Nearby, the popular CamRock Bike trail parallels the creek and crosses it three times with attractive bridges.
About two miles downstream from Cambridge, the creek transforms dramatically again.  The trees, deadfall and much of the mud recede and are replaced by a neat and tidy wetgrass marsh, which was my favorite part of the creek.  Here there are a few small riffles and the substrate is filled with clay (at one point Cambridge was a popular center for pottery).  This two mile marshy section was the result of the Rockdale dam which was removed in 2003 and since then the creek has slowly returned to its scenic and natural state.  Along the banks are three popular county parks which provide some creek access but are mostly trailheads for the local bike trail.
Rockdale itself is a neat little subsection with a few attractive bridges and some fun riffles that flow where the old dam used to be.  Many paddlers take out here by the Rockdale Bar & Grill where there appears to be a public (and popular) landing.  During our trip an outdoor country music concert was being held within view (and earshot) of the creek. 
Following Rockdale, the woods return.  This was a mediocre section with some deadfall and mud but it wasn't as bad as upstream wooded sections (likely because the Rockdale dam historically acted as a sediment trap).  It certainly felt like a bottomland paddle, although the trees didn't crowd and overhang the banks like upstream sections.  At times large "mudbars" appeared along the flat creek banks.  What was unique for this stretch were the multiple fens that fed the creek.  Quite muddy, I wonder if these were originally drumlin springs that over the years had been buried by excess sediment.
In summary, this was a mediocre trip that just had a bit too much mud for more my taste.  It still has its nice spots and if you're a local, I highly recommend checking it out.  But honestly, relative to every other Dane County paddle I've done…this has been the weakest, and many of the nearby paddles are much more interesting.  In fact we scouted Red Cedar Lake State Natural Area after the trip and even that (a lake) to me seemed more interesting to paddle.  However many paddlers do find the Koshkonong to be an enjoyable experience so use your own judgment.
Put-in:
We launched northwest of the Jefferson Street (aka Hwy 18) bridge.  At first this seemed like a good access option…with a nice mowed trail leading to the water.  But there is a steep muddy bank that has to be negotiated.  It would have been better to launch directly under the bridge (over the rock fill).  The other concern is that it is not completely clear that this area is public.  With this in mind we actually left the car on nearby Simonson Street instead.
In hindsight, we should have launched a half mile downstream and southeast of W. Water Street where practically every other paddler starts instead.  Here most park directly northeast of the W. Water Street bridge, and launch downstream/east of the bridge by either the dock or the dirt ramp.  Muddy…but really, every access option on the Koskkonong is muddy.
Take-out:
We took out at Hoopen Road.  There is a conveniently mowed path southwest of the bridge leading to the water which paddlers use.  However, the bank here is somewhat muddy and the river a bit deep, which makes disembarking tricky but doable.  Note, northwest of the bridge there are no trespassing signs, so don't take out there.
Most paddlers will actually take out 2.8 miles upstream at Rockdale instead.  There is a public launch just west of the Rockdale Bar & Grill and parking is available on Water Street just east of the bridge.  You would have to drag your boat 400′ up a hill to reach the parking lot, but it is over mowed grass.  It is not 100% clear who owns the actual take-out (either the Dane County Park Service or the local bar), but it is used by the public and the park signage indicates it is a public landing.
According to Morrall River Films, there is a public park southwest of the E. Adams Street bridge where you can take out as well (but I forgot to scout this, so can't say for sure).
Shuttle Information:
I'm not aware of any local livery services.
Otherwise this is a pretty manageable bike shuttle at 5.3 miles and with few hills.  Much of this can be done on CamRock Trail, which is a nice bike path (and popular).  Here is a map.
Hazards, Logjams and Current:
The creek has mediocre current with a few riffles, but nothing I would classify as rapids.
Historically the creek has suffered from logjams.  But in recent years, Capitol Water Trails has done an amazing job of clearing out deadfall from the creek.  You'll still have to dodge a few limbs here and there, but for the most part the creek is pretty navigable.  The only exception is a large logjam just downstream from Jefferson Street that you will likely have to portage.  But this is easy to avoid…just launch downstream by Water Street and you don't have to worry about this.  It should be noted that despite the cleanup work, many trees are barely hanging onto their banks…and after a big rain storm or big flood, could easily result in new unexpected portages.
River Depth and Navigability:
Koshkonong Creek has no gauge unfortunately.  For a rough depth guide, I'll use the Turtle Creek Gauge by Clinton.
0-100 CFS:  A typical summer depth.  I doubt the creek ever gets too low to run.
101-150 CFS:  Slightly above normal, but fine for paddling.  We went at 120 CFS which was an ok depth.
151-200 CFS:  Likely doable but the creek probably starts to lose some appeal at this point.
201-300 CFS:  Likely a high depth, which I don't think would be as enjoyable.
301+ CFS:  Very high conditions.  I suggest staying off the creek at this point as circumnavigating some of the downed trees could be difficult.
Noteworthy Wildlife:
Some ducks, two geese munching on pond weeds, a muskrat, kingfishers, a great white egret, a blue heron, a green heron, some clamshells and a lot of beaver evidence.  For trees, it was mostly  ash, silver maple, basswood, and bur oak, with some white and red oak later in the trip.  Some willow and boxelder, with invasive buckthorn here and there.
Alternate Koshkonong Creek Creek Trips:
Upstream of Hwy 73:  I highly suspect logjams are too much of an issue this far upstream.
Hwy 73 to Hwy O:  4.3 miles.  Highly channelized, this still might be an interesting prospect, but maybe 4-6 logjams. 
Hwy O to Britzke Road:  2.8 miles.  An interesting prospect with a few small boulder gardens in low water, but likely has at least several logjams.  Hwy O seems like an ok bridge access.
Britzke Road to Jefferson Street:  1.6 miles.  The channel here is artificially straightened and likely uninteresting.
Jefferson Street to Hoopen Road:  6.7 miles.  Mediocre trip.  Reviewed here.

Jefferson Street to W. Water Street:  0.7 miles.  Short stretch through the city of Cambridge.  Heavily wooded and very muddy.  Here there was a large downed tree that will require a portage.
W. Water Street to Rockdale Bar & Grill:  3.1 miles.  The first mile+ isn't as interesting with messy woods, deadfall and mud.  However the marshy section over the old flowage is very nice.
Rockdale to Hoopen Road:  2.8 miles.  A mediocre stretch.  Ok, but nothing special.  Likely some jams.

Hoopen Road to Hwy A:  3.0 miles.  Likely many major logjams (perhaps 6-8).  Unless cleaned up, I wouldn't attempt this.
Hwy A to Aarback Road:  3.6 miles.  Likely many major logjams (perhaps 3-4).  Would not recommend.
Aarback Road to Rockdale Road:  3.4 miles.  More open than previous section but likely still at least 2-4 major logjams.
Rockdale Road to Hwy 106:  6.1 miles.  A hideous section with countless logjams.  Paddling author Rick Kark gave up on a trip here.
Hwy 106 to Mouth/Lake Koshkonong:  3.5 miles.  A flood bottom paddle, this likely has many logjams.
Mouth to Bingham Road Boat Ramp:  1.6 miles.  Some additional paddling on Lake Koshkonong to reach a take-out.  For other landings on Lake Koshkonong see my landings map.
Trip Map
Overview Map
Video
Photos
7 Comments to "Koshkonong Creek"
How did your trip turn out?

Questions or comments?

Feel free to leave your feedback.