La Crosse River – West Salem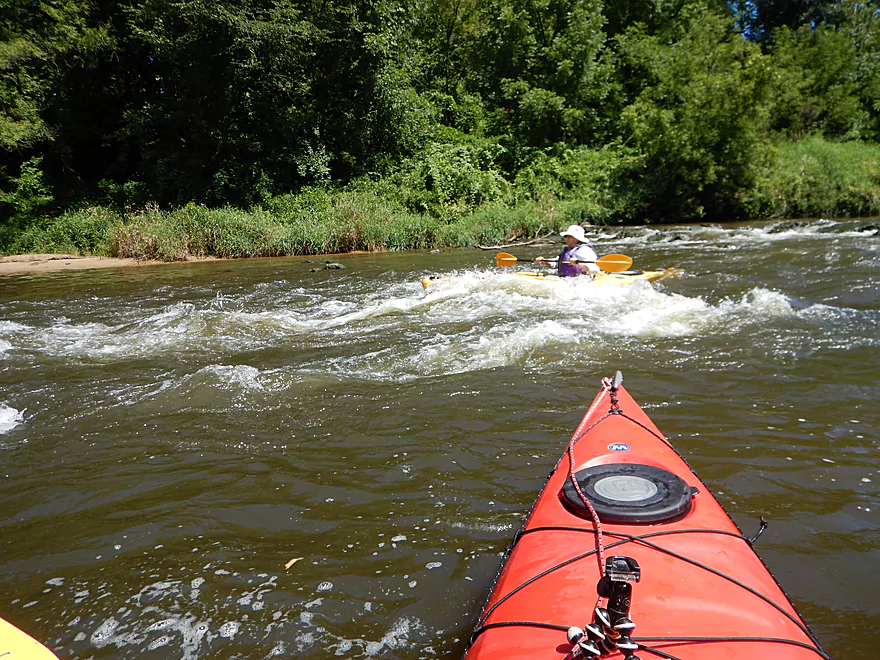 Put-in:
Public landing by Hwy 108
Take-out:
Veterans Memorial Campground
Time:
2 hours 58 minutes (2 hours is more typical)
All in all this was a pleasant trip with moderate current, heavily wooded banks, a lot of sand, and, despite being in the city limits of West Salem, relatively few houses. 
The highlight of the trip was the 2-3 sets of rapids you will encounter.  The first is below the dam but above the put-in, so you'll have to paddle upstream a bit to check them out.  The second set of rapids is a class 2 chute just below the Hwy M bridge where a former dam was (mostly) removed.  Very fun, but be careful when running this.  The last set is just below Old County Road B, and these are easy class 1 rapids.  Beyond this there are multiple riffles which add nice character to the river.  Tragically, the best rapids are undoubtedly buried under Neshonoc Lake which flows over steep gradient.
Another highlight was the occasional geological features.  Not many, but nice.  There is a rock wall just upstream of the put-in, several rock walls are well hidden under thick foliage, and there is a really cool underwater rock shelf (see photos).  Maybe a half mile after the class 2 rapids, a small creek empties onto a nice sandbar.  If you follow the creek a bit upstream, you'll have a chance to check out a very nice coulee surrounded by some majestic white pines. Basically, a very scenic but small sandstone box canyon (see photos). 
On the flip side, there were several detractions for this leg of the La Crosse.  The first unpleasant surprise was how murky the water was.  I had previously paddled two upstream sections in which the water clarity was amazing, but here it was muddy with a lot of particulate matter floating on top.  There were still some nice clear areas, but these were more the exception than the norm.  This might be less of an issue later in the season and after a dry spell with no rain.
The other issue is that the river does have some human pollution.  You'll see tires, beer cans and other forms of garbage.  Not frequent, but it is unsightly and the river would benefit from a cleanup.  Maybe halfway into the trip, you'll start to smell "laundry detergent" which will continue for much of the trip.  There is an outlet on the east bank which I suspect comes from the local sanitation plant (and amusingly has been dammed by a paddler to create a small frothy pool).
This stretch is popular because of a local livery and because it's near the city of La Crosse.  I counted ~16 cars at the put-in.  Chances are you'll see several paddling groups on the water, but this never felt like a crowded river.  The few tubers, however, were noisy and drunk–as usual.  You can probably have the river to yourself if you go early in the morning.  In general, westerly flowing rivers should be paddled AM instead of PM anyway to avoid direct sunlight which desaturates the scenery.
This is a pleasant and scenic stretch of the river, but nothing exotic.  The early parts felt like floodplain forests and the banks were a bit overgrown with weeds.  The wooded banks are attractive but a tad repetitive after a while.
While this is the most popular section of the La Crosse based on my experience, and was nice, honestly the three other sections I have done I liked better (granted this is subjective).  The section from Fort McCoy to Sparta had the best water clarity.  The section through Sparta was and still is my favorite, with great ledges, rapids, wildflowers and clear sandy water.  Then lastly, I had paddled a section through downtown La Crosse which didn't have great water clarity, but had amazing vistas of the surrounding river bluffs.  Interestingly enough, this last downstream section was narrower (maybe 50′ wide on average) compared to the West Salem section (maybe 70-100′ wide on average).  If you're new to the La Crosse, I suggest starting in Sparta, but the West Salem stretch is not a bad option if you are looking for a new adventure.
Put-in:
Great put-in just southwest of Hwy 108.  This is very popular with fishermen, paddlers, and tubers.  The parking is good and doesn't cost anything.  No outhouse is present, but nearby Swarthout Park does have facilities.
I do not think you can put in above the dam as a direct portage doesn't seem practical.
Take-out:
The most popular take-out for this stretch is located at the south end of Veterans Memorial Campground.  The canoe ramp is actually well marked from the water with a little white sign and comes after a small boulder garden.  This is a little trickier to find from land, but should be easy if you follow the map.  You cannot leave your car at the ramp though, and must leave it 700′ to the north in one of the local parking lots.  Despite all this (and the sheer number of campers), this is not a bad access option and outhouses are available.
Shuttle Information:
This would be a pretty easy bike shuttle at 3.1 miles with few hills.  Most paddlers, however, prefer to use the local livery located on Hwy 108 by the put-in.  You can schedule a shuttle or rental with LaCrosse Canoe Outfitters at 1-608-317-7942.
Hazards and Logjams:
There are no logjams.  Well, there are leaning branches and strainers in fast current, but alert paddlers will avoid these easily enough. 
This segment has multiple riffles and a few rapids.  The only one that is noteworthy is where the former dam was removed just downstream from the Hwy M bridge.  This is at least class 2 and you do want to be careful not to hit any rocks going sideways.  Portaging this puppy doesn't seem practical, but if you aim carefully you shouldn't have a problem finding a safe path through and this is pretty fun.
River Depth, Navigability and Current:
Fairly moderate current that falls at a gradient of ~3′ per mile with occasional riffles. 
The downstream gauge was at 300 CFS which is pretty typical for summer. This stretch is surprisingly deep relative to the upstream sections and I doubt it ever gets too low to run.  For reference, the gauge drops to 250 CFS only a few times a year on average.  Above 450 CFS, the river might get too ugly to be enjoyable.  A couple times a year the river will get above 1000 CFS.
Noteworthy Wildlife:
The highlight was seeing a mink (second week in a row!) on the river at the put-in.  Other "Pokémon" discoveries included an eagle, blue heron, many kingfishers, many jumping fish (weird), clams, a turtle, damselflies and many humans.
Detailed Overview
Fort McCoy - Upper Leg:  The river looks nice here, but this goes through the heart of military training grounds so is not likely suitable for paddling.
Fort McCoy - Lower Leg:  (2.5 miles)  This is technically part of a Federal Army base.  You can navigate the river, but only if you register with the Fort McCoy Natural Resources department and follow their rules.

Squaw Lake Dam to Buckley Ct:  (1.4 miles)  Very interesting prospect with clear water, one small waterfall, and a few nice Robinson Creek style cliffs.
Buckley Ct to Hwy BB:  (1.1 miles)  An ok prospect.

Hwy BB to Sparta:  (7.1 miles)

Hwy BB to Angelo Wayside:  (5.3 miles)  Clean sandy water with little development.  Ends in a small flowage.
Angelo Wayside to Sparta/Fisherman's Park:  (3.3 miles)  Not as interesting...but ok.  River widens and has more of a messy feel with more hardwoods.

Sparta to Hammer Road Bridge:  (5.4 miles)

Fisherman's Park to Ben Bikin Park:  (0.4 miles)  Nice open stretch though Sparta with some rocks.
Ben Bikin Park to Amundson Park:  (3.5 miles)  The most popular and best section on the entire river.  Very nice with clean water and good current.
Amundson Park to Hammer Road:  (1.5 miles)  A more wooded stretch.  Includes a fun ledge to kayak over.

Hammer Road Bridge to Hwy J:  (5.6 miles)  Likely a good prospect...but I bet it isn't as nice as upstream sections.
Hwy J to 17th Ave:  (6.8 miles)  Mediocre prospect.  Upstream sections are likely nicer.
17th Ave to Neshonoc Lake Dam:  (6.6 miles)  Half the trip goes through a slow flowage.  The lake is nice as far as lakes go...but I suspect this is a relatively weak section.
Neshonoc Lake Dam to Veterans Memorial County Park:  (4.2 miles)  An ok paddle with some fun ledges and a nice box canyon.
Veterans Memorial County Park to Holiday Heights Launch:  (8.4 miles)

Veterans Memorial County Park to N. Kinney Coulee Road/I90 Bridge:  (2.6 miles)  A mediocre stretch with some sandbars and Class 1 rapids under I90, but mostly generic eroded banks that have been heavily straightened by the railroad.  Road noise here is pretty loud.
N. Kinney Coulee Road to Holiday Heights Launch:  (5.8 miles)  A good leg.  Features include fast current, some sandbars, mostly open banks with some nice bluff vistas, and a few really nice sandbanks.  Be mindful of strainers in fast current.

Holiday Heights Launch to Mouth on Mississippi:  (6.9 miles) 

Holiday Heights Launch to Hwy B/Earl's Landing:  (2.2 miles)  A more wooded stretch with mediocre floodplain trees.  Train traffic is heavy in this area and chances are good you'll paddle under a moving train.
Hwy B/Earl's Landing to Mouth/Riverside Park:  (4.7 miles)  This is a good leg.  It's more open and has really nice views of the distant bluffs.
Trip Map
Overview Map
Video
Photos
How did your trip turn out?

Questions or comments?

Feel free to leave your feedback.