Peshtigo River – Burnt Bridge Landing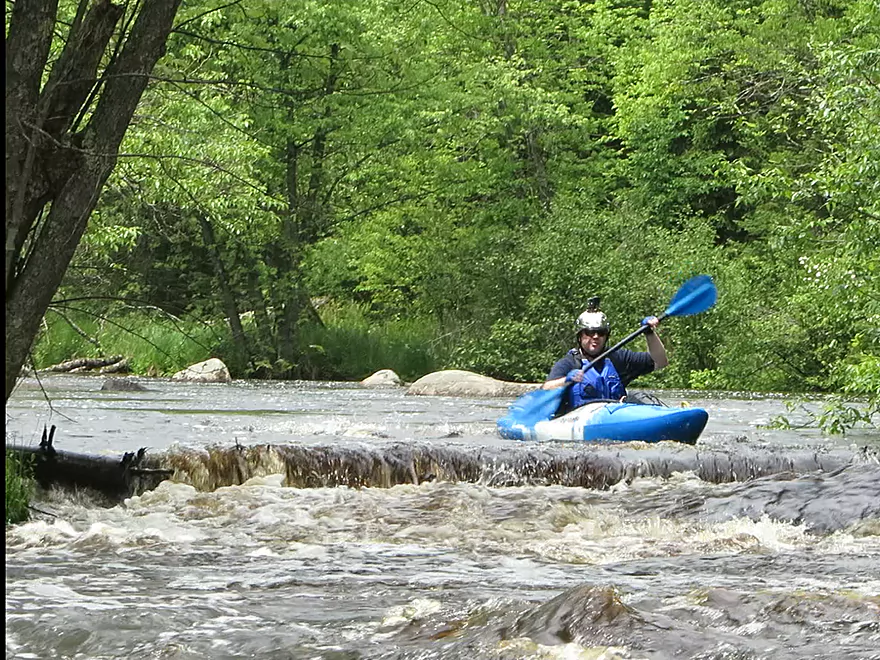 Put-in:
Burnt Bridge Landing
Take-out:
Burton Wells Bridge
The Peshtigo is a famous whitewater river located in northeast Wisconsin.  This particular trip was paddled form Burnt Bridge to Goodman Park.  While it didn't have the famous Class 4 rapids of the lower section that rafters like, it was certainly faster and rougher than the previous upstream section from CCC bridge, and it was certainly a lot of fun.
The flow rate for this trip was above normal, which covered up the boulder beds somewhat and obscured water clarity.  Tannins in the water decreased clarity also, since this is not a muddy river.  Much of the shoreline is undeveloped, with no homes in the upper section and only 5-6 homes in the lower section (but these weren't very obtrusive).  The scenery was quite nice, but a bit monotonous and not the reason to do this trip. 
The highlight was, of course, the rapids.  In the entire 6.5-mile stretch, there were very few flatwater sections and they weren't very long.  Many of the rocky rapids, including Class 2's and two Class 3's, were pleasantly padded by the higher water levels.  This, however, is not a stretch for beginners, as there is a serious danger of capsizing in the rapids and losing your boat (which may or may not have happened twice on this trip).  
The most serious rapids on this section are those located near the beginning of the trip and are known as the Michigan Rapids.  This is a long stretch running for almost a quarter of a mile and starts with a Class 3 section that we portaged.  This required only a short, medium difficult hike, but we had to climb over rocks, mud, and over and around a lot of trees.  The middle section of Michigan Rapids was Class 2, which we ran.  The last section was another Class 3 stretch, which we also ran.  Without a full skirt, however, you would get very wet here, as the standing waves were very high.
Put-in:
The put-in is at Burnt Bridge (National Forest Road 2134).  This is not a developed launch, but it is accessible with some pull-off space, but not a lot.
Take-out:
Okay take-out at the Goodman Park Road bridge that is undeveloped but close to the water.
Shuttle Information:
Peshtigo River Camping in Crivitz does do shuttles, but they won't go this far upstream.  Nobody else that I know of services the upper Peshtigo, which is unfortunate.
The bike shuttle would be 6.9 miles and is relatively level, but consists of rough gravel.
Hazards and Logjams:
There were no log jams nor deadfall in the river, but there were a couple of leaners.  The river probably gets high enough and fast enough to clear out most obstructions.
There are, of course, rapids on this trip.  The biggest is Michigan Rapids, which appears in the first mile and has a couple of Class 3 stretches, one of which we portaged.  A second Class 3 appears near the end of the trip at the Dells Rapids.  There are also maybe four Class 1's and two to three Class 3's (almost all within the last mile).  I thought these were very easy, but judge for yourself based on the photos.  The river, of course, can get much higher and these rapids may become trickier then.
River Depth, Navigability and Current:
The trip was done at 820 CFS, which was relatively high but not at flood stage.  You could stand in the rapids but your paddle would never touch bottom when paddling.  Occasionally you would hit boulders in the rapids but not in the main parts.
Noteworthy Wildlife:
Mergansers and wood ducks.  That is it!
Local Diversions and History:
Cathedral Pines State Natural Area – 300-year old white pines and hemlocks were saved by the wife of, ironically, the president of a logging company.  Located near Lakewood in Oconto County in the Chequamegon-Nicolet National Forest, this is a view of northern Wisconsin the way it used to be.  A trail provides access.  Here is a news video clip of the area.
Peshtigo River History – The book, The Wisconsin Pine Lands of Cornell University, describes how early loggers dynamited rapids and rocks on the Peshtigo River to make log transport easier.  The author mentions so-called "improvements" on many Wisconsin rivers:  the building of dams to control water flow (invariably at waterfalls), impoundments, dredging, and removal of "obstructions" (i.e., narrows, dells, and scenic rock formations).  Here is an excellent overview of the Peshtigo, with speculation on how much of the river was "improved" with dynamite:  http://www.silvercliff.com/rafting/rafting2.html
Special Thanks from Webmaster:
Thanks, Corbin, for the review!  Note, WisconsinRiverTrips.com does indeed accept guest water trail reviews which are very much welcome.  There is a formal trip review submission form here.  But if that is intimidating, you can just send me (Aaron) an email and we can work out the details. 
Other Peshtigo Trips from Webmaster:
Upstream of Big Joe Landing & Campground:  I just don't know enough about this section to speculate.
Big Joe Landing to CCC Bridge:  (9.5 miles)  Supposedly this was a popular section at one time, but might have more log jams now.  Just one easy Class 1 rapids.
CCC Bridge to Burnt Bridge:  (9.8 miles)  A great prospect with perhaps 7 Class 2's but nothing bigger.  A good choice for non-hardcore whitewater paddlers.
Burnt Bridge to Burton Wells:  (6.6 miles)  A good prospect with at least 2 Class 3's and 3 Class 2's .  Reviewed here.
Burton Wells to Goodman Park:  (6.4 miles)  One Class 3 and 3 Class 2's.  Strong Falls is a Class 4 and should be portaged.
Goodman Park to McClintock County Park:  (4.1 miles)  A few Class 1 rapids.
McClintock County Park to Farm Dam Public Landing/Otter Creek:  (5.2 miles)  One Class 2.
Farm Dam to WPS Landing #12 (Landing 12 Lane):  (5.1 miles)  Two Class 4's, 4 Class 3's and 5 Class 2's.  This is THE premier whitewater section in perhaps the entire state.  Only professional whitewater paddlers should attempt this section (raft trips are a good kayak alternative to explore this stretch).
Landing 12 to Caldron Falls Dam/Boat Landing Road 8:  (5.4 miles)  Mostly flowage paddling.  Other access options available.
Caldron Falls Dam to High Falls Road Dam:  (8.4 miles)  Mostly flowage paddling, but some nice outcrops.  Many alternate landings.
High Falls Dam to Johnson Falls Dam:  (4.2 miles)  Mostly flowage paddling.
Johnson Falls Dam to Kirby Road Access:  (6.0 miles)  Good section with many Class 1 and Class rapids.
Kirby Road Access to Shaffer Road:  (2.5 miles)  Small end of the sandstone flowage.
Shaffer Road to Sandstone Dam:  (1.3 miles)  Wide end of the sandstone flowage.
Sandstone Flowage Dam to Crivitz (Don Brooks Park):  (5.1 miles)  Some minor rapids with now flowage paddling.
Crivitz to Hwy 141:  (4.0 miles)
Hwy 141 to Hwy P:  (11.7 miles)  River is wide here and much slower.
Hwy P to Ferndale Road:  (8.3 miles)
Ferndale to Hwy E:  (3.2 miles)
Hwy E to Bagley Road Landing (Bagley Flowage):  (3.3 miles)  Some flowage paddling.  There are actually two landings on the east side of the flowage you can use.
Bagley Road Landing to Hwy 64:  (1.7 miles)  Not recommended.  Mostly a flowage paddle with a dam portage (don't know how difficult this is).
Hwy 64 to Peshtigo/Dam:  (3.9 miles)  Boring flowage paddling.  Am not sure about the dam as take-out.  Scout before running.
Peshtigo/Dam to Peshtigo Harbor Wildlife Area:  (12.2 miles)  Finally, a non-flowage section.  This marks the end of the Peshtigo as it joins Lake Michigan.
References from Webmaster:
Trip Map
Overview Map
Video
Photos
2 Comments to "Peshtigo River – Burnt Bridge Landing"
How did your trip turn out?

Questions or comments?

Feel free to leave your feedback.