Fish Lake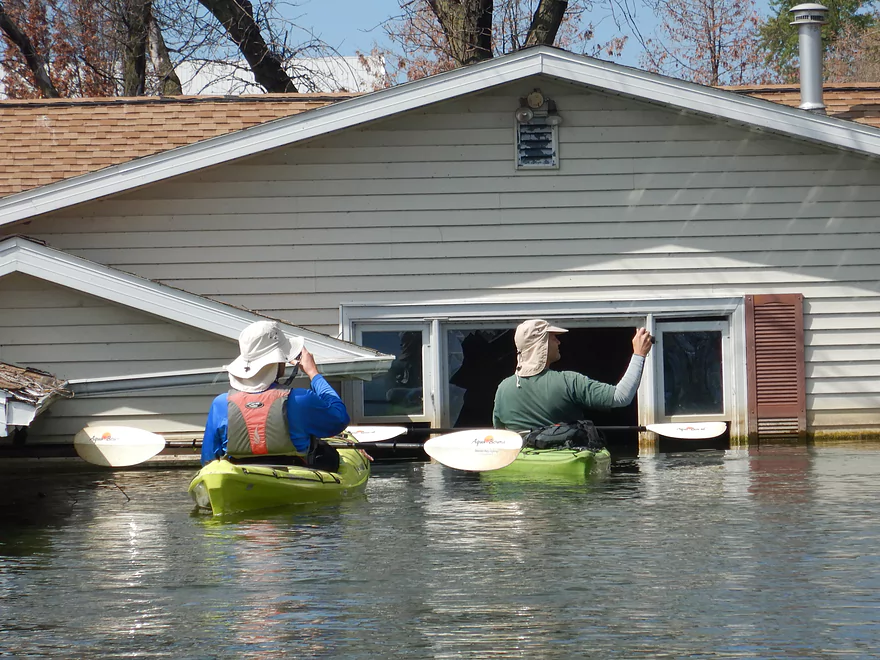 Date:
September 5th, 2021
Put-in:
Lussier County Park
Take-out:
Lussier County Park
Distance:
3.5 miles (roundtrip)
Time:
2 hours (to do the loop)
Fish Lake located in northwest Dane County has become "permanently flooded" and offers a unique paddling experience.  Situated near the Terminal Moraine, it's sandwiched between hills of glacial gravel and sand.  The lake itself was a glacial pothole created during the last Ice Age and is known as a "seepage lake"–something that is rare in southern Wisconsin.  When groundwater levels rise, it simply seeps into the lake.
What's interesting is that Fish Lake has always flooded going back to the 80's.  But things got really bad in the early 2000's and in recent years the lake has achieved record levels (roughly 12′ over normal!).  The problem is that Fish Lake doesn't have a natural outlet.  While it is remarkably close to the Wisconsin River and Spring Creek, it's not connected to either, so excess rainwater has no outlet. On top of that, it's much larger neighbor Crystal Lake has endured serious flooding which seeps underground into Fish Lake.  There was actually a proposal to create a drainage system from Fish Lake into the Wisconsin River, but concerns about polluting the Lower Wisconsin put this plan on hold.
The day started on a frustrating note as the main access road to the lake from the south (Fish Lake Rd) was partly underwater and closed to vehicle traffic.  We then backtracked and tried driving up Mussen Rd, but that too was closed because of flooding.  So in the end we had to drive all the way around to the north side, where finally we were able to access the lake via Schoepp Rd (a detour of over 20 minutes).
It was a good thing Lussier County Park was a decent put-in, as there really aren't any other good access locations left on the lake.  The trip plan was to do a counter-clockwise loop around the lake hugging the shoreline (where most of the interesting sights were). 
The trip started along the northern shoreline which was fairly generic, but it did feature some fun flooded woods to paddle through.  The trees have not survived the deep water though.  What you immediately notice about Fish Lake is the broad band of dead trees that completely rings the lake and "adjacent" Mud Lake.
At one point in time, Fish Lake was separated from Mud Lake via "Fish Lake Road", but that's no longer true and that road is now deep under water.  This is somewhat unfortunate as Mud Lake was infamous for its manure pollution, so the merging likely degraded Fish Lake.  But it now does make accessing Mud Lake easier, which we did. 
Mud Lake used to be famous for its lotus beds which were filled with white flowers on long stalks in midsummer.  Sadly most of these are now killed off, but there does remain a cool colony along the north end of Mud Lake near Barta Rd.  The surface of their leaves has a waxy, micro texture that causes water to bead up like mercury…really cool!
After that, we cut back south into Fish Lake again.  Along the western shore was the trip highlight in seven underwater houses and a partially submerged silo.  Note, when I'm referring to a flooded house, I'm not saying their basements were just filled in or the water creeped a few inches up the siding.  But rather there was significant flooding which reached over the top of the doors.  It was quite the experience paddling around houses that had been family homes for decades
Note, very recently one of the locals strung up a half mile long "pool noodle fence" around a significant part of Fish Lake, which includes the flooded road, adjacent park, and some of the homes.  While I certainly don't advise getting close to or touching any of the flooded structures, there's no evidence this fence over publicly navigable waters was sanctioned by the DNR, so you should be fine to cross over it.  The idea of a fence to "protect" the homes is a bit odd as they are beyond redemption.  Plus I think Dane County owns most of them anyway via a special buyout program.
Right south of the flooded homes is what's left of Fish Lake County Park a once nice little park with many large trees (now all dead).  We did have a picnic in the shelter, but it was eating snacks from our kayaks under the shelter roof.  You could even paddle through the entryway of the outhouse. 
After that, we headed to the south end of the lake.  Here we were able to paddle over and through a flooded road, a playground, bar, and the remnants of a recently demolished dance hall.  Heading east along the south shore we saw a number of flooded mobile homes, which to me seemed perplexing…as couldn't those have been moved to higher ground?
The east side of the lake, despite not having any flooded homes, was actually one of the nicer parts of the trip.  This featured flooded woods with huge 60-80 year old cottonwoods.  Now they're all dead, but it was still a treat to paddle through this giant tree graveyard.  The eastern shore is just a third of a mile from Crystal Lake, and it wouldn't shock me if in the future the two lakes merged.
We completed the loop by ending the trip at Lussier County Park.  In summary this was a surprisingly nice paddle.  It's not often that you can paddle through flooded forests and past flooded homes.  The lake is also surprisingly photogenic and if you're into kayak photography, this is a great spot for it.
Noteworthy Wildlife:
Sights included a great white egret, a green heron, cormorants, and 16 painted turtles on a log.  The highlight was a teenage great blue heron that caught and ate a fish right in front us.
Put-in / Take-out:
Lussier County Park:  This park is partly submerged by flooding, but is still a good access.  Despite being a Dane County Park, I didn't see any requirement for a Dane County park sticker.  Three parking lots are on site as well as an outhouse.  Most launch from the west end of the park, but you can also launch at the east end (close to the entrance by Schoepp Rd).  Warning, you can't drive to this launch from the south (Fish Lake Rd or Mussen Rd) as those roads are flooded.  So you will need to drive in from the north via Schoepp Rd.
Alternate Put-ins:  I'm not sure there really are any alternate launch options.  Maybe you could do a shoulder launch from Barta Rd or where Fish Lake Rd goes under water…but I seem to recall Barta Rd having "No Parking" signs by it.
Hazards, Logjams and Current:
Wind:  Be mindful of forecasted wind speed and direction.
Waves:  Decent waves can accumulate on the downwind side of the lake when it is windy.  Powerboat waves aren't a problem because the lake is protected by no-wake restrictions.
Open Water:  Fish Lake is about a mile long (diameter).  Always assume when doing open water paddles that your boat could capsize and you would have to swim to shore.  If you don't think you could make that swim, then you shouldn't be that far from shore.
River Depth and Navigability:
The trip was done at 868.9′ above Sea Level per a local gauge.
< 857′:  I believe these used to be typical lake levels.
857-860′:  Minor flooding.  I believe 860′ was last seen on Dec 10th, 2020.
860-865′:  Serious flooding. 
865-870′:  Major flooding and the new normal.  I believe levels peaked at over 869′ this year, but have fallen almost a half foot in the past month.
Trip Map
Photos
8 Comments to "Fish Lake"
How did your trip turn out?

Questions or comments?

Feel free to leave your feedback.