Sugar River – White Crossing Road to Valley Road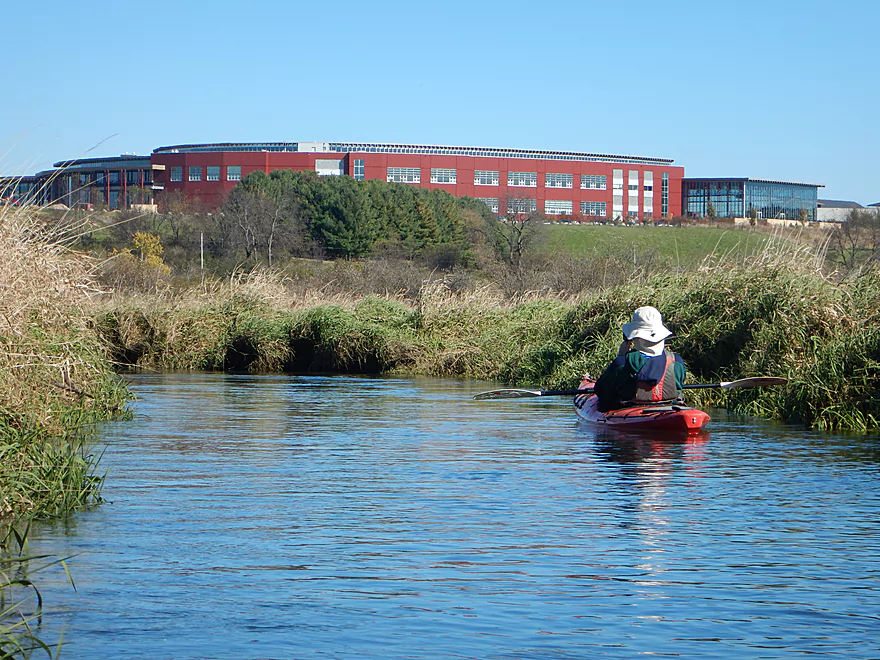 Put-in:
White Crossing Road
This leg of the Sugar River is located far upstream by the city of Verona.  Historically the upper Sugar hasn't seen a lot of paddling traffic, but in recent years
Capitol Water Trails
and the
Upper Sugar River Watershed Association
have done a lot of terrific work here, and the upper leg of the river is now a viable water trail.
We started the trip at White Crossing Road where the current was atypically strong because of the high water.  Another reason the current was so brisk was that the channel had been artificially straightened and deepened (4-5′ on average).  This was an open segment with few trees and massive amounts of reed canary grass (an invasive species) growing on the banks.
Early in the trip, the river quickly swelled from several side tributaries, some of which seemed spring fed (this is moraine country which could explain the springs).  Atop a large moraine to the east was the Epic Systems campus…well just a shadow of it.  This is a humongous development and was a predominant visual landmark for much of the trip.
The trip was going great until we came to a pair of logjams.  Because of the high water we were able to "hop" over (barely).   Portaging would be doable, but a bit tricky because of the tall grass and deep channel.
We soon passed an obscure landing off Bobcat Lane and then under Hwy 151.  Bobcat Lane must be a staging point for cleanup efforts, as downstream from here we saw a lot of evidence of cleanup work and we never again had to deal with logjams.
Past Hwy 151 we entered the Sugar River Wetlands, which in contrast to the first half of the trip was very twisty and windy.  The current slowed somewhat as well, which made the trip slightly less enjoyable.
Close to Sugar River Road, we saw a partially collapsed bridge overhanging a Class 1 chute.  At first this seemed intimidating as we were worried the rapids would push us into the collapsed end of the bridge.  But there was enough room to sneak though and in hindsight this was pretty easy.  Following the rapids was a nice clear area of the river where we could see the soft sandy bottom sculpted with wave marks.  The Upper Sugar was surprisingly clear and could be exceptionally so at lower flow rates.
We concluded the trip at Valley Road where there is a fantastic new public canoe landing.  In conclusion, this was a surprisingly nice trip but had nothing super exotic going for it.  This is best suited for southwest Madison paddlers looking for a new adventure.  Everybody else will likely be better served by paddling other stretches of the Sugar (such as the Paoli section) which would be more entertaining.
Noteworthy Wildlife:
Not much typical for this time of year.  We did hear some cranes and saw a great blue heron.  The highlight was the huge and noisy blackbird flocks that were staging for migration. 
Epic Systems:

A predominant visual for much of the trip was Epic Systems.  From its huge red Learning Center to its 150+ window barn, it was quite the sight from the river.  Being curious we decided to check out the campus after the trip.  It turned out they had public self-guided tours which we partook in.  What we saw was jaw dropping…and not something you typically associate with a corporate office complex.  Sights included:
Countless art pieces and sculptures
An indoor tree house (there is also an outdoor treehouse)
Themed conference rooms

There was the Ice Palace (with "penguins" and "icicles" on the ceiling)
The "Boathouse and Cavey Den" had a canoe under the conference table and a nice lake shot on the wall
There was the "Farm" with all sorts of farm paraphernalia..
And much more…

A castle with a drawbridge
An Indiana Jones themed hall
In one location a waterfall ran over the building
A huge tunnel complex connected the buildings and the parking lots
The campus was so large it even had its own bus system
A giant 8′ rocking horse ("Rocking Ralph") with a sign…not prohibiting its use…but suggesting a spotter
Next to some stairs were slides (these were fast too)
A space theme was common…in one hallway there was a giant moon
The "Deep Space Auditorium" seats 11,400, is underground, and has a prairie growing on top of it
If you are interested in a tour, just park in the main visitor parking lot under the solar panels (those giant wind turbines you see on Hwy 12…those are Epic's).  After you park, proceed to the main reception area in the Andromeda building where you can request a self-guided tour.  The available times are usually 3-5 M-F, and 10-3 on weekends.  You will be asked to sign in, wear a name tag, and to follow their rules.  Then you are given a self-guided tour sheet.  The easiest tour (and what we did) is the "Prairie Campus Tour", but the "Farm Campus", "Central Park Campus" and the "Wizard Academy" seem interesting and it was unfortunate we didn't have time for those.
Click here for a video tour of the campus (well a very small part).
Put-in:
The put-in was at White Crossing Road which was a good bridge access option.
Alternatively, you could put in 0.4 miles upstream at Hwy PD.  But this may not be a good idea as this leg would be narrow and may have 1-2 logjams.
You could also put in 2.1 miles downstream by Bobcat Lane.  This would skip the three logjams we faced, but you would miss out on a nicer part of the trip.
Take-out:
We took out at Valley Road which has an excellent public canoe launch (although it is a tad muddy).
Alternatively, you could continue 1.8 miles downstream to Riverside Road.  But this extra leg may include several tricky logjams and fences (if you know more about this, let me know).
Shuttle & Rental Information:
One bike shuttle option would be to take Military Ridge Trail which mostly parallels the river.  This would stretch 5.7 miles and require 135′ of climbing.  The surface is crushed limestone and a state trail pass would be required.
Another bike shuttle option would be to take Hwy G.  This actually would be shorter than the state trail (4.5 miles) and be completely paved.  But as a trade-off would require more hill climbing (249′ vs 135′).
Hazards, Logjams and Current:
Fences:  None!
Rapids:  Almost none.  There is a partially collapsed bridge by Sugar River Road which overhung a strong Class 1 chute, but this was fairly straight forward to run. 
Current:  In low water, this will be a slow river.  In high water, the artificially straightened parts of the river can be pretty quick.
Logjams:  There are no logjams below Bobcat Lane.  Above Bobcat Lane, there are three noteworthy logjams that I was able to hop over (not easily) because of the high water.  Portaging would be possible, but the channel is annoyingly deep by these jams.  Lower flow rates may reveal new logjams.
River Depth and Navigability:
This stretch does have a local river gauge.  We did the trip at 161 CFS.
0-20 CFS.  A traditional fall average.  The section above Bobcat Lane may be a bit small to run.  Several logjams may appear at these low depths.  Clarity should be excellent.
21-50 CFS:  A traditional summer average.  Because this is a deep creek, I would think that this entire leg should still be navigable.
51-90 CFS:  An above average depth.  Quite doable.
91-130 CFS:  A high average.  Quite doable.
131-170 CFS:  A very high average.  You should be able to hop over some of the logjams. 
171-200 CFS:  Still navigable. 
201-300 CFS:  Some banks might overflow at this level.
301+ CFS:  Perhaps too high for enjoyable paddling.  I'm not sure.
Detailed Overview
Upstream of Hwy PD:  Likely too many logjams.
Hwy PD to White Crossing Road:  (0.4 miles)  Mostly straight and likely channelized.  Perhaps a few logjams.  Could be a tight fit during low water.
White Crossing Road to Valley Road:  (4.9 miles)

White Crossing Road to Bobcat Lane:  (2.2 miles)  Open, straight and channelized…this is a simple but pleasant paddle with frequent vistas of Epic Systems.  There are a few logjams here that can be hopped over in high water.
Bobcat Lane to Valley Road:  (2.7 miles)  Slower, twistier and more wild than the upstream section, but less interesting.  No noteworthy logjams.

Note from Wade at Uppersugar.org:  "The fence has been redesigned to be more paddling friendly. Both sections of the fencing now have a gap with vertically hanging PVC pipes that boats can pass through. It's my understanding that this has worked well, but if you go down the river and have a different experience, please let me know."

Riverside Road to Hwy 69:  (1.6 miles)  There were fences and logjams here, but I think they have been cleared out.

Hwy 69 to Hwy A:  (7.7 miles)

Hwy 69 to Paoli (

Montrose Town Hall)

:  (3.5 miles)  Fantastic section.

Paoli

to Hwy A:  (4.2 miles)  Good section….but not as scenic as the previous leg.

Hwy A to Belleville Park: (6.6 miles) Trip starts nice but becomes less interesting at the end by Belleville where the river is impounded by a dam.
Belleville Park to Exeter Park:   (4.8 miles)  Nice paddle with scenic put-in and take-out.  Highlights include a few sand and gravel bars and an attractive wooded section with good current.

Exeter Park to Hwy X:  (5.4 miles)  A good prospect.

Hwy X to Hwy C (Attica):  (5.0 miles)  A mediocre prospect.  Maybe 4 logjams.

Hwy C to Hwy EE:  (6.4 miles)  A mediocre prospect.  Maybe 5-9 logjams.

Hwy EE to

Albany

Boat Ramp:

  (2.5 miles)  A weak prospect because of the lake paddling.

Albany

Boat Ramp to Decatur

Albany

Road:

  (2.9 miles)  A weak prospect.

Decatur

Albany

Road to Decatur Park:

  (4.5 miles)  A weak prospect with some flowage paddling.

Decatur Park to Hwy F:  (2.2 miles)  Good prospect.

Hwy F to Clarence Bridge Park:  (4.6 miles)  Good prospect with an exposed rock outcrop.

Clarence Bridge Park to Hwy T:  (5.9 miles)  A good prospect.

Hwy T to W. Beloit Newark Road:  (1.9 miles)  A good prospect.

W. Beloit Newark Road to Nelson Road Boat Ramp:  (4.6 miles)  Avon Bottoms Wildlife Area is probably nice but perhaps some downed trees to negotiate.

Nelson Road Boat Ramp to Haas Road:  (6.6 miles)  Good prospect.

Haas Road to North Street:  (4.1 miles)  Good prospect.

North Street to Harrison Road:  (5.0 miles)  Good prospect which ends at the Pecatonica River.
Trip Map
Overview Map
Video
Photos
2 Comments to "Sugar River – White Crossing Road to Valley Road"
How did your trip turn out?

Questions or comments?

Feel free to leave your feedback.