Mukwonago River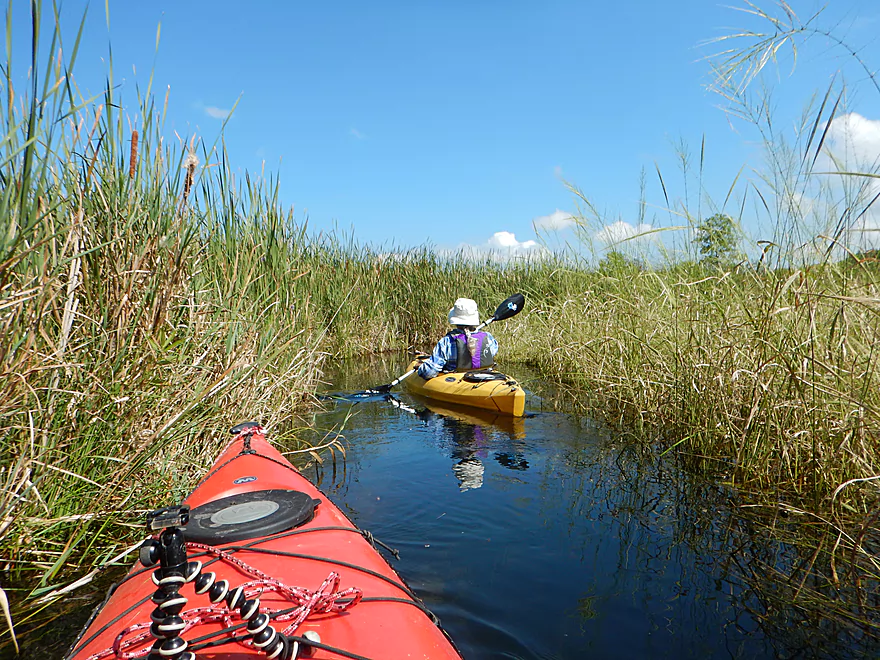 Put-in:
Rainbow Springs Golf Resort Road
This is a great wetland paddle located southwest of Waukesha and known for its clear water, diverse plant life, and unique fens.  Despite its close proximity to the greater Milwaukee area, the watershed is relatively undeveloped and is considered one of the biological gems of the state.
The most logical put-in is at the old Rainbow Springs Golf Course access road off Hwy LO.  In 2008, after the golf course went bankrupt, the
DNR acquired the property
and opened it to the public as part of the Kettle Moraine State Forest.  You can't drive up to the resort or river anymore, but there is a public parking lot at the road entrance where you can park and then drag your boat 400′ to the river.
The first part of the trip is very scenic.  Here the creek is narrow, intimate, and flanked by many shrubs that hug the river.  The water clarity is fantastic and one of the highlights of the trip.  You'll be pushed along by a good current that is never too pushy (there are a few fun riffles on this stretch).
Another trip highlight are the many calcareous fens and seeps you'll see along the banks.  Most are small but attractive, with cold, clear water oozing out of glacial pebble mounds.  In several of the fens abundant wildflowers grew, including some unique species uncommon in the rest of the state.
After maybe two miles the river picks up speed and the channel broadens.  The substrate loses its silt and takes on more sand and gravel.  You'll paddle past the remnants of the old golf course, which isn't overly noticeable…minus the many golf balls you'll see in the water.  Much of the river was altered here to accommodate the resort, but the
DNR has been working
to restore the channel to its natural state (which includes the
removal of seven culverts
that paddlers previously had to portage).
Despite being relatively close to large urban centers, there is actually very little human impact on the river.  We did see two other groups of paddlers and a few houses…but that was it.  No other homes, farms, or industry, which was very welcome.
If you would prefer to do a short 2.4-mile trip, you can take out early at Beulah Road, which in hindsight we perhaps should have done…
After Beulah Road, the shrubs recede and the river opens up into a large cattail marsh.  My first impression of the marsh was very positive.  The river kept a good pace within a narrow channel through the marsh (which is atypical for wetland paddles).  The depth here was very deep (4-5′ on average) but you could see perfectly down to the bottom.  On occasion wild rice would creep in, funneling us through corridors flanked by the tall plants.
Then an ominous sign occurred.  A kayaking family we passed earlier passed us again, but this time going upstream.  According to them the channel ahead was completely blocked with rice.  They were upset and not happy about having to paddle against the current and backtrack to their car.   Concerned, we still pressed on as we didn't have a car at Beulah Road to backtrack to. 
About a mile prior to the take-out, the channel completely filled in with wild rice.  The current, which previously was booking along, mysteriously vanished, and without a map it would have been super easy to get lost in here.  The wild rice was kind of like the compies in Jurassic Park.  At first they're quite cute and you're amused when they get close and surround you.  But then they get too close…
Luckily I did have a map with a GPS and we were roughly able to push our way for a mile through the wild rice to the take-out.  This was very strenuous and not recommended for most paddlers.  It was hard to even move a paddle with all the rice clawing at us, and frequently we had to pull ourselves along by grabbing the plants…all the while not being 100% sure that we were on the right channel–or any channel at all. 
What I'm trying to convey is that you don't want to recreate this experience.  Now, we did do our trip in late August when the rice is the thickest, but the rice might not be an issue if you go in the spring (or even early summer).  If you do the second part of this trip, definitely bring a map and GPS.  I suspect the wild rice will continue to grow exponentially and will be even more of an issue in the future.  Part of the problem is the dam in Mukwonago which creates a flowage and backs up the water in the marsh.  As the water slows, wild rice can multiply, which further slows the water, which further allows more wild rice to grow, etc…  Ideally the dam would be removed, but that isn't likely.
This was a five star trip prior to our wild rice fiasco, but don't be dissuaded by what we experienced.  Either just do the first part of the trip, or do the main marsh when the rice has died back.  This is still an exceptional stream and a great paddle…at least before the channel gets lost in the wild rice.
Put-in:
Just south of Hwy LO is the old Rainbow Springs Golf Course driveway.  Although the road is closed now, there is a public parking lot at the entrance where you can then drag your boat 400′ south to the old bridge.  This is a good access option with free parking but no outhouse. 
Take-out:
There is a pull-off southwest of the Hwy I bridge that provides very good access.
Shuttle Information:
Relatively easy bike shuttle.  A few hills, but only 2.9 miles.
Hazards and Logjams:
There are a few low limbs and  a low bridge to duck under, but nothing too concerning.  During high water these might require portages, which shouldn't be too difficult.
The main problem is getting lost or hemmed in by wild rice.  This is not an issue prior to Beulah Road but is a serious obstacle for a mile stretch just prior to Hwy I.  Here are your practical options:
Not doing Beulah Road to Hwy I (a shame, as this is a scenic marsh)
Going only when the rice has died back (i.e., spring)
Bringing a GPS with satellite images (most are not up-to-date though)
Going when the water is higher
Do not use a sit-on-top kayak or a canoe…long, skinny kayaks cut through the wild rice the best
If you attempt this, keep in mind that cattails can't grow in deeper water whereas the wild rice can, which clues you somewhat where to go.
Don't underestimate the wild rice!  There was actually a case a few years ago in which a paddler got lost in these fields and had to call 911 from his boat.
River Depth, Navigability and Current:
This trip was done at 29 CFS per a local gauge.  An average flow rate is perhaps 35 CFS.  19 CFS might be a yearly low and 60 CFS is probably on the higher side.
What is the ideal flow rate?  Good question.  Lower flow rates (under 40 CFS) will allow you to duck under obstructions, of which there are several upstream of Beulah Road, and will highlight the clear water, but high water will allow you to better traverse the rice fields downstream of Beulah Road.
As for current, it was moderate with a few riffles but no rapids.
Noteworthy Wildlife:
Despite the DNR descriptions of plentiful wildlife along the river, we actually didn't see much (just unlucky timing, I guess).  We did see a painted turtle, several small fish, a muskrat house, and a beaver dam. The high quality waters of the Mukwonago are home to over 50 species of fish–an unheard of diversity, even for much larger rivers.  The highlight was a pair of black snakes sunbathing by the put-in.
This was definitely a neat river for plants.  Many unique species grow in the fens, including some rare orchids.  A diverse collection of shrubs grew along the upper portion of the river, whereas the lower portion flowed predominantly through cattails and wild rice.
For more information on why the Mukwonago River is so ecologically unique and to learn more about preservation efforts, check out "Friends of the Mukwonago River".
Mukwonago River Overview:
Lulu Lake State Natural Area West Access to Nature Road:  0.8 miles.  Nice open section of the river that starts with some spectacular springs.  Put-in at the SNA is somewhat speculative.
Nature Road to Eagle Spring Lake ramp:  3.1 miles.  Parking is restricted on Nature Road, so you'll have to leave your car 1600′ to the north at a public pull-off (west one, not the east one).  Otherwise this is a good marsh prospect with a section through the Lulu Lake State Natural Area and the very busy Eagle Spring Lake.
Eagle Spring Lake ramp to Rainbow Springs Golf Resort Road:  1.7 miles.  You must portage a dam at the start and there will be a few downed trees, but this is otherwise an interesting small creek prospect.
Rainbow Springs Golf Resort Road to Beulah Road:  2.4 miles.  Great creek prospect with clear water and little development.  Reviewed here.
Beulah Road to Hwy I:  3.0 miles.  Good shoulder access SE of bridge.  Great prospect…BUT in late summer wild rice can clog the channel, which is a big problem.  Reviewed here.
Hwy I to Indianhead Park:  2.3 miles.  Mostly flowage paddling.  Parts of the channel can completely fill in at times with wild rice.
Indianhead Park to the mouth:  2.5 miles.  Easy to launch below the dam.  A solid prospect with clear water and a wide channel.
Mukwonago mouth to National Ave:  0.6 miles.  A short upstream paddle on the Illinois Fox.  Doable because of the slow current.  Good access at National Ave.
Trip Map
Overview Map
Video
Photos
19 Comments to "Mukwonago River"
How did your trip turn out?

Questions or comments?

Feel free to leave your feedback.