La Crosse River – Veterans Memorial Campground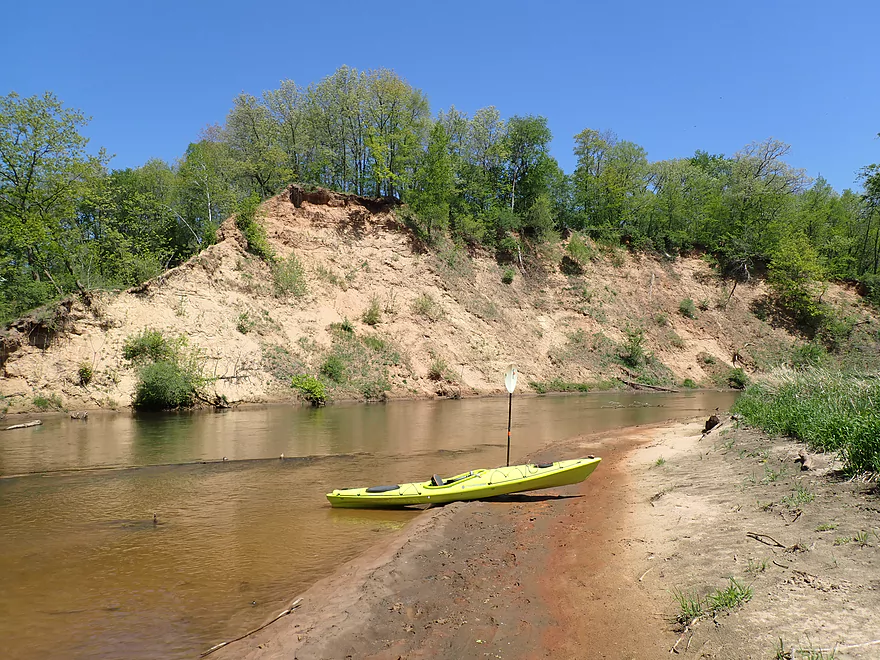 Put-in:
Veterans Memorial Campground
Take-out:
Holiday Heights Park
I started the trip at Veterans Memorial Campground, which was an ok put-in, but I was happy to leave it behind after being screamed at by an irate camper.  The first two miles of the trip weren't that interesting.  Road noise from nearby I-90 was constant, and the banks were scruffy and beat-up.  Much of the channel had been artificially straightened (the railroad is a likely suspect) and this robbed the river of a lot of character.  On the plus side there were a few small but nice sandbars, and I paddled by what looked like an outdoor museum of antique farm equipment.
Things got interesting by the I-90 bridge where there were some fun Class 1 rapids.  A fisherman portaging the rapids here back to his car revealed a sneaky nice public access option by N. Kinney Coulee Road that I didn't know existed.
After I-90, the trip was much more enjoyable.  Here the river started to meander naturally again, and the banks opened up with some nice views of the distant Mississippi bluffs.  Here too there were a few small sandbars.  Not too many were suitable for picnic stops, but some were.
The current moved surprisingly fast and if there had been rocks in the channel, rapids would have been common.  While there were no major logjams, there were ~3 instances where I needed to move my boat through a small gap.  This was difficult, as I was in my long boat and tight, fast turns were required to get past downed logs in fast current.  Strainers can stop a boat from moving but not the current which can swamp a boat.  Treat these carefully and portage if unsure.
The main highlight of the trip were the large sandbanks located along the north shore.  The best and largest is located behind Beverly Drive and was maybe 70′ high.  These single-handedly raised the trip from 3 stars to 3.5.  The other highlight was again the terrific river bluffs in the distance that La Crosse is famous for.  These might provide terrific color in the fall.
I ended the trip at Holiday Heights Landing, which was a good access.  There a paddler taking out ahead of me remarked that one of the strainers was quite difficult to get past and I agreed.  After locking up my boat, I bike shuttled back to the car on the La Crosse River State Trail which was a nice way to end the day.
In summary, I had a good time and this is one of the better legs on the La Crosse.  It's still not an elite trip because of the highway noise, beat-up muddy banks, and scraggly trees.  But the little sandbars, the big sandbanks, and the distant river bluffs were nice touches.  If you're new to La Crosse River paddling, I actually suggest starting with its best leg first (Sparta to Hammer Road) and only do this as on encore.
Noteworthy Wildlife:
Sights included some flopping fish, ducks, lots of geese, two eagles, and one large softshell turtle.  The highlight were the bank swallow nests constructed in the bigger sandbanks.  It was cool seeing the birds fly into and out of the of sand.
Local Diversions:
Grandad Bluff:  This is a must-see/must-visit when you are anywhere close to La Crosse–the view is magnificent.
Put-in:
Veterans Memorial Campground:   This is mostly a good put-in.  It's part of a large campground with a labyrinth of side roads that are easy to get lost on.  You can't park by the launch, but instead must park at "Parking Lot 3" located 600′ to the north (see map).  Outhouses are available.  I guess you need to obey the 10 mph speed limit.  One camper hysterically screamed at me to slow down as if his life was in mortal danger (it wasn't and I wasn't going that fast).
Alternate Put-ins:
Hwy 108 Canoe Ramp:  4.2 miles upstream from my put-in.  This is an ok leg with some fun ledges and a unique box canyon to explore.
N. Kinney Coulee Rd:  2.6 downstream from my put-in.  There appears to be a public fishing access by the I90 bridge which should be a decent access.  You could launch either above or below the rapids.  This isn't a bad put-in idea as the downstream leg (from here) is more interesting than the upstream leg.
Take-out:
Holiday Heights Landing:  This is a relatively new launch and aside from some mud on the ramp, is a pretty good access.  Public parking is available, but there are no outhouses.  Note the road leading to the landing is a bit tricky to find even with GPS.  There is no direct left turn, so you instead must turn right onto an off ramp and then drive under an overpass to reach the park.  It will make sense if you study a satellite map.
Alternate Take-outs:
Earl's Landing/Hwy B:  2.2 miles downstream from my take-out.  This would be a mediocre add-on stretch.  Very wooded with lots of trains.
Shuttle Information:
Bike Shuttle – Holiday Heights Park to Veterans Memorial Campground:  7 miles with 95′ of ascent.  99% of this route is on the La Crosse River State Trail and trail passes will be required, which can be purchased at the campground or any state park.
This shuttle is a treat for kayak-bike shuttlers and is almost a trip unto itself.  The trail despite being crushed limestone is well packed and in pretty good shape (although not as good as asphalt…I wish more bike trails were paved).  The route is scenic and goes through a mix of woods and open marsh.  Bike trails like this are often superior to roads in that they are quieter, lack hills, lack traffic and usually have some cover to protect you from the wind.
Note for bikers,  Google's map directions are not good.  From Holiday Heights, you want to simply hug the left sidewalk until you cross the bridge.  After the bridge, cut left over the grassy embankment to Hwy B.  Soon after you'll encounter a trailhead for the La Crosse River State Trail.  This sidewalk shortcut will shave off a half mile from Google's spaghetti route for bikes.  Near the take-out make sure you don't miss your "off ramp".  The trail will split with a sign pointing to the campground.  Head under the tunnel, pedal another half mile along a rough trail, and then you'll be back at the campground.
Equipment Rentals:  There are a number of kayak/canoe rentals in the La Crosse area.  I'm not sure any will rent or shuttle for this leg to the river, so call to ensure availability.
Hazards, Logjams and Current:
Current:  The current moves along pretty fast especially in the second half of the trip.
Logjams:  There are no logjams, but there is evidence they used to exist.  I suspect a combination of floods and local efforts cleared them out.
Strainers:  There are several strainers in fast current that should be carefully avoided.  I marked the two worst on the trip map.  Portage around any strainer you are not comfortable squeezing past.
Rapids:  There are a few minor riffles.  The only noteworthy rapids are located under the I-90 bridge.  I would rate these as Class 1.
River Depth and Navigability:
Trip Depth: 380 CFS or 3.67′ per the La Crosse River @ La Crosse Gauge
0-300 CFS:  This leg is pretty deep, so I don't think it ever gets too shallow to run.  It is unusual if the gauge dips below 300 CFS.
301-400 CFS:  An average depth and good target range.  Water can be pushy around some strainers.
401-500 CFS:  A high depth.  This is likely navigable but the current will be pushy in spots.
501-600 CFS:  A very high depth.  Not ideal as most sandbars will be underwater.  Current will be very pushy so only suitable for skilled paddlers.
601+ CFS:  Perhaps too high for enjoyable paddling.
Detailed Overview
Fort McCoy - Upper Leg:  The river looks nice here, but this goes through the heart of military training grounds so is not likely suitable for paddling.
Fort McCoy - Lower Leg:  (2.5 miles)  This is technically part of a Federal Army base.  You can navigate the river, but only if you register with the Fort McCoy Natural Resources department and follow their rules.

Squaw Lake Dam to Buckley Ct:  (1.4 miles)  Very interesting prospect with clear water, one small waterfall, and a few nice Robinson Creek style cliffs.
Buckley Ct to Hwy BB:  (1.1 miles)  An ok prospect.

Hwy BB to Sparta:  (7.1 miles)

Hwy BB to Angelo Wayside:  (5.3 miles)  Clean sandy water with little development.  Ends in a small flowage.
Angelo Wayside to Sparta/Fisherman's Park:  (3.3 miles)  Not as interesting...but ok.  River widens and has more of a messy feel with more hardwoods.

Sparta to Hammer Road Bridge:  (5.4 miles)

Fisherman's Park to Ben Bikin Park:  (0.4 miles)  Nice open stretch though Sparta with some rocks.
Ben Bikin Park to Amundson Park:  (3.5 miles)  The most popular and best section on the entire river.  Very nice with clean water and good current.
Amundson Park to Hammer Road:  (1.5 miles)  A more wooded stretch.  Includes a fun ledge to kayak over.

Hammer Road Bridge to Hwy J:  (5.6 miles)  Likely a good prospect...but I bet it isn't as nice as upstream sections.
Hwy J to 17th Ave:  (6.8 miles)  Mediocre prospect.  Upstream sections are likely nicer.
17th Ave to Neshonoc Lake Dam:  (6.6 miles)  Half the trip goes through a slow flowage.  The lake is nice as far as lakes go...but I suspect this is a relatively weak section.
Neshonoc Lake Dam to Veterans Memorial County Park:  (4.2 miles)  An ok paddle with some fun ledges and a nice box canyon.
Veterans Memorial County Park to Holiday Heights Launch:  (8.4 miles)

Veterans Memorial County Park to N. Kinney Coulee Road/I90 Bridge:  (2.6 miles)  A mediocre stretch with some sandbars and Class 1 rapids under I90, but mostly generic eroded banks that have been heavily straightened by the railroad.  Road noise here is pretty loud.
N. Kinney Coulee Road to Holiday Heights Launch:  (5.8 miles)  A good leg.  Features include fast current, some sandbars, mostly open banks with some nice bluff vistas, and a few really nice sandbanks.  Be mindful of strainers in fast current.

Holiday Heights Launch to Mouth on Mississippi:  (6.9 miles) 

Holiday Heights Launch to Hwy B/Earl's Landing:  (2.2 miles)  A more wooded stretch with mediocre floodplain trees.  Train traffic is heavy in this area and chances are good you'll paddle under a moving train.
Hwy B/Earl's Landing to Mouth/Riverside Park:  (4.7 miles)  This is a good leg.  It's more open and has really nice views of the distant bluffs.
Trip Map
Overview Map
Video
Photos
How did your trip turn out?

Questions or comments?

Feel free to leave your feedback.