Baraboo River: Gander Outdoors to Glenville Landing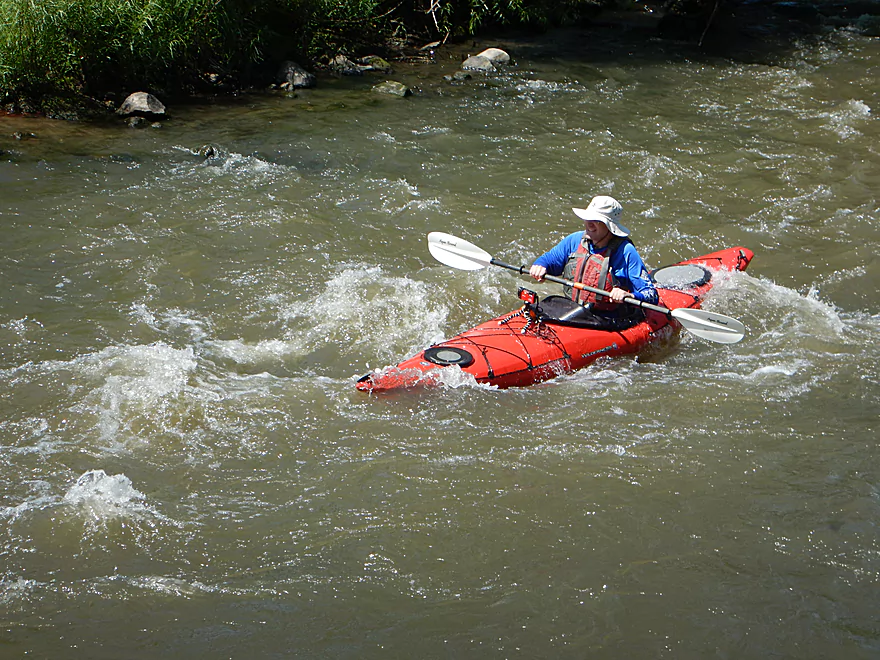 Take-out:
Glenville Landing/Hwy 113
Time:
3 hours 19 minutes (2 hours would be more typical)
One of my 2018 goals was to reboot and redo several of my old reviews that had outdated information, and substandard images and video.  The first in my series of reboots will be the Baraboo River through the city of Baraboo, which is one of the better paddles in southern Wisconsin.
The trip started by the new Gander Outdoors store, where we were able to reach the water via a small path.  The first striking sight was the massive 160′ Hwy 12 bridge which is the tallest in the state.  While majestic, it was also very wasteful.  Just next door is the old Hwy 12 bridge, also four lanes and mostly empty.  Sandwiched between these eight lanes are some great Class 2 rapids that are among the best of the trip.  Expect to get a little wet here.
After a few more minor rapids, the river settles down and flows through a wooded corridor before arriving at Haskins Park.  This is a popular put-in for paddlers and recently a wheelchair accessible boat launch was added.  Sadly this launch was seriously damaged during recent floods and it has been pulled out of the water for repair.  Along the south bank an ice cold "creek" emptied into the river.  Paddling up to it felt like entering a refrigerator and steam rose from the confluence.  It had a strong chlorine smell, yet the sanitation plant was downstream, so I'm not sure what this was.
Shortly after Shaw Street, we paddled by an island where the old Island Woolen Mill Dam once stood.  It is rumored that Frank Lloyd Wright had a hand in designing this.  For pictures of the dam (and others), I highly recommend the online book: "Running Free: The Baraboo Restoration Story".  In 1972, this dam was finally removed.
The river here forms a pronounced Oxbow as it flows by the Ochsner Park & Zoo.  Despite this trip flowing through the heart of Baraboo, you don't see that many buildings.  Much of the shoreline is wooded or part of park property.  Paralleling much of the river is the scenic Baraboo Riverwalk whose highlight is an iron trestle walk bridge just upstream of 2nd Ave.  Another highlight was a scrap metal sculpture of a large bird near Walnut Street.
Soon we heard a roar in the distance and three paddlers who recently passed us dipped below the horizon line.  We had come across the last remnants of the old Oak Street dam.  What remains is an island with rapids on either side.  The south channel is small and has a troublesome strainer, but the main north channel is navigable and has some fun Class 2 rapids…the best of the entire trip.  I thought these were plenty safe, but if you are concerned, you can always scout these easily enough from the Walnut Street bridge before the trip.
Another unique aspect of this trip was Circus World.  Here we paddled past animal barns on our left, under a scenic pedestrian bridge, and past an old circus railroad car on our right.  From the water we could see much of the Big Top Tent where a show was taking place.  Just downstream was a large island where I believe the old Waterworks dam used to be.  Interestingly enough, Circus World really fought to preserve this dam as they felt the flowage substantially added to the aesthetic value to their property.  Ironically enough had this and the other dams been kept, the 2008 flood would have been much worse and Circus World might have been destroyed.
The city was soon left behind and we enjoyed a nice wooded section with many light rapids.  Following Manchester Street we saw some paddlers take out at the Maxwell-Potter Conservancy, which actually is a good access option as this roughly marks the end of the rapids.  From here on the Baraboo loses its exotic nature and goes back to being regular old Boo…a pleasant flood-bottom paddle but nothing special with a lot of mud.
Close to the end of the trip, crystal clear Clark Creek empties into the Baraboo.  What is unique here was the large sand and gravel bar it left behind.  Very scenic.  Just downstream are the remnants of yet another dam…this time the old Linen Mill dam which I believe was the fourth removed.  All that remains is a large abandoned brick building.  At one point in time there was a kayak livery here but that unfortunately went out of business.  This was immediately followed by our take-out at Glenville Landing.
Put-in:
Just west of the Hwy 136 bridge is the new Gander Outdoors store.  You can leave your car in the parking lot and follow either trail to reach the water.  I highly suggest launching from the west trail (closest to the over-sized flag) as that will allow you to run some fun Class 2 rapids.  There is no launch by the water, and you may have to wade up to your ankles in a bit of mud to launch, but IMO it is worth it.
An alternate upstream put-in would be Giese Park which would add 3 miles to the trip.  The park is a great launch site, but starting here means three miles of slow water paddling with no rapids.  Not a horrible section of the Boo with a few small outcrops, but nothing really special.
An alternate downstream put-in would be Haskins Park which would shorten the trip by a half mile.  This is the most popular put-in and an excellent launch…but if you launch here you miss out on the Hwy 136 rapids which were a lot of fun.
Take-out:
We took out at Glenville Landing (Hwy 113) which is a popular and very good canoe launch.  My only minor complaint was the mud on the ramp.
An alternate upstream take-out would be the Maxwell-Potter Conservancy just south of Manchester Street.  This would shorten the trip by 1.1 miles.  For those interested in just the rapids, this is a great take-out because this is pretty much where they die.  For parking, you can leave your car on Hill Street or at the dog park.
Shuttle & Rental Information:
There is a relatively new rental and livery service in "Baraboo Canoe & Kayak Rentals".  They can be reached at 1-608-737-1100.
Otherwise this is a fantastic bike shuttle…perhaps one of best in the state.  Only 4.1 miles, relatively flat, and much of it is along the Ice Age Trail that parallels the river.
Hazards, Logjams and Current:
The current is very fast and will make the trip go pretty quickly.  There are no noteworthy logjams.  Yes, there are a few strainers here and there, but because the river is so wide it is easy to paddle around them.
Most rapids are Class 1, but there are two I would consider to be Class 2.  The first is just upstream of Hwy 136 where an island splits the channel.  The south channel has the stronger rapids but is more fun to run.  The second Class 2 was just upstream of the Walnut Street bridge.  An island splits the channel where the dam used to be.  The south channel is a tricky run because of a strainer at the top.  The north channel is wide open though and contains the funnest and strongest rapids of the trip.
In general, I consider the Baraboo to have great "beginner rapids" well suited for paddlers looking for an introductory whitewater.  But while relatively safe, treat the rapids with respect and make sure to wear a life jacket.
River Depth and Navigability:
We went at 450 CFS per the local depth gauge which was a great depth.  Not too bumpy, but not too pushy and unsafe. 
0-200 CFS:  This would be severe drought-like conditions and likely not an option for kayaking.
201-300 CFS:  Much of this segment I suspect would be navigable but the rapids would be bumpy and may require some wading.
301-400 CFS:  An average summer depth and likely ok for paddling.  A few rapids might be bumpy.
401-600 CFS:  An excellent depth.  Relatively safe and plenty of padding for the rapids.
601-800 CFS:  A high depth and likely doable for paddlers with some experience.
801-1000 CFS:  A much higher depth.  I suspect the river could be pretty pushy at this point, but guest commenter "Gail" noted that she did a trip at 995 CFS and it was great.
1001-1500 CFS:  Very high depth…paddle at your own risk.
1501+ CFS:  This is approaching flood stage.  Likely not appropriate for paddling.
Noteworthy Wildlife:
One deer, a teenage blue heron who was reluctant to fly, several groups of Canada geese, a few mallards, some clams shells, and two turtles.  One turtle appeared to be a map turtle and the other a wood turtle…which I rarely see.
Area Diversions:
Dr. Evermor's Sculpture Garden:  Just south of Baraboo is a very unique sculpture garden open to the public.  The highlight is the "Forevertron" which I believe is the world's largest scrap metal sculpture.
Pewits Nest:  A super scenic area that features a canyon carved out by Skillet Creek.  Parking can fill up and portions of the natural area are restricted, but it is still worth a visit if you haven't seen it before.
Parfrey's Glen:  Another fantastic natural area that is a popular hike.  The highlight is a large moss filled gorge carved out by Parfrey's Glen Creek.
Detailed Overview
Nutmeg Road to Hwy PP:  6.2 miles.  Flows by the historic Elroy-Sparta Trail and is mostly open, but there are a few logjams.  This is a narrow small stretch that will need very high water to be runnable.  There are scenic outcrops on this stretch….maybe 3.
Hwy PP to 2nd Main Street:  1.6 miles.  Maybe 3 logjams.
2nd Main Street to Franklin Street:  0.9  miles.  Maybe 1-2 logjams.  Trip starts at a scenic covered bridge and on Class 1 rapids.
Franklin Street to Hwy 82(South of Lincoln Street):  0.5 miles.  A good stretch that is mostly open and has maybe one outcrop.
Hwy 82(South of Lincoln Street) to Schultz Park:  0.6 miles.  Maybe 2 logjams.
Schultz Park to Hwy 82(South of Snyder Road):  4.0 miles.

Schultz Park to Hwy 82(North of Lumsden Road):  0.6 miles.  One outcrop, one logjam portage and a few tight fits.
Hwy 82(North of Lumsden Road) to Hwy 82(South of Snyder Road):  3.4 miles.  Three outcrops, three significant logjams and several tight fits.  A section with good potential but needs cleanup work.

Hwy 82(South of Snyder Road) to Hwy W:  1.9 miles.  Maybe 2-3 jams…think this is doable though.
Hwy W to Hwy 82/Union Center:  1.3 miles.  Good prospect by the golf course with maybe 2 outcrops.  Maybe 1-2 logjams.
Hwy 82 to Hwy FF Landing/Wonewoc:  7.1 miles.  A great section with one of the largest rock outcrops on the river.
Hwy FF Landing to Wayside Park:  2.9 miles.  There used to be a lot of logjams here.  I think it might be doable…maybe 2-3 major portages.
Wayside Park to Kalepp Road:  4.5 miles.  An uninteresting part of the river with weedy, muddy banks.  But…there are three fantastic sandstone outcrops.
Kalepp Road to N. Dutch Hollow Road:  5.3 miles.  One logjam portage with several "hoppers" and "duckers".  There are some outcrops but most are recessed and away from the river.  Mud and downed trees are a bit unsightly, otherwise a pleasant paddle.
N. Dutch Hollow Road to La Valle:  3.8 miles.  Second best section on the entire river with great rock outcrops.
From La Valle to Lake Redstone:  3.6 miles.  One of the more underrated sections of the Boo, which I really liked.
Lake Redstone to Monument Park/Reedsburg:  9.0 miles.  Supposedly kind of boring, but the logjams should be cleared out.
Monument Park to South Park:  1.4 miles.  Spanning the length of Reedsburg, this should be a nice section mostly free of jams.
South Park to Golf Course Road:  4.7 miles.  Maybe 4-5 logjams.  Probably one too many.  Should be 1-2 small sandstone outcrops.  Golf Course Road might not be a good access.
Golf Course Road to Hwy 136(by Beth Road):  3.6 miles.  Maybe a few jams.  Likely mostly floodplain paddling and probably uninteresting.
Hwy 136(by Beth Road) to Hwy 136(by Ableman's Gorge):  6.0 miles.  Maybe some outcrops at the end, but mostly uninteresting paddling I suspect.  Likely several serious logjams with difficult portages because of the high muddy banks.
Hwy 136(by Ableman's Gorge) to North Freedom Boat Launch:  8.2 miles.

Hwy 136(by Ableman's Gorge) to Rock Springs Boat Launch/Firemen's Park:  1.3 miles.  One of the most scenic parts of the entire Baraboo River.  Highlights include a steep gorge, riverside boulders and scenic outcrops.
Rock Springs Boat Launch to North Freedom Boat Launch:  7.1 miles.  This is a nice paddle, but with some downed trees to dodge and one to portage.  Highlights include historic railroad bridges, scenic outcrops, and seeing the railroad museum from the river.

North Freedom Boat Launch to Giese Park:  7.4 miles. 


North Freedom Boat Launch to Kohlmeyer Road:  4.3 miles.  Stretch starts nice as the river naturally curves and has many shade trees.  There is a scenic long outcrop after Seeley Creek.  River becomes boring after that except for a scenic railroad bridge and a few rocky banks.  Kohlmeyer Road isn't a great bridge access.
Kohlmeyer Road to Giese Park:  3.1 miles.  Some longer and less interesting stretches.  There is however a unique large volume artesian well, and a historic railroad tunnel you can wade under.

Giese Park to Gander Outdoors:  2.9 miles.  A pleasant but simple farm country paddle.  Highlights include the Skillet Creek bridge, the towering Hwy 12 bridge, and a rock outcrop upstream of Hwy 12.
Gander Outdoors to Glenville Landing:  4.9 miles.  A fantastic stretch through the heart of Baraboo with many light rapids.

Gander Outdoors to Haskins Park:  0.6 miles.  A good stretch with some fantastic rapids upstream of Hwy 136.
Haskins Park to

Maxwell-Potter Conservancy

:  3.3 miles.  The best section on the entire river with many rapids.

Maxwell-Potter Conservancy

to Glenville Landing/Hwy 113:  1.1 miles.  A pleasant stretch, but lacking in rapids.

Glenville Landing to Luebke Landing:  5.1 miles.  A pleasant trip, but a little boring at times.  I would rate this as one of the more uninteresting sections of the Baraboo.  On the plus side it had no logjams (as of 2023) and remains plenty navigable even during big droughts.
Luebke Landing to Hwy 33:  3.5 miles.  This might be one of the better legs on the Lower Baraboo.
Hwy 33 to Wayside Park:  8.0 miles.  A stretch I'm curious about.
Wayside Park to Hwy U:  3.9 miles.  Simple but pleasant short section flanked by busy interstates.
From Hwy U to the mouth:  5.3 miles.  The final leg running through floodplain forest.
Notable Baraboo River Tributaries:
West Branch of the Baraboo River:  For the most part, too many logjams, but the flowage by Hillsboro is navigable with scenic outcrops by the dam.
Dutch Hollow Lake:  A heavily developed lake and popular with locals.  Not as great as Lake Redstone but still nice.  Dutch Hollow Creek is likely too shallow to run, but it (and the bike trail) goes past a fantastic and huge exposed rock face.
Hemlock Slough:  A nice little lake paddle with many rock outcrops and attractive hemlocks.  
Little Baraboo River:  For the most part too many logjams.  However the small flowage by Cazenovia Memorial Park is navigable and there are small outcrops both below the dam and on the northwest corner of Lee Lake.
Lake Redstone:  Definitely a fun paddle with fantastic red rock formations, a swimming beach, and a spillway waterfall.
Big Creek:  You can't get too far upstream because of logjams, but there is a nice outcrop by Hwy F and this can be combined with a trip on the north side of Lake Redstone.
Narrows Creek:  There is a neat section by Weidman Memorial Park with boulders and light rapids with I believe nearby outcrops downstream.  Unfortunately there are likely too many logjams.  I did partly paddle a nice downstream portion from the mouth on the Baraboo before I hit a logjam and turned back.
Seeley Creek:
Skillet Creek:

From Gasser Road to Pewit's Nest:  Gorgeous, but filled with logjams.
Pewit's Nest:  Stunning scenery, but the ledges are likely too steep and narrow for kayaking.  Best experienced as a hike.
Pewit's Nest to Hatchery Road:  A bit of nice geology, but likely small with several logjams.  Neither endpoint is a great access.

Rowley Creek:  A scenic creek, but shallow and with hostile locals.
Leech Creek:  From Hwy U to Tritz Road would be 2.5 miles.  Likely open and an easy paddle, but uninteresting because of the artificial channelization.
Long Lake:  A very slow creek that empties into the Boo close to the Wisconsin.  There could be serious logjams by the mouth, but the upper sections are plenty navigable and are paddled by locals.
Trip Map
Overview Map
Video
Photos
6 Comments to "Baraboo River: Gander Outdoors to Glenville Landing"
How did your trip turn out?

Questions or comments?

Feel free to leave your feedback.