Mecan River – Cumberland Road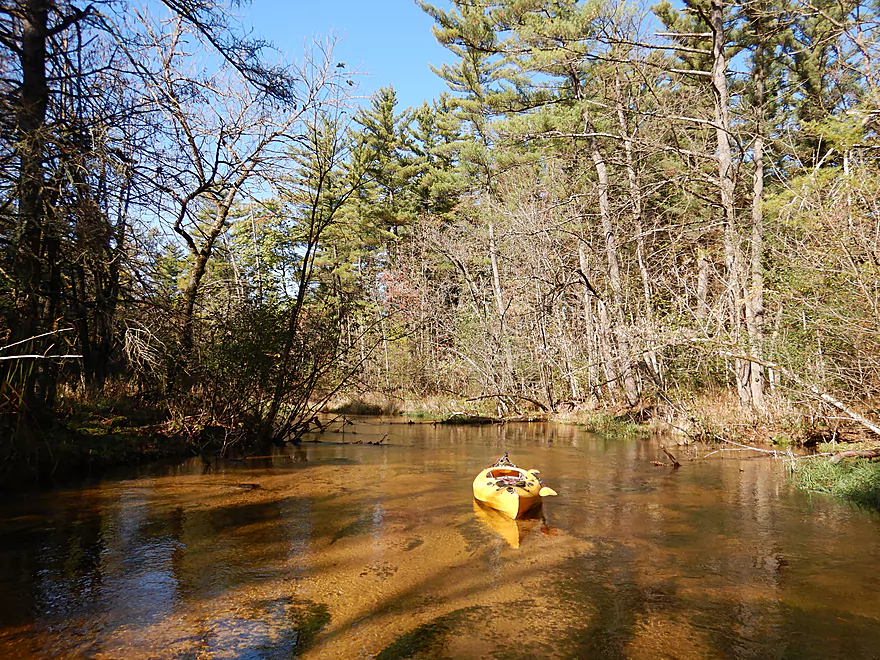 Time:
3 hours 35 minutes (2.5 hours would be more typical)
Gradient:
7.7' per mile (much faster than all downstream sections)
Located halfway between Stevens Point and Wisconsin Dells, the Mecan is a popular paddling river known for its clear water.  Most paddle its central or lower sections, but hidden in its far upper sections are some of its best features.
I started the trip at Cumberland Road where the river was but a small creek.  For the first mile the channel races along like a pinball with sharp narrow turns and extremely fast current.  If there were boulders in the river it would have serious whitewater.  This was somewhat stressful, as often the low branches clotheslined parts of the creek which necessitated Johnny-on-the-spot hard turns to avoid getting whacked.  All that said, I likely would have enjoyed this, but was in a grumpy mood when my trusted LensPen stopped working, the October morning light was too dark for photography, and the fall colors were a disappointment (2017 in general has been a disaster for fall color).
The neat thing about this segment was how crystal clear it was (almost perfectly so).  There was virtually no mud, and the banks were flat and mostly sediment free.  The substrate consisted of a clean sand intermixed with attractive pebbles, which is I believe a byproduct of pitted outwash from glaciers.  Nearby is an Ice Age Trail segment that runs along the river from its headwaters at the springs to Cumberland Road, which would be a great hiking idea.
About a mile into the trip, the creek widens and slows significantly.  The gravel bottom goes away and is replaced with pure sand, while white pines and spruce start to nudge out the alders.  The white pines were fantastic!  Often they and the spruce would grow at corners of the river, which created scenic alleys which backdropped the clean red-hued water and sand.  A little up-north in southern Wisconsin.  Another bonus to the scenery was the lack of development (no agriculture, industry and only a few small homes).
The Mecan is unique in that it is largely a spring-fed river.  The headwaters are located at Mecan Springs State Nature Area (one of Wisconsin's largest natural springs), but there are also numerous additional side springs along the river.  There were 3-4 spring inlets that I paddled past but most were too shallow to explore.  The largest of which is Zinke Lake, which I tried to paddle up to but was blocked by logjams.  Supposedly there is a public access for Zinke Lake along its north shore.
The take-out at 11th Road was very good.  To my surprise I saw at least three other cars parked here for downstream trips.  A stark contrast to three years ago when I did the 11th road to Hwy JJ section and hardly saw a soul (hopefully word is getting out).
In summary, this was a great trip, but did start on a bit of a sour note because of the obstructions I had to deal with.  But after the first mile it really cleared up and was quite nice.  For new Mecan paddlers, I suggest doing 11th Road to Hwy JJ, or Hwy JJ to Dixie Ave first.  This is a trip best suited for Mecan veterans in small boats looking for a new adventure and willing to put up with a few logjams and low branches. 
Put-in:
I launched at a public fishing wayside by the Cumberland Road bridge.  Just north of the parking area is a hidey trail where you can drag your boat 80′ down a hill to access a nice launch area on the river.
In hindsight I don't recommend this.   From this north side access to the bridge is a 500′ section of river filled with a lot of congestion.  I didn't have to portage but it it still entailed an annoying amount of ducking and hopping.  Instead…I recommend launching immediately upstream of the Cumberland Road culvert, which is a steeper launch in faster current, but is plenty doable.
Take-out:
Take-out was at 11th Road, which was a good access option.  You can disembark just upstream of the culvert, or you can take out a hundred yards upstream at the fishing trail.
Parking is a little tight by the bridge, but there is is a nearby public parking lot for fishermen which you can use.
Shuttle & Rental Information:
Mecan River Outfitters primarily services the lower Mecan and charges extra for the upper Mecan.  But this is the far upper Mecan and I'm not sure they are willing to go this far upstream.  You can ask them at 920-295-3439.
Otherwise this is a really nice bike shuttle.   Only 3.0 miles, pretty flat, and little traffic.   Chances are you'll see an Amish buggy which is quaint, but not so quaint was the amount of horse manure I had to pedal around.
Hazards, Logjams and Current:
For the first few hundred yards prior to Cumberland Road there are multiple snags.   I didn't have to portage, but it still was annoying.   I advise launching directly above Cumberland Road to avoid this.
For the first of the four miles, the river is quite narrow and fast.  There are many low branches to duck and dodge.  Four downed trees require portaging, which is easy to do because the river is not deep and there is virtually no mud.
For the remaining three miles, the river slows and widens and you mostly don't have to worry about logjams.
There has been some serious chainsaw work done on this section by somebody which is appreciated.
River Depth and Navigability:
Because the upper Mecan is spring-fed, its levels tend to be remarkably stable.  Often while neighboring rivers are too high or too low, the Mecan is just perfect for paddling.   
Generally speaking, I doubt it ever gets too shallow to run.  On the flipside it can take a big rain (2-3 inches) to significantly push up levels.  I went after a 1.5″ rain and the river was only say 30% above normal.  The ideal depth will be a bit on the shallow side for the best clarity.  After 2-3 inches of rain, it will likely be too high.
There is no gauge on the Mecan, but one of its tributaries (Chaffee Creek) does have a new gauge.   The following are my rough estimates.
< 3.55′:  Likely still navigable…maybe some shallow areas in spots.
3.56-3.6′:  Average fall depth.   Good range.
3.61-3.65:  A higher than average depth.  Should still be navigable, but a smidgen less scenic.  I went at 3.62′.
3.66-3.7′:  Perhaps doable, but likely not enjoyable.
3.71'+:  Very high depth.  Banks might burst at this point.
Noteworthy Wildlife:
Not too much.  A pickerel frog, a great blue heron, and maybe 10-15 small fish (likely trout).  Along the shore was some skunk cabbage and wild spearmint which was a treat.
Detailed Overview
Generally speaking, the further upstream you go on the Mecan, the better.  Upper Mecan segments tend to have less mud, better current, better clarity, and more attractive shorelines.
Mecan Springs to 9th Ave:  1.4 miles.

Mecan Springs Boat Launch to Hwy GG:  0.6 miles.  The river starts as a spring-fed lake sandwiched between two moraines.  This is a neat lake paddle with clear water and visible springs located mostly along the western end.  Trip length can be expanded by 1-2 miles if you explore the various bays throughout the lake.
Hwy GG to 9th Ave:  1.4 miles.  The first mile of the river has a few snags to dodge, but is super scenic with nearly perfect water clarity.

9th Ave to Hwy 21:  2.3 miles.  Satellite maps indicate there could be many logjams and portages.
Hwy 21 to Cumberland Road:  2.3 miles.  Satellite maps indicate there could be many logjams and portages.
Cumberland Road to 11th Ave:  3.9 miles.  A great section with fast current, clear water and scenic white pines.  A few logjams to portage but not bad.
11th Ave to Hwy Y/JJ:  3.7 miles.  A fantastic section and my favorite on the entire river.
Hwy Y/Dakota to Dixie Ave:  5.4 miles.

Hwy Y to 14th Ave:  2.8 miles.  An excellent section with white pines, tamaracks, narrow twisty turns and crystal clear water.
14th Ave to Dixie Ave:  2.5 miles.  While not as good as the previous leg and more open, this is still a good stretch.  This includes the "Mecan River Pine-Oak Forest State Natural Area".

Dixie Ave to Dover Ave:  2.0 miles.  An ok section, but not as good as upstream sections.  Even more open and slower, with far fewer pines.
Dover Ave to Hwy E:  1.8 miles.  River starts to become less interesting but is still ok.
Hwy E to Hwy 22:  0.7 miles.  Nothing special about this section.  Open and somewhat simple.
Hwy 22 to Duck Creek Road/Electric Fence:  4.2 miles.  More open and not as interesting, but the river does flow through a state natural area.  Access to Duck Creek Road may be restricted.
Duck Creek Road/Electric Fence to Dam:  1.6 miles.  River turns into flowage pond and marsh.  Take-out is on a small access road off Hwy N.
Dam to Elk Road:  6.3 miles.  The most popular section on the Lower Mecan.

Dam to Hwy N:  5.2 miles.  River turns into a flowage pond and marsh.  Take-out is on a small access road off Hwy N.
Hwy N to Elk Road:  1.1 miles.  The river completely moves east creating a really cool corridor.

Elk Road to Hwy 23:  2.4 miles.  Traditionally a section with many logjams, this does get cleared out periodically by the local livery.  Hwy 23 is a poor access option.
Hwy 23 to Hwy C:  2.7 miles.  Again, this usually has logjams but they are often cleared out by the locals.  Hwy 23 is a poor access option.
Hwy C to Mouth:  1.1 miles.  Simple open stretch leading to the Fox River.
Mouth to the Princeton Locks:  3.1 miles.  An uninteresting stretch on the Fox River.
For further information on the Fox River, see my Fox River review.
Trip Map
Overview Map
Video
Photos
3 Comments to "Mecan River – Cumberland Road"
How did your trip turn out?

Questions or comments?

Feel free to leave your feedback.