Roaring Creek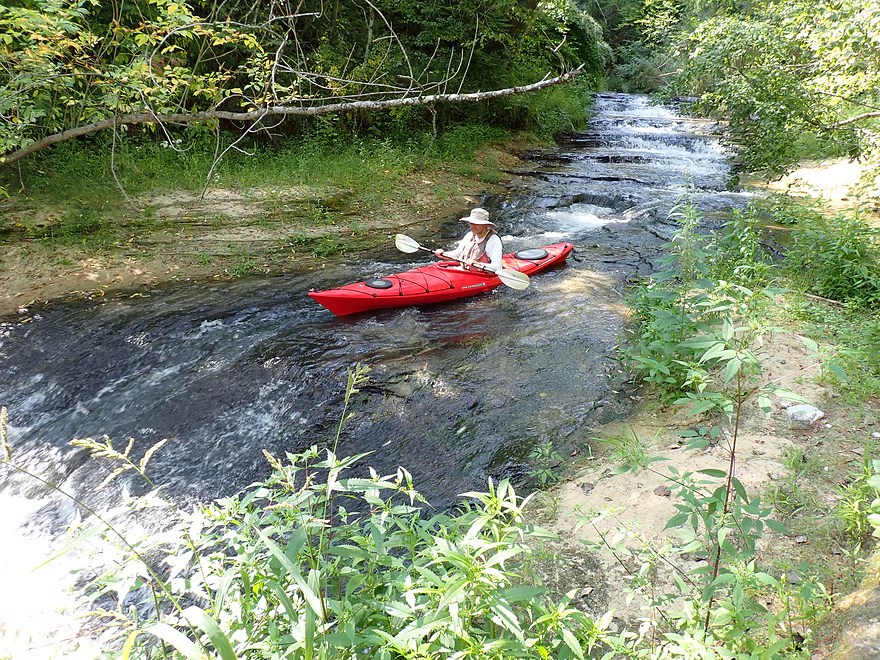 Put-in:
Lost Falls Campground
Take-out:
Lost Falls Campground
Distance:
0.25 miles (plus kayak or hike distance to reach the creek)
Recently I did a Black River trip in which Roaring Creek was just intended as a bonus feature.  However, the creek was interesting enough that I thought it could justify its own review.  Typically I don't review creeks that aren't kayakable, but I thought I would make an exception here….and may make more "wading creek" exceptions in the future if our drought continues.
My original Black River trip started from Irving and ended at Lost Falls Campground.  But we overshot our take-out (the Lost Falls Campground beach) on purpose and paddled a half mile downstream on the Black to reach Roaring Creek.  You will actually hear Roaring creek long before you see it, as it truly lives up to its name.
At the base of a large mowed hillside with a log house, Roaring Creek empties into the Black over a wide sandy delta.  The delta itself was too shallow to paddle, but in hopes of being able to kayak above the mouth, I dragged my boat upstream.  Above the delta the creek was sandwiched between a small sandbar and short outcrop.  After ducking under a low tree, we finally came face to face with "Roaring Creek Falls" (not to be confused with "Lost Falls," which we will get to later).  At the base was a 2-3 foot ledge curved outward in a half-bowl shape.  Above this was a series of four other ledges, micro-falls, and exposed bedrock which created a gorgeous cascade at least 10′ high.
The top of Roaring Creek Falls is roughly at the base of the East Sunnyvale Road bridge.  In fact, if you drive slowly over the bridge, you can see part of "Roaring Creek Falls" from your car.  Upstream from the falls, there were a few more micro-ledges, exposed bedrock, and sandstone outcrops.  The surprise was a massive 100′ cliff that redirects the creek.  The cliff is also partially visible from the Sunnyvale Road bridge.
We continued upstream through a spectacular slot canyon with impressive rock walls on both sides of the creek.  I think most paddlers at this point would turn around after seeing the lower falls and the main cliff.  But we continued wading upstream despite the ice cold water (we were also drawn by the sound of more "roaring") and were rewarded with finding the second major falls on the creek, "Lost Falls".  Here the creek flows through a fantastic stretch of dells and exposed bedrock, and ends in a ~3′ drop at the end.  If you see a picture of Roaring Creek online, chances are it is "Lost Falls."
We were tempted to hike further upstream from "Lost Falls," but the canyon appeared to be petering out.  Blogger "Adam Martin" notes there isn't much of interest upstream from "Lost Falls" aside from some deadfall.  However, I think there could possibly be one more cliff/falls close to Cutoff Road which neither Adam nor I explored.
After that, we turned around and headed downstream to reach the Black River again.  Before we left, I tried kayaking down "Roaring Creek Falls" without luck…it was just too shallow.
After we returned upstream on the Black to the campground, we decided to check out the trail north of Sunnyvale Road.  The campground manager informed me that the $10 day pass I purchased to access their take-out would allow us to use their trail system.  The trail itself was an easy 300′ hike down to the water.  A bit of wading was required to proceed up the creek, but we soon encountered "Lost Falls" again and were able to take pictures with different lighting.  After that we waded down to the slot canyon and Roaring Creek Falls for more photos.
In summary this was a fantastic little creek that's not kayakable, but is still well worth checking out.  There are two main ways you can access it. 
You can hike the creek after paddling to the mouth on the Black River.  For most paddlers, a Roaring Creek trip will be too short to do by itself so will need to be combined with a longer trip on the Black (such as going down to Melrose).
You can access the creek from the trail network, but be sure to pay the campground if you use this (you will need to display a permit from your car mirror).
Note:  All the land on both sides of Roaring Creek is private, so it is very important that you stay in the streambed while hiking and be respectful of the adjacent property.
Put-in/Take-out:
Lost Falls Campground:  You must purchase a $10 guest pass from the office to use their access by the beach.  During busy Saturdays, the office may potentially not allow you to park by the river which would be fairly inconvenient.  After launching from the beach, you can kayak a half mile downstream to the mouth of Roaring Creek.  The return half mile trip to the campground is very easy because the current on the Black is very slow.
Sunnyvale Road Trail:  Located here, this is a convenient trail that leads to the creek just below "Lost Falls".  You must have a guest pass or get permission from Lost Falls Campground to use this trail.
Hazards:
Water Temperature:  Despite being August, the water was incredibly cold.  Insulated aquatic footwear is recommended (like these NRS boots).
Slipping:  The exposed bedrock is very slippery, especially by the ledges.  Be careful where you wade and step.
Logjams:  There are several downed trees that partly block the creek.  It is not difficult to wade past/under these.  These are much more common upstream from "Lost Falls". 
Ledges:  There are numerous ledges on the creek…some roughly 3′ high.  If there were no logjams and enough water from a big rain, the creek in theory would be an amazing whitewater run with Class 3-4 rapids.  But because of the deadfall that will likely never be cleared out, I doubt the creek will ever be kayaked.
River Depth:
There are no analogous gauges you can use.  Roughly speaking you only want to wade the creek when it is low, else you won't get past the ledges.  Typically the creek should be low in later summer or fall.  Or you can judge it has rained…1-2 days the creek will likely be too high.  4-5+ days…you're likely fine.
Other Black River Area Creeks:
Many parts of the Black River watershed are extraordinarily scenic.  Multiple creeks have dells, slot canyons, ledges or waterfalls.  Some have yet to even be discovered.  In fact, I think if you were to argue for Wisconsin to get a National Park, the Black River area would be a prime candidate. 
I thought it would be interesting to provide a bullet list of the more noteworthy tributaries with a focus on how scenic and accessible they are.  This list (roughly) starts from the north end of the watershed and works its way downstream.
Popple River:  This features some terrific boulder gardens.
Rock Creek:  I tried kayaking it…just too shallow.  Nice boulder gardens though.
O'Neill Creek:  I don't know much about this creek, but I think the dam in Neillsville buries the best cliffs.  If you paddle beyond the dam though, there may be interesting features on the creek.
Cunningham Creek:  I don't know much about this creek, but interesting rapids and boulders can be seen from the Hwy 73 bridge.
Wedges Creek:  While known more for its boulder gardens than outcrops, it does have some features that remind you of its neighbor Halls Creek.

Five Mile Creek:  This Wedges tributary has long been on my to-do list, but a recent wind storm may have created too many logjams.

Eau Claire River Tributaries:  The south edge of the Eau Claire watershed has a similar geology and vibe to the Black River creeks.

Bridge Creek:  This features some of the exposed bedrock, dells, and ferns you would expect on say Robinson Creek.
Coon Fork Creek:  Close to the dam there is a section of creek with dells and pine trees very reminiscent of Halls Creek.
Hay Creek:  Below the Rock Dam is a nice stretch of dells and a scenic ledge.

Black River – East Fork:  This doesn't feature as many dells or rock formations, but it does feature some of the best Class 2 rapids in the entire state.

Rock Creek:  An interesting tributary to the East Fork.

Arnold Creek:  While no outcrops, this features the same fantastic red water and ferns you would typically see on Robinson Creek.
Upper Black River:  There are a number of rock formations and ledges on the river…but the best of the best is located downstream from Hatfield.
Vismal Creek:  This is too small to kayak, but I suspect it has amazing scenery if waded.
Morrison Creek:  This is a bit more rugged than Halls Creek or Robinson Creek, but it's still a great paddle.

Dickey Creek:  I kayaked this in 2018.  Scenery was amazing, but logjams were too frequent.  Hiking/wading the creek likely isn't viable as it is located close to a reservation which is sensitive about outsiders.

Halls Creek:  This is one of the best water trails in the entire state.

Halls Creek – East Fork:  Shallow and with some logjams, this isn't an ideal kayak trip but it is on my to-do list and I know it is scenic.
Wrightsville Creek:  This is an obscure tributary to Halls Creek located just southwest of the Garage Road bridge.  Close to the mouth is a fantastic double waterfall.
Unnamed tributary to Halls Creek:  Located by West Road this may have good potential.

Levis Creek:  This is an intriguing prospect that could be partly accessed from the Black River just upstream from the I94 bridge.
Town Creek:  Likely too small to kayak, this could still be very scenic.  It parallels the Foundation Trail which is likely the best way to see the creek.
Perry Creek:  This is a small creek that is difficult to navigate, but it is larger than Roaring Creek and can be partially kayaked.  The dells are stunning.  Access from the Black River or nearby Perry Creek Landing makes this easy to get to.
Squaw Creek:  Probably too small and congested for kayaking, but I think the scenery west of Hwy 54 is very good.
Spring Creek:  Possibly some interesting features west of Hwy 54.
Pine Grove Creek:  Located upstream from Irving, this features a fantastic slot canyon that is easy to access from the Black River.  I covered this in my Mason to Irving trip.
Robinson Creek:  One of the best water trails in the entire state.

Stony Creek:  I tried kayaking this to Robinson…area by Kelly Road is amazing, but there are awful logjams after that.

Trout Run Creek:  Mostly shallow/congested…but there may be outcrops a half mile upstream from Hwy 54.
Roaring Creek:  Features several falls and an impressive slot canyon close to the mouth on the Black River.
Wolf Creek:  Located just downstream from Roaring Creek, I speculate this may have a neat slot canyon based on topography maps I've studied.
Douglas Creek:  This actually might be large enough to kayak.  It is an intriguing prospect but may have obstacles.
Unnamed Creek by Melrose-Mindoro Youth Sports:  Runs dry in the summer…features a hidden canyon and bowl like area which can be accessed from the Black River.
Sand Creek:  This is very tiny, but could be an interesting wading adventure..especially in the "Sand Creek Pines State Natural Area".  Flows through a possible gorge, but also in nice open areas like this.
Davis Creek:  Too small to paddle, but intriguing…flows through a steep valley.
Unnamed Creek by Hawth Forest:  Don't know much, other than it has interesting relief map contours.
Mill Creek:   Features two cool waterfalls by the mouth.  Not sure more of the creek is worth exploring.  I did kayak up this in 2018.
Fleming Creek:  A larger creek, but I'm not sure it is navigable because of the logjams.
Beaver Creek:  There is a huge cliff in Galesville, but not much interesting geology after that.
Halfway Creek:  This flows through Holmen and along the Halfway Creek Trail.  It seems intriguing.
Mormon Creek:  While technically not part of the Black River watershed, it is close to it and has a similar vibe.  Highlights include impressive outcrops and a gigantic cave.  This can be kayaked but only parts as logjams can be an issue.
Trip Map
Video
Photos
2 Comments to "Roaring Creek"
How did your trip turn out?

Questions or comments?

Feel free to leave your feedback.