Pecatonica River – East Branch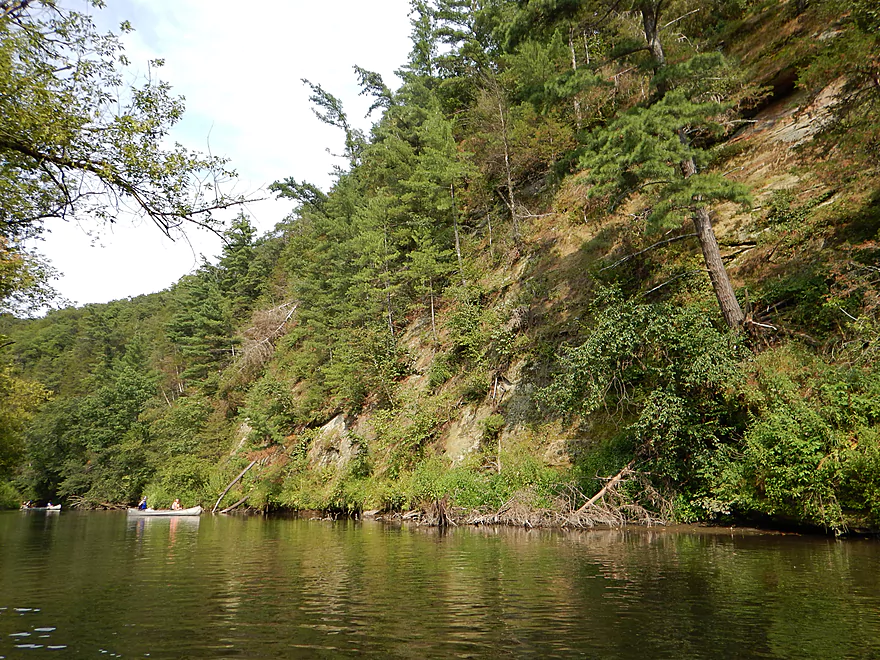 Take-out:
Horseshoe Bend Road
Gradient:
2.7' per mile (estimate)
An underrated prospect located 40 minutes southwest of Madison, with nice plantlife and tree canopies, but most of all, some splendid rock bluffs.
There is a decent chance you haven't heard of the East Branch of the Pecatonica River, as many paddle review sources do not cover it.  This is odd…but kind of a consistent trend, as rivers having the words "branch," "fork," or "little" in their title tend to get mysteriously overlooked by paddle reviewers.  The Pecatonica River itself (the main channel) is an okay prospect…a little too much cow country, but certainly superior to the Sugar River to the east.
For the East Branch, there are a number of paddling options to choose from.  But roughly speaking, the best trips are from Hollandale to Horseshoe Bend Road and Blanchardville to Argyle.  Hwy HK to Hollandale is very scenic, but has nasty log jams.  Special thanks to Timothy Bauer who has done a terrific job of mapping out the East Branch and whose information served as inspiration for this trip.
Our trip started at the Hwy 39 bridge just east of Hollandale.  Very nice put-in area (for a bridge), with a path to the river where others had put in before.  I think you can just park your car alongside the road, but if in doubt, there is a nearby DNR parking lot "for fishermen only" ;) that you could park at instead.  No facilities, but there is a gas station just down the road in Hollandale almost within sight of the landing.
First impression in the water was how open the river valley was (it won't stay this way) and the cows.  There was a bull at the landing (well next to it) giving us the stare down.  Soon into the trip, a number of his friends (cows and little calves) made quite the commotion crossing the river (perhaps in a hurry for lunch) and we wisely let them cross ahead of us.  Needless to say, cattle should never have direct access to a stream or river as they are very destructive and bridges/fences/buffer zones should always be used to protect waterways from this invasive species.
On the river you'll see large dirt banks from the decades of erosion in the watershed, which are horrible, but kind of artsy in their own right.  I don't want to overstate the cow issue though, as most of the trip was cow-free and the problems were really just on the opening leg of the trip.  In fact, at times, the water was pretty clear (at our flow-rate).  Not totally…had a bit of a milky appearance, but nice enough that you could see the substrate below (at times rocky, sandy or mucky).  The current was lazy but swift.  A contradiction perhaps…but the best I can describe it.  In fact, there were occasional riffles (but very minor).
This is certainly a good river for beginners, as there are few hazards to note.  There was one nasty log jam (marked on map) that we had to get out for and was a pain to get around because of the muck.  There was also a "hop-over," but minor, with nothing else really of note.  We went at 139 CFS, which was plenty deep, and think the river could be run much shallower (ideal, as there is an inverse relationship between depth and water cleanliness).  There was perhaps one bumpy shallow area, but that was super minor and we didn't have to get out.  On the flip side, this river can be mean (and muddy) during high times, so keep an eye on the gauge and don't go when it is too high.
One of the highlights of the trip was the wildflowers.  Too many to name, but my favorite was the teasel plant (think pin cushion).  Wild cucumber was also very striking (it looks like an upside-down chandelier).  Lot of nice trees on the trip, with some occasional mighty white pines, oaks and attractive tree canopies enveloping the river corridor.  White pines are normally not this common in SW Wisconsin and to see them in these numbers reminded one of northern Wisconsin.  Did not see much in the way of fish, but knew they were around as we saw some great blue herons and what appeared to be two artificial osprey nesting platforms on poles.  Other animals included some brown dragonflies, a frog, number of geese (no doubt teenagers), butterflies eating mud (getting their mineral supplements), multiple mud dauber nests, cows and some humans.  Thankfully, biting insects were not an issue on this trip.
For being so rarely reviewed….boy, did we see a lot of paddlers on the river.  All canoers…no kayakers, but there were a lot of them.  Most were nice and friendly, but dare I say several were quite noisy and could be heard a fair distance down the river.  This is an easy mistake to make, as most people don't realize how far sound travels on a river (especially after drinking).  This can annoy local property owners and kind of detracts from the wilderness experience other paddlers are hoping to have.  I'm not saying the East Branch of the Pecatonica is at the Kickapoo stage yet…but hopefully readers of these reviews will be more self-conscious when it comes to noise pollution on the water. 
Now, for the best part of the trip.  You will on occasion come across some fantastic rock outcroppings and bluffs on the banks flanking the river.  I've marked my favorite ones on the map for reference.  Some of the rock outcroppings are, unfortunately, somewhat hidden by the summer foliage.  This is actually one trip you might want to do in the spring or fall so the leaves don't block the nice views.  It's kind of a trade-off, really.  If you go during the summer you can see the nice plants (especially the mosses/fungi/ferns/tree canopies and other shady species by the rocks, which are terrific).  But…I would have preferred views of the rock bluffs this time and regret my timing (still a nice trip).  The biggest bluff and highlight of our trip is located on Horsehoe Bend by Hwy F.  You approach a massive turn in the river with a large 120′ overshadowing rock wall.  Quite impressive, this reminded me of the Kickapoo River between Rockton and La Farge, but unfortunately the summer growth blocked what could have been a much more epic view of this special area. 
The take-out is at Horseshoe Bend Road bridge and is okay as far as bridge take-outs go.  Nice parking and trail leading to the take-out ledge.  But…this is a steep take-out and at one point you (and your kayak) will have to climb over a concrete wing wall to get to the road (not too bad, as a ladder is provided which you can use…but your yak might struggle with it).
You can take out further down in Blanchardville (north bank upstream of the dam), but these three additional miles don't sound too exciting.  If you like short trips (canoers usually do), you can put in at McKenna Road bridge, which splits this trip in half.  You can still access the most prominent rock formations…just paddle 1000+ feet upstream (not bad in the current there).  You'll miss some other rock outcroppings by skipping the first half of this trip, but these are tough to see with the leaves on the trees.  McKenna is a very good bridge launch, with great parking and a fine launch area.  I'm pretty sure every single canoer we saw (and we saw a lot), put in here.
We car shuttled, but you could certainly bike shuttle this route, as I didn't see gravel roads…but honestly, I would prefer not to.  If you do bike, make sure your brakes are in good order, as flat areas are few and far between.  Only ~5 miles though, so I suppose if you walk the steep hills you should still have enough time for a paddle trip.  I also believe there is a livery that services the East Branch in "Yellowstone Valley Canoe Rental."  Call 608-543-3220 or 608-214-7229 for more details (think they only do big groups, but do get this far north).
All said, a very nice trip, but I can't quite give it four stars, as it was a bit mundane and a tad dirty at times.  While the plantlife was terrific, there was a ton of grass and that gets old on paddling trips in a hurry.  Still a fine trip though and should be on a to-do list for those living in Madison and southwest Wisconsin.  For comparison's sake in the region, I would say this is a better prospect than the Yahara and Sugar rivers, but I found the Badfish, Platte and Fever to be more varied and clean.  Had I gone in the fall with the leaves off, this easily could have been a higher-rated trip.
Detailed Overview
Upstream of Hwy Hk:  Too many logjams to recommend.
Hwy Hk to Burma Road:  1.3 miles.  An ok prospect with perhaps some obstructions.
Burma Road to Star Valley Road1st:  2.0 miles.  An interesting prospect with good scenery and not too many logjams.
Star Valley Road1st to Hwy 39:  3.1 miles.  Good scenery potential but too congested.
Hwy 39 to Horseshoe Bend Road:  7.6 miles.

Hwy 39 to McKenna Road:  3.9 miles.  A pleasant section with a rock outcrop near the take-out.
McKenna Road to Horseshoe Bend Road:  3.7 miles.  Another pleasant section with a massive rock wall.

Horseshoe Bend to Blanchardville Dam:  3.6 miles.  Less interesting prospect compared to the immediate upstream section.  This part of the river has seen tornado damage, but this should be mostly cleared up now.
Blanchardville Dam to Hwy 78:  3.9 miles.

Blanchardville Dam to Gordon Creek Landing:  0.3 miles.  A short, but pleasant stretch through the outskirts of Blanchardville.
Gordon Creek Landing to Hwy 78:  3.5 miles.  While not bad, this is one of the lesser interesting stretches.

Hwy 78 to River Road:  6.4 miles.  A pleasant stretch with open scenery, Driftless Area hills, and a handful of rock outcrops.  On the downside some parts are a bit boring and open pasture has degraded some of the river.
River Road to Argyle Boat Launch:  7.4 miles.  A good stretch with impressive outcrops.
River Street in Argyle to Hwy M in Woodford:  9.3 miles.

Argyle River Street to Blackhawk Memorial Park:  8.3 miles.  No outcrops and a lot of farm scenery.  Not as nice as previous sections but still decent.
Blackhawk Memorial Park to Hwy M:  1.0 miles.  Section includes a very large island.  You must take the east channel to reach the access on M.

Hwy M to Cisserville Road:  6.4 miles.  Probably uninteresting.
Cisserville Road to Mouth:  2.2 miles.  Probably a weak prospect.
Mouth to Hwy 11:  3.2 miles.  A leg on the Pecatonica River (main branch) to reach a take-out.
Trip Map
Overview Map
Video


Bonus video below of butterflies siphoning minerals from mud and beating their wings as a hydraulic mechanism.


Photos
26 Comments to "Pecatonica River – East Branch"
How did your trip turn out?

Questions or comments?

Feel free to leave your feedback.