Black Earth Creek – Walking Iron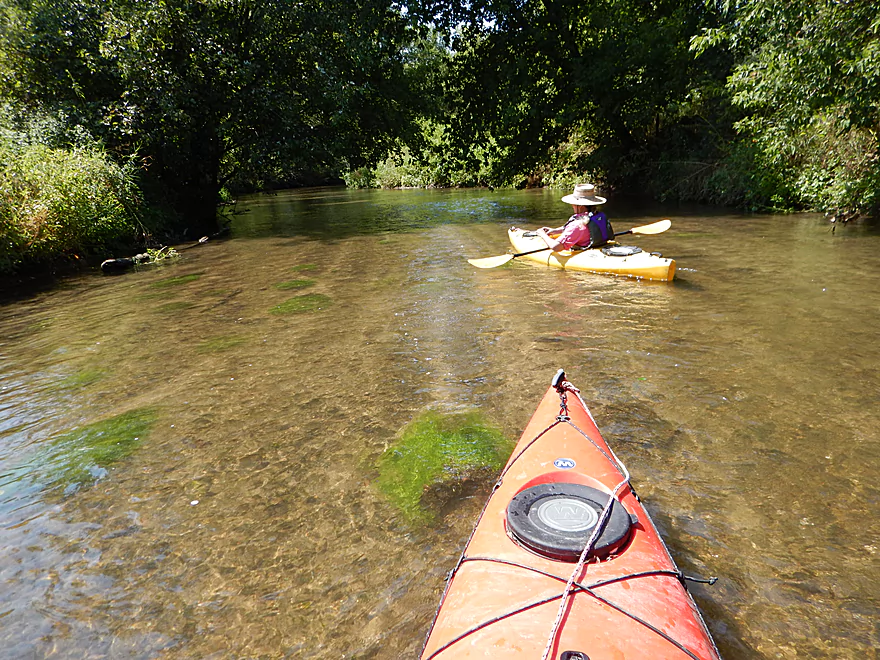 Put-in:
Walking Iron Park in Mazomanie
Take-out:
Blynn Road Bridge
Time:
5 hours 3 minutes (2.5 hours would be more typical)
Gradient:
~6.0' per Miles
Black Earth Creek is a popular trout stream located a little northwest of Madison.  It historically hasn't been paddled much, but thanks to clean-up efforts by the locals it is now largely navigable.  I've done most of the creek already and really liked it, so was definitely interested to see what this last post-Mazomanie section was like.
Trip starts out on a great note with good but not dangerous current and some slight riffles, including a class 1 rapids below the put-in bridge.  The creek has a cool feel to it that is hard to describe.  Perhaps it is the clear water, clean sandy substrate, not too much dead log debris and relatively clean/low banks with lush plant life.
From Walking Iron Park to West Hudson Road is easily the best part of the trip.  Here the woods are the thickest and close to the creek, creating intimate canopies and a sense of mystery.  It's worth noting that of the entire length of the creek the very best section is upstream from Olson Road to West Hudson Road, which I reviewed previously.  West Hudson Road is an alternate take-out but a bit bushy, with the best access directly below the bridge.  
From West Hudson Road to Morrill Road the current slows down and the creek opens up a bit.  It's still nice and the highlight here are the cool, clear sections.
From Morrill Road to Blynn Road the creek really opens up, with most trees disappearing.  You're in cow country now.   Directly under Morrill Road there are swing gates to block cattle from going under the bridge.  They are a little unwieldy for kayakers to duck under but are doable.  Sure enough, shortly after the swing gates we encountered a large herd of cows in the water.  This last stretch is more of a cow savannah with grasses and disturbed plants being most dominant.  Three farmers had active water pumps in the creek which they were using to irrigate their fields.
All in all, a really nice trip that I liked and do recommend (do the Mazo section first though).  It's kind of strange that a creek like this isn't more popular than it is, but we did see two groups of kayakers on the water, so perhaps the word is getting out.
For geology fans, this creek has a lot of significance.  15,000 years ago it was a gigantic glacial river that filled much of the Black Earth Creek valley.  This tremendous river eventually receded and Black Earth Creek is all that remains.  This history has given Black Earth Creek a lot of unique character…especially with its clean, sandy substrate and pebbly bottom.
Put-in:
Good access at Walking Iron Park.  There is a small pedestrian bridge you can cross and then put in downstream river-right.  Parking and restrooms are to the south.
Take-out:
The bridge at Blynn Road is a little bushy, but otherwise plenty doable as an access with good shoulder parking.  Best take-out location is southeast of the bridge.
Shuttle Information:
I do not believe the local Wisconsin River liveries service this creek.
The bike shuttle is plenty manageable at 4.3 miles, mostly along Hudson Road, with just minor hills.
Hazards and Log Jams:
No hazards.  Log jams have historically been an issue on this stretch, but they have recently been cleaned up by the locals, which is very much appreciated.  Still be wary of new trees in the water.  There are a couple of tight spots to squeak through so I'm not sure this would be a good section for canoes (kayaks would be fine).
River Depth, Navigability and Current:
Good current, especially near Walking Iron Park, with a couple of minor riffles.  This was paddled at 32 CFS per the local gauge which, despite being below average, was never a problem for getting seriously stuck.  I think 30-60 CFS is a good target.  High 20's are probably doable, but it might be a bit more bumpy.  The creek will lose its fantastic clarity at higher flow rates, so lower is better.  I suspect the creek might start to get too pushy at 60 CFS or more.
Wildlife:
Animals included a red-tailed hawk, great blue heron, wood ducks, many green darners (a dragonfly that migrates), lots of leopard frogs and some beaver evidence.
The plants were actually the highlight.  We had huge catalpa beans, wild plums, a wild pumpkin, many wild grapes, walnuts, wild cucumbers, exploding touch-me-not pods, ripe milkweed pods and a number of toxic berries.  Quite the fruitful trip. 
Detailed Overview
Upstream from N. Birch Trail:  The creek is small, but might be surprisingly navigable during high water.
N. Birch Trail to Stagecoach Rd:  0.5 miles.  Creek here is small and wooded with possible congestion and a few jams. 
Stagecoach Rd to Cross Plains:  2.0 miles.  An intriguing prospect that may now be viable because Black Earth Creek has grown in size.  Starts narrow, rocky and wooded then opens up.  Maybe 2-3 logjams.  Stagecoach Rd may not be a good access as a "No Tresspassing" sign is on one side of the bridge.
Cross Plains to Salmo Pond:  4.3 miles.  Nice stretch.  Half of this leg flows by the community of Cross Plains.  One fence and one logjam to deal with but not major.
Salmo Pond to Black Earth Community Park:  4.2 miles.  Several fences to deal with, but all in all, one of the more underrated legs on the creek.
Black Earth Community Park to Olson Road:  4.5 miles.

Black Earth Community Park to The Shoe Box Landing:  1.5 miles.  Nice stretch that passes through the outskirts of Black Earth.  Might be a few minor logjams to sneak past.
The Shoe Box Landing to Olson Road:  2.9 miles.  Pleasant open stretch.  This is a common "add-on" leg for those wanting to do the popular Mazo trip, but as a longer trip.

Olson Road to Walking Iron Park:  3.7 miles.  The best and most popular leg on the creek.  Much of it flows around the outskirts of Mazomanie and though a nice woods. 
Walking Iron Park to W. Hudson Road:  1.1 miles.  A small but great section that is recommended as an add-on to an Olson Road trip.  This doesn't receive as much upkeep so paddlers may encounter a logjam or two.
W. Hudson Road to Blynn Road:  4.4 miles.  An ok section but nothing special.  This leg while once clear, may now have a few surprise logjams.
Blynn Road to Mouth at Arena:  6.8 miles.  Technically now Blue Mounds Creek, this is the weakest section.
Trip Map
Overview Map
Video
Photos
9 Comments to "Black Earth Creek – Walking Iron"
How did your trip turn out?

Questions or comments?

Feel free to leave your feedback.