Flambeau River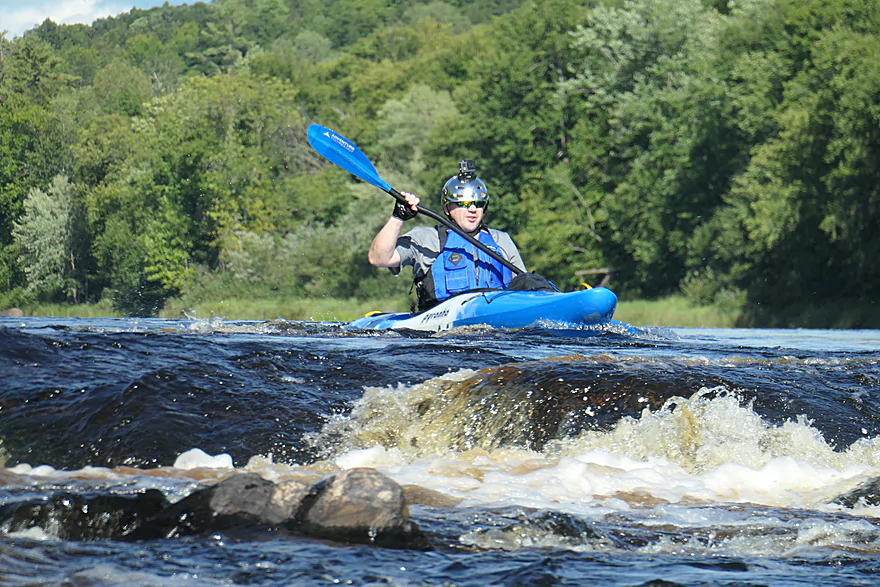 Take-out:
Beaver Dam Landing
The Flambeau River is in many ways a typical northern Wisconsin river.  It has good quality, tannin-stained water, a landscape of uninterrupted forest, and few signs of civilization, save occasional unobtrusive cabins.  The riverbed and shoreline were mostly gravel and rock with occasional boulders. The scenery was a little monotonous, but the periodic class two rapids livened things up nicely.  Water depth was near average, and was never an issue.  Despite the pristine wilderness, there wasn't a lot of wildlife to be seen aside from numerous dragonflies, and a bald eagle.  The presence of numerous fishermen suggests this river is good for fishing.  It is also excellent for boat camping.  Much of the river lies within the Flambeau River State Forest,  and there are numerous campsites along the river that are accessible only by boat.  The campsites even have outhouses and a picnic table!  Unoccupied campsites make excellent places to break for lunch.         
Other Flambeau River Trips:
North Fork:
Upstream of Sportsman Landing:  Upstream of the dam is the

Turtle-Flambeau Flowage

which is quite huge.  There are islands to explore and other adventures to be had on the flowage, but that will be outside of the scope of this review.
Sportsman Landing to Robinson Landing:  2.1 miles.  Some open water flowage paddling and a dam portage.  You might be able to put in by the dam.
Robinson Landing to Holts Landing:  10.7 miles.  Maybe 3 Class 2's.  Notch Rock Rapids might be Class 3 in high water.
Holts Landing to Agenda Landing:  4.0 miles.  Maybe 5 Class 2's.
Agenda Landing to Blanchard's Landing:  2.7 miles.  No major rapids.  There are alternate access points on Flambeau River Road.
Blanchard's Landing to Hines Park:  1.4 miles.  Mostly flowage paddling.  May not be interesting.
Hines Park to Park Falls Boat Ramp:  2.6 miles.  The west channel is a millrace for a paper mill…and likely not navigable.  The east channel below the dam appears to contain many Class 1-2 rapids at low levels.  These are likely much stronger at high water levels.
Park Falls Boat Ramp to Hwy B:  1.7 miles.  There may be turbulent rapids directly below the dam, but after that it should be mostly just Class 1's.
Hwy B to Pixley Dam Park:  3.2 miles.  This is part of the Pixley Flowage and may not be as interesting.
Pixley Dam Park to Six Mile Landing:  3.4 miles.  I don't think there are any noteworthy rapids on this stretch.
Six Mile Landing to Nine Mile Landing:  4.0 miles.  Half of this is on the Crowley Flowage.  After portaging the dam, the second half of the trip should be nice.
Nine Mile Landing to Deadman Slough Landing:  5.7 miles.  I don't think there are any major rapids.
Deadman Slough Landing to Dix Dox Landing:  6.5 miles.  I don't think there are any major rapids.
Dix Dox Landing to Hwy W – Canoe Landing:  11.0 miles.  I don't think there are any major rapids.
Hwy W to Camp 41 Canoe Landing:  8.8 miles.  Maybe 3 Class 2's near the end.
Camp 41 Landing to North Fork/South Fork Confluence:  4.0 miles.  Maybe 3 Class 2's.
Main Branch (After Confluence):
North Fork/South Fork Confluence to Hervas Landing:  2.2 miles.  Mostly a peaceful stretch.
Hervas Landing to Beaver Dam Landing:  4.9 miles.  Four Class 2's and one Class 3.
Beaver Dam Landing to Flambeau Lodge Landing:  5.0 miles.  Some flowage paddling…might not be as interesting.
Downstream of Flambeau Lodge Landing:  There is more paddling to be had…but the river after this suffers from a series of dams and flowages and likely isn't as interesting.
South Branch:
Upstream of Round Lake:  There are likely other good water trails in the region…they just won't be included in this overview.
Round Lake to Hwy 144:  3.4 miles.  More of a creek than a river.  One dam to portage.
Hwy 144 to Smith Rapids Landing:  5.9 miles.  Kind of a marshy section.  The covered bridge at the take-out is scenic.
Smith Rapids Landing to Cedar Rapids Road:  5.2 miles.  More marshy paddling but nice.  Cedar Rapids by the take-out is Class 1-2.
Cedar Rapids Road to East Road/1132:  4.0 miles.  Two Class 3 rapids.
East Road/1132 to Woody Road:  8.0 miles.  Several intermediate access options.  A handful of rapids…most I don't think are serious.
Woody Road to Hwy 70:  8.5 miles.  Divine Rapids is a Class 3.
Hwy 70 to Fifield Memorial Park/Wayside:  2.2 miles.  I don't think this stretch has rapids.
Fifield Memorial Park/Wayside to Rocky Carry Park:  10.3 miles.  I don't know much about this stretch.
Rocky Carry Park to Hwy F:  1.1 miles.  Mostly flatwater paddling.
Hwy F to Niebauer Springs Landing:  3.1 miles.  One set of Class 2 rapids.
Niebauer Springs Landing to Power Line Road:  3.0 miles.  Three Class 2 rapids.
Power Line Road to Hwy W:  3.7 miles.  One set of Class 2 rapids.
Hwy W to Hwy M:  7.7 miles.  Seven Class 2's and one Class 1.  Some of the best whitewater of the river is on this stretch.
Hwy M to Slough Gundy Access:  1.1 miles.  One Class 3.  There is also a Class 4 by the take-out.
Slough Gundy Access to North Fork/South Fork Confluence:  5.3 miles.  A Class 3 plus a Class 4 at the put-in.
Trip Map
Overview Map
Video
Photos
2 Comments to "Flambeau River"
How did your trip turn out?

Questions or comments?

Feel free to leave your feedback.