Mirror Lake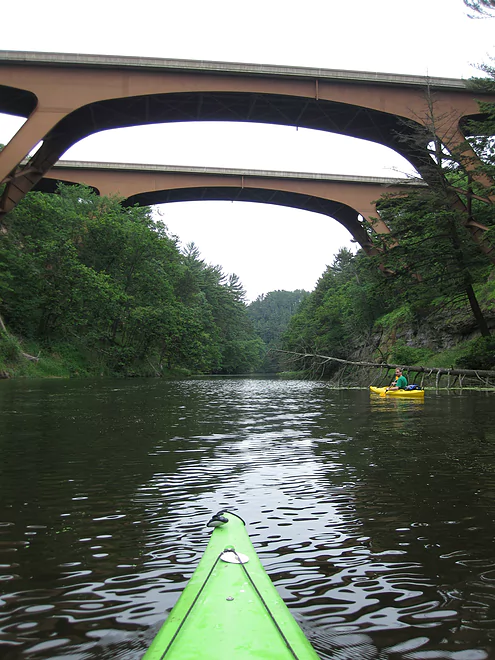 Put-in:
Delton Boat landing
Take-out:
Lake Delton Boat Ramp
Distance:
3.3 Miles + Dam Portage
This is a very good route and in fact would be a great introductory route for somebody who just purchased a kayak or is new to the sport. The only downsides are slow current and 'people issues' during the weekends, but all in all this is very nice. The water is pretty clean for the most part, very calm (DNR has Mirror Lake protected with a no-wake rule) and the straights that connect the lakes to Dell Creek are very scenic with the rock outcroppings and plants growing on the shores. The shore quality is excellent and trees provide nice shade in the summer (unlike say the exposed Wisconsin River where you roast on sunny days). One of the great perks of this area is no tour boats! Ducks used to give tours in this area but this ended when the State took over Mirror Lake (Ducks aren't so bad…it's the stupid megaphone the guides use which is so annoying for boaters looking for a tranquil retreat).
The most popular put-in is the Mirror Lake State Park landing…very good landing…but its location is not ideal for planning that perfect trip (it requires too much back-tracking). You're best bet will be to put in at the Lake View Road landing…paddle first through the first straight connecting upper and lower Mirror Lake(s). This opens up into the main Mirror Lake section (where the Park Beach and Landing are). Paddle under the interstate bridge and through the 2nd straight to the Mirror Lake Dam. Brand new is the Mirror Lake dam portage which makes this easy (somewhat) to navigate around. The downstream side will be a little tricky to carry your kayaks as there are stairs, but this should be doable. Continue past the dam through the 'third straight' to the Lake Delton boat ramp, for a very nice trip. Lake Delton isn't super exciting but that will be the topic of another review.
For side adventures, consider walking the Mirror Lake trails… Some of the best state park trails in the state (used a lot for cross country skiing in the winter). The trails bordering the shore starting from the southern point and going up-to Fern Dell Gorge can be a little long for a casual walk (the trail going through Fern Dell Gorge is poorly maintaned…accessing the gorge from a kayak doesn't help that much) . The best trail sections are from the main boat landing and going north until you cross a nice pedestrian bridge and encounter the Ishanala Restaurant (very scenic restaurant).
Third Party Resources:
There are 6 companies in the area that I can think of that do general shuttle/rentals…however none but Mirror Lake Rentals service the Mirror Lake area (I think). Here are the local rental companies:
Vertical Illusions
Holiday Shores Watersports
Rivers Edge Resort
Point Bluff Resort
Wisconsin Dells Trout Farm & Canoe Trips
Mirror Lake Rentals
MIrror Lake Rentals is unique in that MIrror Lake State Park partners with them to offer boat and kayak rental services right in the park. Don't think any of these companies will do shuttles for the Dell Creek area…you can contact them and ask though.
Probably a better bet if you have your own kayak and don't have a shuttle partner is to just use one of the local taxi services (there are a lot of them):
ASAP Wisconsin Dells Taxi – 1-608-253-7433
Dells/Delton Shuttle & Taxi – 1-608-253-6746
Sureway Taxi Service – 1-608-963-9218
Wisconsin Dells Kangaroo taxi – (608) 792-9214
AA Dells Cab CO – (608) 253-7722
Dells Cab Company – (608) 434-3166
Other Dell Creek Trips:
For additional landing information see my overview map here.
Upstream of South Ave:  Likely too small and congested to run.
South Ave to Briar Bluff Road:  1.9 miles.  Nice stretch, but there are probably too many logjams.
Briar Bluff Road to Coon Bluff Road:  1.6 miles.  A popular section with trout fishermen and attractive, but likely too congested for paddling.
Coon Bluff Road to Mirror Lake Boat Ramp (main one):  3.9 miles. 

Coon Bluff Road to Hwy 23:  1.9 miles.  A pleasant creek section with an attractive marsh.  No logjams, but some limb dodging and alder ducking required.
Hwy 23 to Mirror Lake Boat Ramp (main one):  2.0 miles.  The western lobe of Mirror Lake.  Starts with a nice marsh filled with wild rice.  Then the lake narrows as it enters a scenic gorge (Upper Narrows).  Great segment.

Mirror Lake Boat Ramp (main) to Newport Park/Wisconsin River:  5.0 miles.

Mirror Lake Ramp to Mirror Lake Dam:  1.5 miles.  Fantastic stretch through the canyons of the Lower Narrows. 
Mirror Lake Dam to East Adams Street Ramp:  0.7 miles.  A great stretch with more sandstone outcrops.
East Adams Street Ramp to Newport Park:  2.8 miles.  This is Lake Delton which is very developed and overrun with motorboats.  It's not a great paddle but it can be novel to see some iconic Dells businesses from the water.  The highlight is Dell Creek below the Lake Delton dam, which is scenic.
Trip Map
Overview Map
Photos
2 Comments to "Mirror Lake"
How did your trip turn out?

Questions or comments?

Feel free to leave your feedback.