Pine River – Richland Center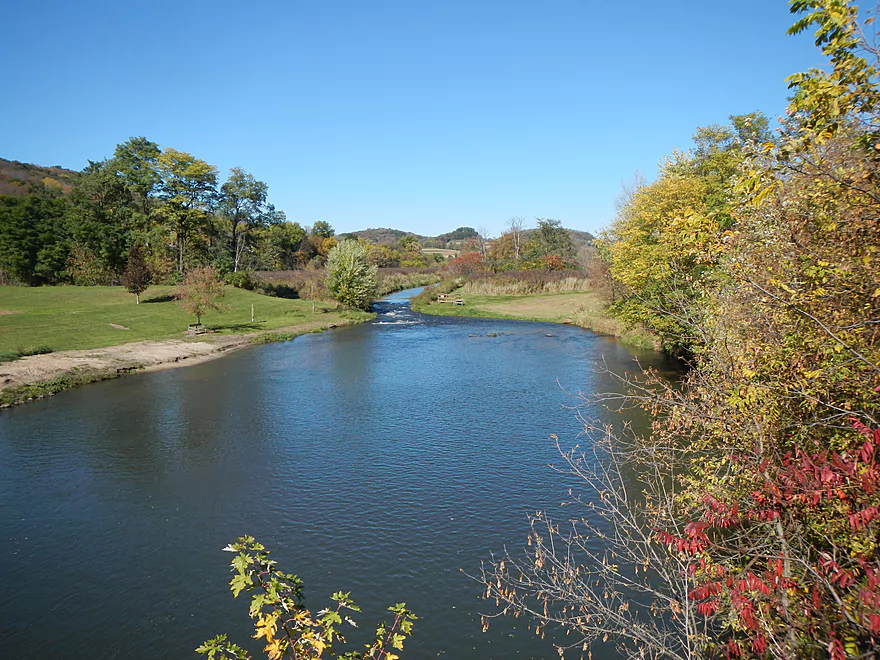 Put-in:
Canoe Port 1 or Hwy AA
Take-out:
Canoe Port 4 or Hwy Q (Old Community Center)
Gradient:
7' per mile to start - then ends at 4' per Mile
The Pine River is an under-rated prospect sandwiched between the Baraboo River and the Kickapoo River.  The lower third from Richland Center to the Wisconsin River gets occasional paddling traffic which is an ok prospect but it gets beat up by flooding.  The upper third starting from Rockbridge Park is a great prospect which I've reviewed previously.  For this review, I'll concentrate on the "middle section" which mostly flows through Richland Center.
When I had last paddled the Pine River, while it was incredibly scenic, the trip had its rough moments.  It was raining, the river was running high, log jams were an issue and my camera battery died early in the trip.  The river seemed to have more potential than was realized during that trip.  In talking with the Natural Bridge Grocer at Rock Bridge, they had mentioned that they locals were actually interested in setting up a livery service.  Fast forward a couple of years…and they did set up a livery!   So this summer (2013), Mark started Pine River Paddle & Tube with two focal points.  One upstream by Rockbridge and one for the Richland Center section.  Definitely consider checking them out.  Phones reservations available at 608-475-2199 or 608-475-2178.
What is significant about a livery being setup, besides the shuttle and rental services, is that they take care of a river which is so important for water trails.  For example, when I did my previous Pine River trip it was from Rockbridge to AA at roughly 6 hours (longest trip I've ever done).  Mark got permission to improve the bridges by D and S R for kayak access which is huge as it lets one subdivide the upper Pine into multiple sub-trips.  He and friends also cleared out all the log jams on the Upper Pine which is tremendous and should really help the Pine become popular.  Friends of the Pine River and the Richland Center parks department have cleared out the middle and lower sections, so it should be clear sailing all the way from Rockbridge to the Wisconsin River now.  In fact, the local park service removed a nasty boulder from the rapids near Port 4 (more on the rapids later) and maintains a terrific walking trail along a good length of the river, so the river should be good shape.
So as you can imagine, I was very happy to see these improvements since my last paddle.  I debated running the upper section again (which I will do in the future) but decided to start a new trip from where I left off before (at the AA bridge).  I did a car drop at the Q bridge (or old community center) with the help of Pine River Paddle & Tube.  The AA bridge is actually a great put-in (or take-out).  While there are many more good landing spots, it is the first of five official canoe ports.  These are well marked areas with nice pull-offs for parking and floating piers meant for kayaks.  This is UNIQUE.  I've paddled a lot of rivers and have never seen these "kayak launchers" before.  They are a great way to keep your feet clean and to launch into the water.  Just a word of caution though, that if you're not used to these and you have a longer/v-bottom boat, things can get tippy as you "otter" from the pier into the water.  Just watch your balance and use your paddles and you should be ok.  If you have a really long boat, you can probably just set it by (instead of on top of) the "kayak launcher" and launch as if from a normal low lying dock.
For this particular trip from Canoe Port 1 to Canoe Port 4 (see map for details), you can kind of divide it into three.  From Port 1 to Port 2 is maybe a couple of miles.   It's not super wooded here, but there are nice grass banks that afford great views of the "Ocooch Mountains" in the background.  In fact these scenic hills in the background were one of the highlights of the trip (especially so as they were turning for fall color).  Generally a pleasant, peaceful paddle. 
From Port 2 to Port 3 is another couple of miles and it appears the current picks up and the shoreline gets a bit more wooded and scrubby.  There aren't as many good views of the hills, and while this section is free of log jams, the swift current and strainers will keep you on your toes.  Not sure I would recommend this section for inexperienced paddlers.  This was perhaps the weakest sub-section of the trip.  There were occasional riffles in this section, some of which were caused by underground logs.  Fast and deep water flowing through submerged logs can be dangerous for longer boats.  While the Pine is perhaps as narrow as its westerly neighbour in the Kickapoo, it is much deeper and faster, so this is definitely a river to wear your life jacket on.
From Port 3 to 4 is the best part of the trip.  It's another mile or so and starts at Krouskop park.   You'll be greeted by a nice pedestrian bridge that I believe connects UW-Richland Center to the park and there is a great launching area for kayaks.  This is entering more of Richland Center Proper and is very open, grassy, slower and clean with much less in the way of floating log hazards.  This sub-section offers the best views of the Ocooch mountains (especially looking upstream).  You'll come paddle alongside one the largest collection of flags I've ever seen.  The sounds they all made were very unique.  One of the highlights is a very unique pedestrian suspension bridge that runs along the length of not only the river but also a good chunk of where the old flowage used to reside (google maps confusingly still shows the old flowage). After the bridge, the river will narrow a lot and you'll come up on spot the old dam used to be.  Nothing remains of it anymore but there does exist a rapids chute (perhaps class 2), that kind of reminded me of the rapids chute on the Baraboo River at La Valle where that old dam had been removed.  If you don't want to risk running this, the floating pier for Port 4 is just above the rapids and there is a great trail system for portaging them.  I decided ultimately to use the trail system and floating dock…to run the rapids a 2nd time!  Very fun, and I highly recommend this if possible.  Although I did get a little wet from the splashes and the second time I ran aground (see video which has both runs).  The river was a tad shallow at spots but was easily runnable.  I don't think the Pine ever gets to low to run, but definitely gets too high.  There is no guage on the river, so your best bet will be to call Pine River Paddle & Tube for conditions.  The guage at La Farge (for the Kickapoo) might be helpful.
The proper take-out for Port 4 (Hwy Q bridge) is after the rapids and on your right.  A huge parking lot for a now abandoned community center assures you parking will not be an issue.  Minor hike between the lot and the water, but it's grassy, so easy to drag your kayak.  The water is shallow so it is easy to get into/out of your kayak here (right after the rapids).  No bathrooms here, but gas stations are nearby.  If you get a chance, you may explore the trail system after getting out which I did.  It runs on both sides of the water for a ways and connects with the suspension bridge I mentioned earlier.  Lot of fun photo opportunities if you're into photography.
All in all a nice trip.  The section through the scrubby woods and strainers was only perhaps a 3 star, while the last and first sections were very nice at 4 stars…hence a 3.5 star compromise.  A hindsight trip (and probably a clear 4 star prospect) would be to start at Port 3 (Krouskop Park) and takeout at Port 5 (maybe 4-5 miles)…or go further to Twin Bluffs (total 8-9 miles maybe?).   If this is your first time on the Pine though, I recommend doing Rock Bridge to near the S R bridge for the rock formations…and pine trees! (which I didn't see too much on the lower section despite its namesake).  There are no rock formations after Port 1 that I know of, but it is still a terrific stretch worth considering on its own right.
Note, this review replaces an earlier 'review' I had done that was just a collection of research information and photos without any first person experiences.  I had posted (with permission) high quality pictures of the Pine River around Richland Center.  If you are looking for those, you can still find them at this gallery here.
In planning a custom trip, I'll include some rough mileage estimates with the various landings you can choose from.  You should be able to use the map below for more detail.  Figure two miles an hour for river paddling.  Three if you are really fast.
Rockbridge to Hwy D: 3.65 miles (Rockbridge put-in is the highlight.  Some bluffs downstream on this section.)
Hwy D to Bridge Near Hwy S R: 2.25 Miles (Good rock formations on this stretch)
Hwy S R to Hwy AA (Port 1): 4.5 Miles (Trying to remember…think there is one nice bluff on this stretch)
Hwy AA (Port 1) to Industrial Drive (Port 2): 2.7 Miles (Nice open section with views of the hills)
Industrial Drive (Port 2) to Krouskop Park (Port 3): 1.86 Miles (More tree cover, prepare to dodge submerged logs)
Krouskop Park (Port 3) to Hwy Q (Port 4): 1 Mile (Great section with cool bridges, class 2 rapids and hilly scenery)
Hwy Q (Port 4) to Bohmann Drive (Port 5): 2.4 Miles
Bohmann Drive (Port 5) to Twin Bluffs: 7.8 Miles
Twin Bluffs to Gotham (Mouth at the Wisconsin River): 9 Miles (Mostly floodplain paddling so not as interesting, but still ok)
 It should also be noted that there are supposed to be some nice creek tributaries of the Pine to paddle, which I'll hopefully find out more about in the future.
Detailed Overview
Map Overview:
Click here to see a map of water trails and access options on the Pine (and its tributaries).
Quick Overview:
Yuba to Pier County Park:  Few paddle this stretch because of deadfall issues, but the river here is scenic and has some great outcrops.
Pier County Park to Hwy D:  The best and most popular part of the river.
Hwy D to AA:  An ok stretch with some outcrops, but not as many.
Hwy AA to Hwy O:  A nice stretch through the city of Richland Center.  There are no outcrops here, but there are fun Class 2 rapids by Seminary Street.
Hwy O to Mouth:  This was cleaned up years ago, but likely has a few deadfall issues now.  This is a mediocre paddle with no outcrops and isn't as interesting as upstream legs.
Detailed Overview:
Yuba to Hwy C:  2.3 miles.  Relatively open with some light rapids.  Maybe one logjam.
Hwy C to Beatty Dr:  0.4 miles.  Mostly open with maybe some outcrops.  Good prospect.
Beatty Dr to Quarry Dr:  1.6 miles.  Maybe 4-5 logjams.
Quarry Road to Shellington Rd:  4.8 miles.  Mediocre trip with some deadfall and mud, but some nice geology.


Quarry Road to Hwy C:  1.5 miles.  4 major logjams make this not worth it IMO.  There are two outcrops, but they aren't major.
Hwy C to Shellington Road:  3.3 miles.  Some snags, but no logjams.  Bit of a trout stream feel to it.  Two nice clusters of outcrops at the end.  An underrated paddle.

Shellington Rd to Hwy 80:  1.5 miles.  Maybe 5 major logjams, but there should be some great outcrops on this stretch.
Hwy 80 to Hwy I:  0.5 miles.  Likely an uninteresting stretch with maybe 3 logjams.
Hwy I to Hwy 80:  0.8 miles.  Not a great stretch with maybe 2 serious logjams.
Hwy 80 to Hwy D:  5.1 miles.

Hwy 80 to Pier County Park:  1.4 miles.  Two great outcrops, but also a number of snags on this stretch (none that I had to portage).
Pier County Park to Hwy D:  3.7 miles.  11 outcrops on this stretch makes this the best leg on the Pine.  The highlight is Pier County Park.

Hwy D to Hwy AA:  6.9 miles.

Hwy D to Hwy 80/SR:  2.3 miles.  Roughly 3 outcrops on this leg.
Hwy 80/SR to Hwy AA:  4.6 miles.  Trying to remember…I believe there are 1-2 nice outcrops on this leg.

Hwy AA to Hwy Q:  5.4 miles.

Hwy AA to Industrial Dr:  2.7 miles.  Nice open section with views of the hills.
Industrial Dr to Krouskop Park:  1.7 miles.  More tree cover.  Some submerged logs to dodge.
Krouskop Park to Hwy Q:  1.0 miles.  Great section with cool bridges, class 2 rapids and hilly scenery.

Hwy Q to Hwy O:  5.5 miles. 

Hwy Q to Bohman Dr:  2.3 miles.  A nice section.
Bohman Dr to Hwy O:  3.2 miles.  Mostly open with some cornfields.  Not as nice as the previous sections.

Hwy O to Twin Bluffs:  4.8 miles.  Mediocre prospect.
Twin Bluffs to Gotham (mouth on Wisconsin River):  9.6 miles. Mostly floodplain paddling so not as interesting, but still ok.
Noteworthy Tributaries:
Willow Creek:  The best of the Pine River tributaries with fantastic "cake-shaped" outcrops.
Melancthon Creek:  An incredibly scenic creek that can only be done in high water.  There are two tunnels that you can paddle through.  Sadly there were a few annoying logjams on this stretch when I did it in 2017.  Hopefully they've been cleared up by now or will be in the future.
Hawkins Creek:  This is a speculative prospect I will likely do in the future.  It has many scenic outcrops, but also a fair degree of logjams, fences, and can only done in high water.
Pine River - West Branch:  This is one of the weaker tributaries.  A lack of outcrops and likely fences/logjams make this somewhat unappetizing, but I might try to explore the more open sections in the future.
Trip Map
Overview Map
Video
For best quality, view in fullscreen and 1080p!


Photos
2 Comments to "Pine River – Richland Center"
How did your trip turn out?

Questions or comments?

Feel free to leave your feedback.