Big Eau Pleine River – Elderberry Rd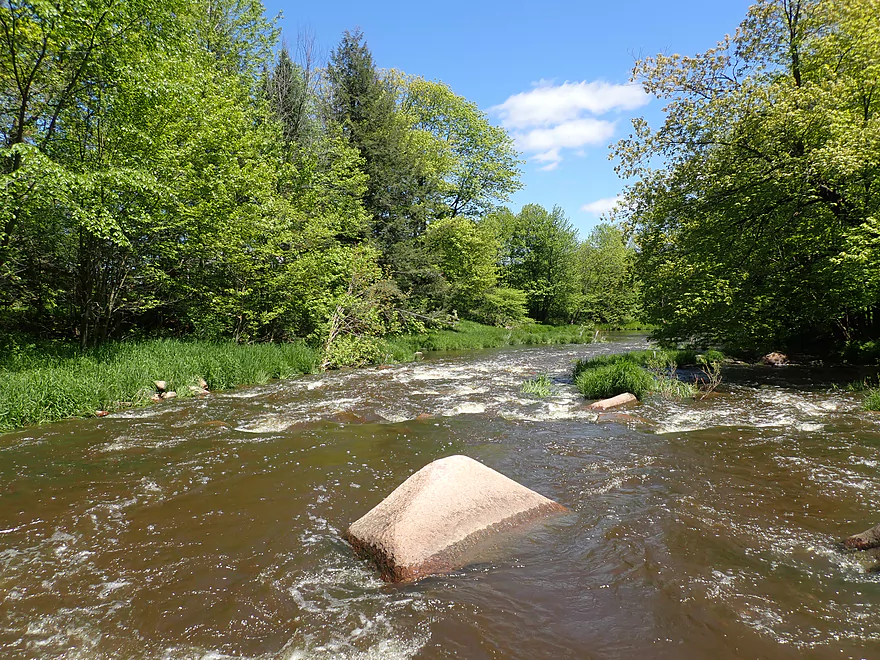 With its fantastic boulder gardens, rapids, outcrops, and scenic woods, the Big Eau Pleine River is one of my favorite Central Wisconsin paddles.  The only reason it's not crazy popular with paddlers is it is often too shallow.  Immediately after a big rain it gets too high, which leaves a narrow "Goldilocks" window one to three days after a decent rain in which you can paddle it.  Such a window presented itself and I took a day off work to take advantage.
Previously, I've paddled most of the river but not the leg upstream of Cherokee Park which is what I chose this time.  Two days prior we had an inch of rain and I honestly wasn't sure if or when the gauge would crest the night before the trip, but thankfully it did.  When I got to Elderberry Road, the river was still high but falling fast.  Between the time I dropped off my boat (for my shuttle) and returned from my bike shuttle the river had dropped noticeably.
The first half of the trip (Elderberry Road to Huckleberry Road) while less eventful and scenic than the second, is still nice.  Much of the upper river flowed through a wooded corridor flanked by many maples (this would be a great fall paddle), ferns, and even occasional hemlocks.  Every now and then I encountered a minor set of boulders/rapids, but nothing major (yet).  There were no major rock outcrops on this trip, but there was a small fractured rock face that was cool.
Just upstream from Huckleberry Road, I finally saw (and heard) a pair of serious rapids.  Both I would rate as Class 2 and were scenic.  For more information on these and the other rapids, see the hazard overview below or watch the video.
The second half of the trip (Huckleberry Road to Cherokee Park) is where things got interesting.  Not to start though, as the first mile+ had mostly generic wooded banks with just a few minor boulder gardens and rapids.  This was still nice and at times the trees would arch over the river to form a canopy.
The last mile of the trip contained the biggest and strongest rapids.  It started with "Island Rapids" where an island splits the river in two.  The "main" channel is a tangle of unnavigable rocks, so kayakers will need to sneak around the island on the west/right channel.  This side channel would be the first of the three Class 3's and it was important that I scouted this from shore beforehand.  From the water, you just won't see the line through the rocks until it is too late.  A public trail parallels the river along the west bank starting from Island Rapids and going all the way to Cherokee Park.  Absolutely scout these rapids from this trail and portage if need be.
This was soon followed by "Leaning Pine Rapids".  This pitch was more open, but again had a congested set of rocks at the base which required difficult tight turns in fast current to get through.  From the water, I started seeing hikers along the Cherokee Trail who must have been surprised to see me.
The last, longest, and most impressive set of rapids is "Cherokee Rapids" located just upstream from the park.  This has multiple pitches with yet again the most difficult section being at the base requiring a tight turn to get through a small gap in the rocks.
After Cherokee Rapids, the current dies as the river becomes impounded from the downstream dam.  Here there were impressive boulders as in the largest I've ever paddled through.  They would have been even more impressive had they not been partially submerged by the downstream dam.  That serves no purpose and should be removed.  After the boulder field, I navigated through a small millpond with beautiful reflections and took out at the dam.  The right side of the dam was over-topped and might have been runnable, but I decided against this as I was worried I would come down too fast and hit a rock.  Cherokee Park was a nice take-out and a great way to end the trip.
In summary, this was a very nice trip.  The rapids were stronger and more difficult than I expected, and should be taken seriously.  In fact I've paddled almost the entire stretch of the Big Eau Pleine, and consider this leg to have the toughest rapids.  It also is the most depth dependent and difficult to time, but is definitely worth the effort.
Local Diversions:
Cherokee Park Trail:  The main park is somewhat generic…there is a playground, a shelter, and a nice view of the dam and millpond.  The hidden gem is an obscure, half-mile long trail that starts in the park and follows the river north upstream.  Here there are fantastic views of the large boulder gardens and rapids.  Kayakers could actually hike this trail prior to a trip to get a feel for how high or low the three Class 3's are before committing to a trip.
Noteworthy Wildlife:
Sights included two owls, two snappers (one the largest I've ever seen), two snakes at Cherokee Park, and a great blue heron.  The low-light was a pile of dead carp a fishermen left to rot below Cherokee County Park.  Flies were everywhere and it smelled bad.  Fisherman should be considerate in how they dispose of dead fish.  I found it curious that carp could live in the Big Eau Pleine given how rocky and shallow it can get in the summer.  I suspect they take refuge in the millpond during the droughts, which is yet another reason to remove the dam at Cherokee Park.
Put-in:
Elderberry Road:  This was a surprisingly nice put-in.  There is a nice mowed pull-off and a grassy area leads to the water.  It's not clear this is public, but there were no No Tresspassing signs, so I assume it is ok to use.  Elderberry Rapids are located just above the put-in.  To run these rapids you'll have to bushwhack through some wooded undergrowth.
Alternative Put-ins:
Gierl Ave (2.1 miles upstream from  my put-in).  This should be a manageable bridge access.  This leg doesn't have quite the concentration of boulders/rapids as downstream legs, but is a good prospect with maybe one major stretch of rapids/boulders and three mediocre stretches.  This is a shallow leg that can only be run in high water.
Huckleberry Road (1.9 miles downstream from my put-in).  Huckleberry Road would be a manageable bridge access but not as nice as Elderberry Road.  I suppose paddlers might skip the upper leg if they only wanted to do the major rapids located closer to Cherokee Park, but there are two fun Class 2's just upstream from Huckleberry Road you would miss.
Cherokee Park:  Beginner paddlers could launch from the dam, paddle upstream through the boulder gardens and up to the base of Cherokee Rapids and then return back as a round trip, but it would be pretty short.
Take-out:
Cherokee County Park:  This was a nice public park and good take-out option.  The best spot to disembark is on the concrete pier by the park shelter.  Alternatively you can get out by the dam, or even portage the dam and take out by a fishing access at the Hwy F/N intersection.  Free parking and outhouses are available in the park.
Alternative Take-outs:
Hazelnut Road (3.1 miles downstream from my take-out).  This would be a fantastic add-on leg with more scenic boulders and rapids.  The highlight is a 500′ long boulder field located just south of Cherokee Park.
Shuttle & Rental Information:
Cherokee Park to Elderberry Road Bike Shuttle:  4.0 miles with 115′ of ascent.  The first mile was tough, as it was mostly climbing a long  hill and getting buffeted by strong wind.  The last 1.6 miles was over gravel, but it was well packed and I could usually find a smooth tire tread to bike over.  All in all some challenges for a bike shuttle (including getting chased by a pair of dogs), but not too bad and very manageable at just 4 miles.
Hazards, Logjams and Current:
Logjams:  No logjams.  The Big Eau Pleine for whatever reason is pretty logjam free.
Current:  This is a pool and riffle river…long slow stretches interrupted by rapids.
Dam:  There is a dam at the take-out.  You can get out above or portage and disembark below it.  Typically the dam is not runnable, but in high water you can likely run the south side when it overflows.  Scout before running.
Rapids:  Please reference the trip map for additional details and exact locations of the rapids.  Only referenced are Class 2 or greater rapids (there were maybe 10+ Class 1's).  Each of the major rapids is linked to a video time stamp.  Note many of these rapids are quite depth dependent.  In shallow water they won't be runnable (your kayak won't physically fit between the rocks), while in high water the rapids will be too rough.  Aiming for that Goldilocks middle ground is key.  I didn't find any official names for the rapids, so I created names to make them easier to reference.
River Depth and Navigability:
Nearest Gauge:  Big Eau Pleine River @ Stratford – Note, the gauge is located far downstream so may not be trustworthy, but my trip depth was 320 dropping to 250 CFS.  Roughly speaking, you likely need to wait maybe two days after an inch of rain…maybe one day after a half inch.  This is a Goldilocks river…too shallow and you'll be hitting many rocks, but if too high the rapids will be pushy and dangerous for rec paddlers. 
< 150 CFS:  Too shallow
151-200 CFS:  Most of the river will be deep enough, but not the rapids.  4-6 might need to be portaged because they would be too shallow.  For some this might be worth it.
201-250 CFS:  A shallow depth with maybe 2-4 portages for shallow rapids.
251-350 CFS:  Most of the rapids will be runnable but only through narrow and hard to find lines.
351-450 CFS:  A  high depth with rough and difficult rapids.  Only suitable for skilled paddlers.
451-550 CFS:  Very high depth only for skilled whitewater paddlers.
551+ CFS:  Only suitable for expert whitewater paddlers.
Detailed Overview
Upstream of Gierl Ave:  Only runnable at very high flow rates.  A reader by the name of Jeremy provided a quick summary here.
Gierl Ave to Elderberry Road:  2.1 miles.  This leg doesn't have quite the concentration of boulders/rapids as downstream legs but is a good prospect with maybe one major stretch of rapids/boulders and three mediocre stretches. This is a shallow leg that can only be run in high water.
Elderberry Road to Cherokee Park:  3.7 miles. 

Elderberry Road to Huckleberry Road:  1.9 miles.  A shallow wooded stretch with a handful of Class 1's and two Class 2's at the end.
Huckleberry Road to Cherokee Park:  1.5 miles.  Very wooded flowing mostly through Cherokee Park.  Nice leg with three Class 3's and one large boulder garden.

Cherokee Park to Hazelnut Road:  3.1 miles.  Fantastic trip with clear water, many boulder gardens, and fun rapids.  The highlight is an 800′ long boulder field below Hwy N.
Hazelnut Road to March Rapids Park:  6.1 miles.  Heavily wooded leg with multiple boulder gardens and a few small outcrops.  There are two sets of significant Class 2 rapids.
March Rapids Park to Big Rapids Park:  3.4 miles.  A good trip with 7 Class 1's and 2 Class 2's.
Big Rapids Park to Hwy M:  8.5 miles.

Big Rapids Park to Hwy 97:  1.9 miles.  Shallow but scenic section.
Hwy 97 to Hwy M:  5.6 miles.  Scenic section with several rock outcrops.

Hwy M to Hwy 153:  0.9 miles.  There are some rock walls after Hwy M, but you could just paddle down and back to explore, instead of taking out at Hwy 153.  Hwy 153 is not an ideal take-out.
Hwy 153 to Maryel Drive Boat Ramp:  2.2 miles.  Probably uninteresting flowage padding.  Put-in at Hwy 153 would be tricky, but the take-out at the ramp would be good.
Maryel Drive to Reservoir Dam:  13.3 miles.  A huge lake that is not paddle friendly.  Numerous launch options are marked on my overview map.  The dam is located on the mouth near the Wisconsin River.
Trip Map
Overview Map
Video
Photos
How did your trip turn out?

Questions or comments?

Feel free to leave your feedback.