Pecatonica River – East Branch
The East Branch is a solid river for paddling.  As a general rule the further upstream you go, the better the scenery…but also the greater the likelihood of logjams.
Trip Reports
Blanchardville Dam to Hwy 78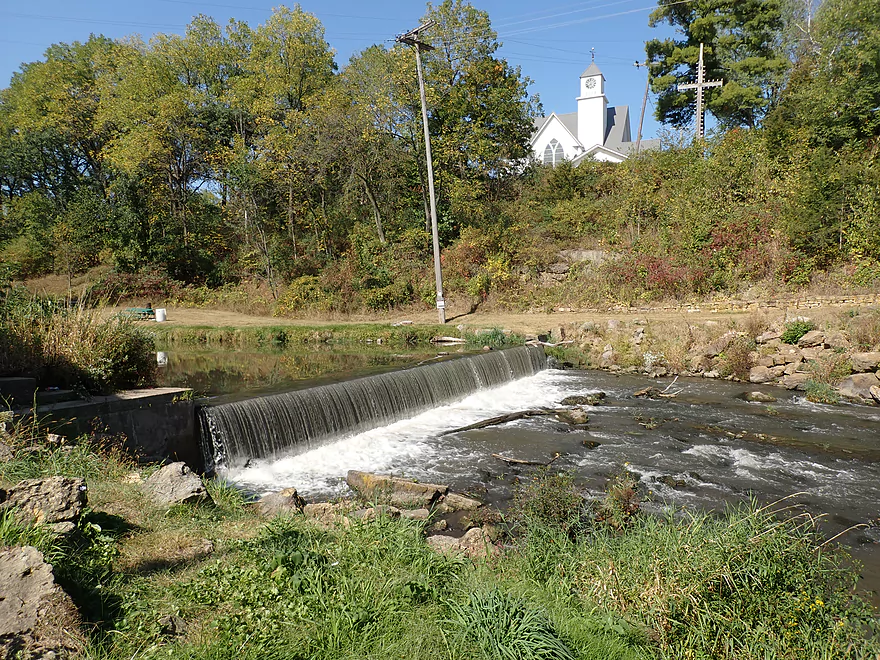 Date Paddled:
September 18th, 2021
Distance:
3.8 miles
Time:
Expect 2 hours
This is a weaker stretch of the East Branch, but it wasn't a bad paddle.  It's most memorable feature was the Blanchardville dam at the put-in which is photogenic.
Read More...
Hwy 39 Bridge to Horseshoe Bend Road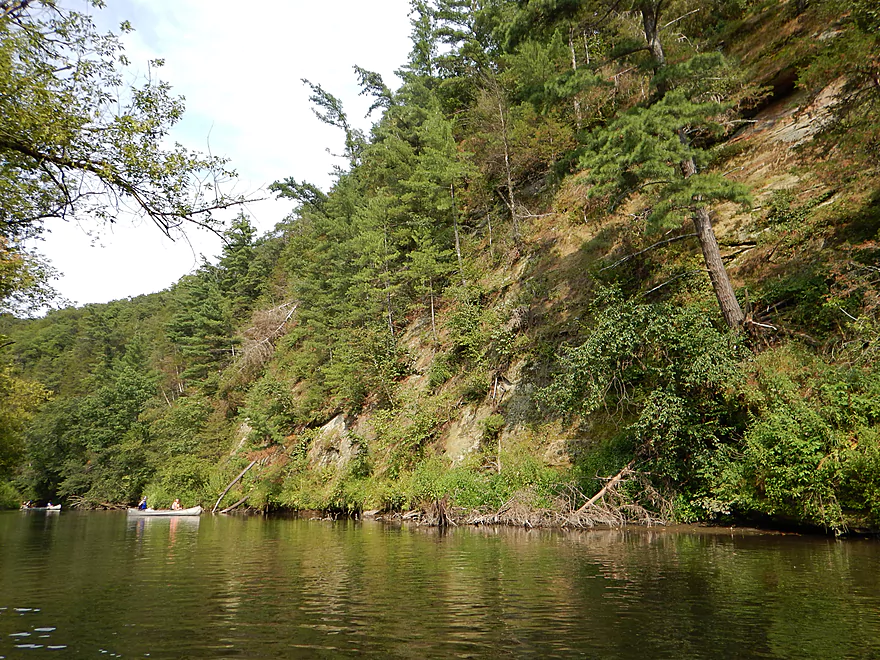 Date Paddled:
August 9th, 2014
Distance:
7.4 Miles
Time:
4 hours 35 minutes
An underrated prospect located 40 minutes southwest of Madison, with nice plantlife and tree canopies, but most of all, some splendid rock bluffs. There is a decent chance you haven't heard of the East Branch of the Pecatonica River, as many paddle review sources do not cover it.  This is odd…but kind of a consistent […]
Read More...
Overview Map
Detailed Overview
Upstream of Hwy Hk:  Too many logjams to recommend.
Hwy Hk to Burma Road:  1.3 miles.  An ok prospect with perhaps some obstructions.
Burma Road to Star Valley Road1st:  2.0 miles.  An interesting prospect with good scenery and not too many logjams.
Star Valley Road1st to Hwy 39:  3.1 miles.  Good scenery potential but too congested.
Hwy 39 to Horseshoe Bend Road:  7.6 miles.

Hwy 39 to McKenna Road:  3.9 miles.  A pleasant section with a rock outcrop near the take-out.
McKenna Road to Horseshoe Bend Road:  3.7 miles.  Another pleasant section with a massive rock wall.

Horseshoe Bend to Blanchardville Dam:  3.6 miles.  Less interesting prospect compared to the immediate upstream section.  This part of the river has seen tornado damage, but this should be mostly cleared up now.
Blanchardville Dam to Hwy 78:  3.9 miles.

Blanchardville Dam to Gordon Creek Landing:  0.3 miles.  A short, but pleasant stretch through the outskirts of Blanchardville.
Gordon Creek Landing to Hwy 78:  3.5 miles.  While not bad, this is one of the lesser interesting stretches.

Hwy 78 to River Road:  6.4 miles.  A good prospect with several nice outcrops.
River Road to Argyle Boat Launch:  7.4 miles.  Also a good prospect with more outcrops.   Alternative take-out at River Street.
Argyle Boat Launch to Blackhawk Memorial Park:  8.3 miles.  Not as nice as previous sections but still good.
Blackhawk Memorial Park to Road M:  1.0 miles.
Hwy M to Cisserville Road:  6.4 miles.  Probably uninteresting.
Cisserville Road to Mouth:  2.2 miles.  Probably a weak prospect.
Mouth to Hwy 11:  3.2 miles.  A leg on the Pecatonica River (main branch) to reach a take-out.
Nearby Guages
East Branch of the Pecatonica @ Blanchardville
Videos


Bonus video below of butterflies siphoning minerals from mud and beating their wings as a hydraulic mechanism.


Comments
How did your trip turn out?

Questions or comments?

Feel free to leave your feedback.