Sand Island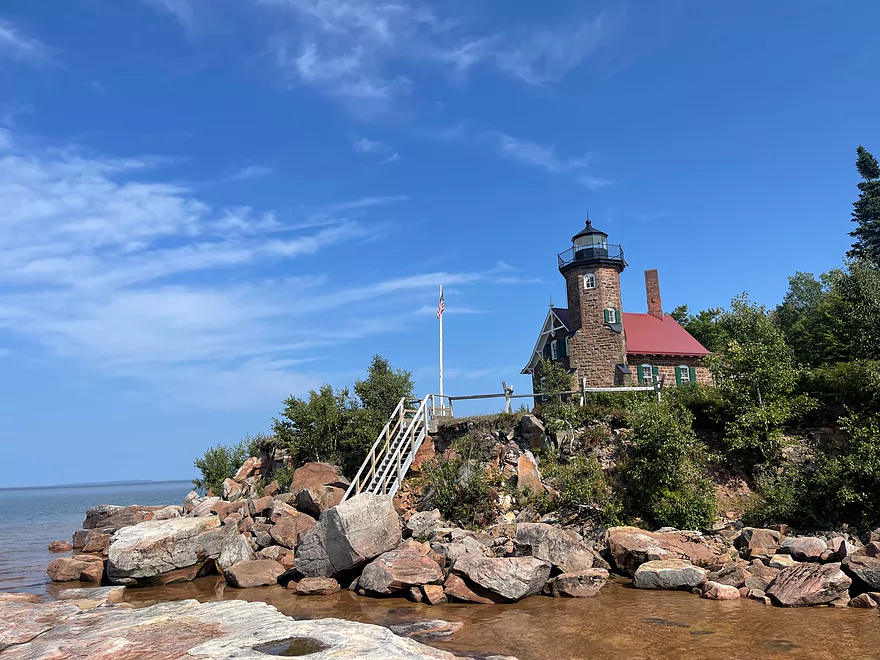 Take-out:
Little Sand Bay
Sand Island has the 2nd most popular caves to kayak in the Apostle Islands National Lakeshore behind the caves near Meyers Beach. The caves are just as spectacular, but the trip requires a long trip across Lake Superior which can take 1.5-2 hours each way. The conditions need to be calm in order to safely paddle between the mainland and the island.
After arriving at Sand Island, the reward for the trip is easily seen! There are quite a few caves that can be explored with a vast network underneath the island that can be paddled through.
After paddling in the caves I arrived at Justice Bay and parked the kayak. There is a trail that leads to the Sand Bay Lighthouse on the north shore of the island which is a Mike hike. There is an option to hike south towards the Ranger Station in East Bay as well.
At the lighthouse the National Park Service rangers will give tours of the lighthouse for $5. If you do not have cash they will give you an envelope to pay on the mainland. The tour is well worth it and there are great views of the lake and the island.
After hiking the island the caves were explored for a final time before the 1.5 hour journey back to Little Sand Bay Harbor. For much of the journey the rest of Sand Island is to the west and York Island is to the east.
Overall, the trip requires a lot of strength and stamina, but is well worth it! The caves are less crowded than Meyers Beach and Sand Island is a great place to explore the sea caves, go for a hike, or relax on the beach. The journey is very rewarding!
Addendum from the Webmaster:
Thanks Peter for the review!  WisconsinRiverTrips.com is always very appreciative of guest reviews, and if you the reader is ever interested in submitting one, you can use this online form. 
Note to readers, Lake Superior can be dangerous.  Paddlers are advised to carefully monitor forecasts for wind and waves, and to stay off if they look rough.  Ideally wind is less than 8 mph and waves less than a foot.  Sample wave forecasts include Windy.com, NOAA, and Buoyweather.com.
Trip Map
Overview Map
Photos
How did your trip turn out?

Questions or comments?

Feel free to leave your feedback.