Pine River – Far Upper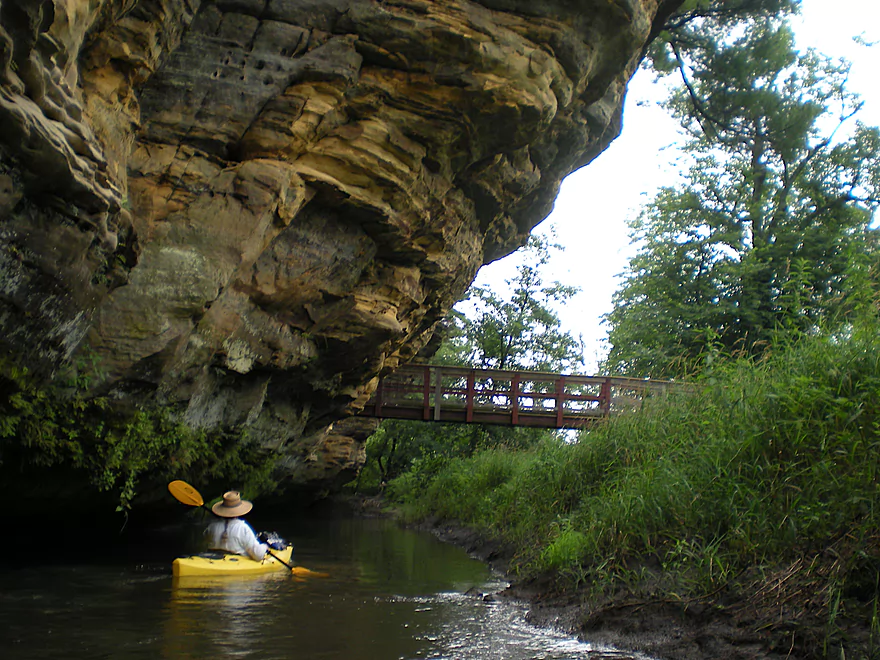 Put-in:
Pier Natural Bridge County Park
Take-out:
Hwy Aa Bridge (or better yet Dd Bridge)
Distance:
6 Miles (Dd) or 12 miles (Aa)
Time:
3 Hours (Dd) or 6 hours (Aa)
The Pine River is an interesting prospect located between the Kickapoo River and Baraboo River, perhaps overlooked by so many river reviewers because Wisconsin already has three other rivers named 'Pine River' (one of which is a popular paddling location). The cool thing about the Pine River is the rock formations that run along the upper stretch similar to the Pine's neighbor to the west in the Kickapoo River. Nestled in the 'Ocooch Mountains' in the middle of Richland County, the Pine is a narrow, deep river that gets a lot of run-off from the surrounding hills, which unfortunately hurts its water quality (the local farmers don't help).
The first section of the Pine starts in a very cool, obscure park, Pier Natural Bridge County Park, in the middle of Richland County. You can actually put in upstream of here and in some of the neighboring creeks, as I've heard those can be cool to kayak as well, but I know little about them. If you would be interested in any of these side trips (or have questions in general), I suggest calling Dean Jewell at 608-475-1739. He's a local who has worked with the visitor center in Richland Center to promote the Pine River and has organized volunteer clean-ups of the river. These volunteers hope to organize future shuttle and kayak rental services, as sadly, none exist on the river now.  
Update…there is now a livery service and they have cleared out the Pine.  For more information, contact Pine River Paddle & Tube at 608-475-2199 or 608-475-2178.
IMO the best route on the river is roughly a 6-mile trip from Rockbridge (aka Pier Natural Bridge) to the County DD bridge. This is where most of the rock formations are and there can be heavy log congestion after the DD bridge. Pier Natural Bridge not only makes a great put-in, but a nice side excursion as well. Basically, there is a massive rock formation in the middle of the park and the Pine River (well, the west branch) has cut a hole through it. You can actually climb on top of the bridge and camp on it. You can also check out the cool man-made tunnel through the rock (not to be confused with the nearby 'water tunnel'). Lots of pictures in the below photo gallery. Another side trip is to drive north and/or west of the park and you'll have a scenic drive filled with vistas of the local rock formations.
Putting in at Pier Bridge, you'll definitely want to paddle upstream and through the river tunnel to the other side of the bridge and surrounding bluff. After you're done checking out the park, it will be time to start the trip… After floating away from the park, the West Branch of the Pine River will join the main branch and under a mile you'll encounter your first bluff on the river. Water quality is not terrific again because of the steep hills and rocky terrain that forces a lot of water above ground and into the Pine (as opposed to being a groundwater-fed river), but also because the local farmers let their cows graze up to and into the Pine, which destroys the banks and fills the river with silt. The take-out for this leg will be the Hwy DD bridge…not the best take-out (there are a lot of stinging nettles on the bank) but puts the trip at a manageable 6 miles / 3 hours. Congestion can be more of an issue downstream… Dean Jewell and volunteers do try to clean up the river, so you might try coordinating your trip after one of these clean-ups to avoid excess portaging. I did the longer section from Rockbridge to the Hwy AA bridge (as opposed to DD), which was about 12 miles / 6 hours and had numerous tight squeezes and, I believe, 4 full portages.  Update here…there is now a livery service on the Pine and they have cleared out this section of the river.  For more information, contact Pine River Paddle & Tube at 608-475-2199 or 608-475-2178.
You can extend this trip about 5 miles to take in some more rock formations and to enjoy a much nicer quasi-landing at the DD bridge. Expect log jams (unless just cleaned up), cows, and not as many scenic vistas (although there are some cool ones). Again…if you eye the Google terrain map, that will pretty accurately tell you what you'll encounter on the trip as not only will it tell you where the bluffs are, but satellite view can roughly tell you where the log jams will be (where the river narrows and goes through heavy wooded areas=log jams).
For another trip idea on the Pine, check out my review from Port 1 to Port 4 near Richland Center.
In planning a custom trip, I'll include some rough mileage estimates with the various landings you can choose from.  Figure two miles an hour for river paddling.  Three if you are really fast.
Detailed Overview
Map Overview:
Click here to see a map of water trails and access options on the Pine (and its tributaries).
Quick Overview:
Yuba to Pier County Park:  Few paddle this stretch because of deadfall issues, but the river here is scenic and has some great outcrops.
Pier County Park to Hwy D:  The best and most popular part of the river.
Hwy D to AA:  An ok stretch with some outcrops, but not as many.
Hwy AA to Hwy O:  A nice stretch through the city of Richland Center.  There are no outcrops here, but there are fun Class 2 rapids by Seminary Street.
Hwy O to Mouth:  This was cleaned up years ago, but likely has a few deadfall issues now.  This is a mediocre paddle with no outcrops and isn't as interesting as upstream legs.
Detailed Overview:
Yuba to Hwy C:  2.3 miles.  Relatively open with some light rapids.  Maybe one logjam.
Hwy C to Beatty Dr:  0.4 miles.  Mostly open with maybe some outcrops.  Good prospect.
Beatty Dr to Quarry Dr:  1.6 miles.  Maybe 4-5 logjams.
Quarry Road to Shellington Rd:  4.8 miles.  Mediocre trip with some deadfall and mud, but some nice geology.


Quarry Road to Hwy C:  1.5 miles.  4 major logjams make this not worth it IMO.  There are two outcrops, but they aren't major.
Hwy C to Shellington Road:  3.3 miles.  Some snags, but no logjams.  Bit of a trout stream feel to it.  Two nice clusters of outcrops at the end.  An underrated paddle.

Shellington Rd to Hwy 80:  1.5 miles.  Maybe 5 major logjams, but there should be some great outcrops on this stretch.
Hwy 80 to Hwy I:  0.5 miles.  Likely an uninteresting stretch with maybe 3 logjams.
Hwy I to Hwy 80:  0.8 miles.  Not a great stretch with maybe 2 serious logjams.
Hwy 80 to Hwy D:  5.1 miles.

Hwy 80 to Pier County Park:  1.4 miles.  Two great outcrops, but also a number of snags on this stretch (none that I had to portage).
Pier County Park to Hwy D:  3.7 miles.  11 outcrops on this stretch makes this the best leg on the Pine.  The highlight is Pier County Park.

Hwy D to Hwy AA:  6.9 miles.

Hwy D to Hwy 80/SR:  2.3 miles.  Roughly 3 outcrops on this leg.
Hwy 80/SR to Hwy AA:  4.6 miles.  Trying to remember…I believe there are 1-2 nice outcrops on this leg.

Hwy AA to Hwy Q:  5.4 miles.

Hwy AA to Industrial Dr:  2.7 miles.  Nice open section with views of the hills.
Industrial Dr to Krouskop Park:  1.7 miles.  More tree cover.  Some submerged logs to dodge.
Krouskop Park to Hwy Q:  1.0 miles.  Great section with cool bridges, class 2 rapids and hilly scenery.

Hwy Q to Hwy O:  5.5 miles. 

Hwy Q to Bohman Dr:  2.3 miles.  A nice section.
Bohman Dr to Hwy O:  3.2 miles.  Mostly open with some cornfields.  Not as nice as the previous sections.

Hwy O to Twin Bluffs:  4.8 miles.  Mediocre prospect.
Twin Bluffs to Gotham (mouth on Wisconsin River):  9.6 miles. Mostly floodplain paddling so not as interesting, but still ok.
Noteworthy Tributaries:
Willow Creek:  The best of the Pine River tributaries with fantastic "cake-shaped" outcrops.
Melancthon Creek:  An incredibly scenic creek that can only be done in high water.  There are two tunnels that you can paddle through.  Sadly there were a few annoying logjams on this stretch when I did it in 2017.  Hopefully they've been cleared up by now or will be in the future.
Hawkins Creek:  This is a speculative prospect I will likely do in the future.  It has many scenic outcrops, but also a fair degree of logjams, fences, and can only done in high water.
Pine River - West Branch:  This is one of the weaker tributaries.  A lack of outcrops and likely fences/logjams make this somewhat unappetizing, but I might try to explore the more open sections in the future.
Trip Map
Overview Map
Photos
8 Comments to "Pine River – Far Upper"
How did your trip turn out?

Questions or comments?

Feel free to leave your feedback.