Nine Springs Creek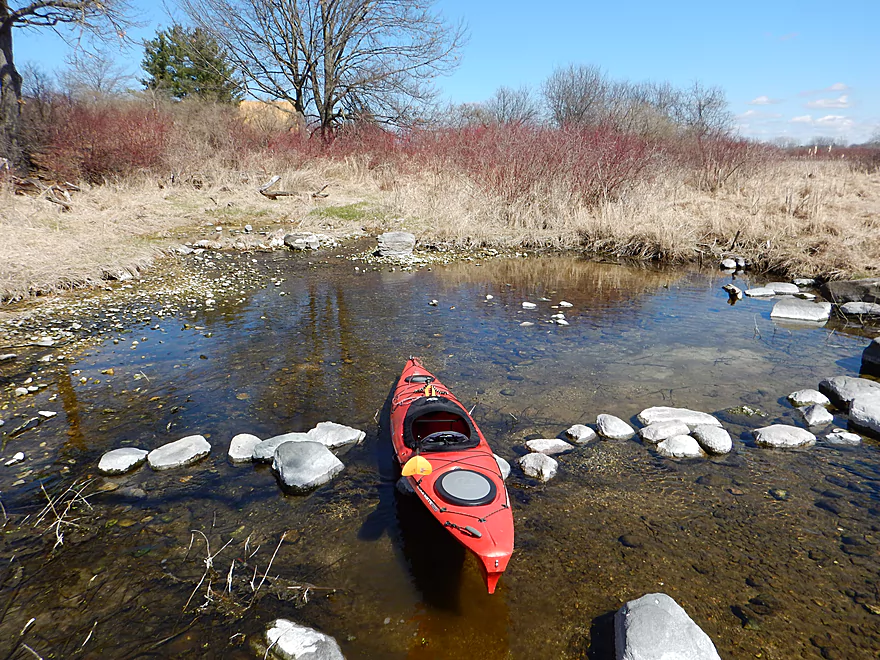 Put-in:
The Jenni and Kyle Preserve (off Post Road)
Take-out:
Lake Farm County Park (Lake Waubesa)
Time:
3 hours 41 minutes (3 hours would be more typical)
Gradient:
0.5' per mile (slow)
This is a newer water trail located south of Madison that is a favorite with locals.  It's a simple creek paddle though an open wetland but is pleasant, with great water clarity and abundant wildlife.
Despite being next door to Madison, much of the creek corridor is undeveloped.  There are a series of parks (city, county and even a new state park) that flank the creek and provide options to explore the Nine Springs area by foot, but the best experience is by water.
What makes "Nine Springs Creek" special are the springs.  I do not know where they are all located, but I found four and marked several on the map.  The first spring is by the "Jenni & Kyle Preserve", but this has been dammed to create a public fishing pond.  This is unfortunate as it obscures the bubbling springs and creates a lot of pond weeds. 
The second natural spring is located east of Syene Road and was the highlight of the trip.  When the creek forks, go left!  Here you'll see crystal clear water and a very active underwater volcano chain bubbling new water through the sand and into the watershed.  Sometime gas bubbles would float up to the surface as a neat effect.  If you skip ahead to 45 seconds into the video, you will see this.  There is another spring east of Hwy MM that you can paddle up to, but this is relatively uninteresting, as is the nearby inland spring in Indian Springs Park.
A popular take-out option is at the Moorland Road bridge, but if you disembark here it will be a short trip.  The next mile and a half runs by the Madison sewage plant  where the creek really opens up.  The mouth empties into Upper Mud Lake right by the Beltline.  I think there is a nearby boat ramp by Lottes Lane (next to Rutabaga), but I chose to paddle the extra mile though Mud Lake and to Lake Farm County Park off Lake Waubesa.
Put-in:
There are a number of put-in options, but I chose to launch from the "Jenni & Kyle Preserve", which is a county park located west of Syene Road.  The advantage of this access spot is that there is good parking, no fees (that I could see) and it is secluded (always handy when locking bikes and boats).  There is an outhouse which is open seasonally (which is not March).  The downside of this option is you have to drag your boat 850′ south along a grass trail to the water. 
If you don't mind facing some log jams, you might be able to put in further upstream at the Nevin State Fish Hatchery.
A popular put-in is at Syene Road.  This is a very busy road with a small area to pull off on, but it is an option.
The most popular put-in is an established canoe launch by the Hwy MM bridge.  A good option, but to me this cuts the trip a little short and leaves off the best part (more on this later).
Take-out:
Lake Farm County Park is located on Lake Waubesa and is a good take-out option.  There is plenty of parking, an outhouse and established boat ramp.  Do note this is a fee area that is regularly patrolled, so you must purchase a Dane County park sticker or pay seven dollars at the self-pay station for a daily pass.
A more popular take-out is off Moorland Road which is an established canoe landing.  This park has good parking, outhouses and also requires a Dane County Park Sticker.
Shuttle Information:
I don't believe there are any nearby liveries.  However, this makes for a fantastic bike shuttle.  Much of its 4.8 mile length can be done along the paved(!) "Capital City Trail".  Do note, this trail requires a state trail pass which can be purchased at most state parks.
Hazards and Log Jams:
No hazards nor log jams.  This is a great paddling option for beginner paddlers.  "Friends of Capital Springs Recreation Area" deserves a lot of credit for clearing the creek of obstructions and establishing canoe landings.  Do be mindful of wind direction and speed, as the end of this trip will be on exposed water.
Note, Syene bridge must be portaged which was easy when I did it, but a comment from a reader (see below) noted this was now somewhat mucky.  Also another reader noted that the Hwy 12 tunnel could be short in high water (see notes in comments).
River Depth, Navigability and Current:
Creek levels stay relatively stable because it is located in a wetland.  I doubt it ever gets too low nor too high to paddle.   There is a shallow section by the first natural springs and during extremely low levels, you might not be able to paddle up to this.
There is little current, but it is noticeable and appreciated.
Noteworthy Wildlife:
This was a great trip for wildlife.  Many geese, ducks and cranes (several of which seemed to be eating mice).  Also a painted turtle, several raptors, numerous songbirds, a crayfish, a large flock of loons, four muskrats and the highlight was seeing a pelican on Upper Mud Lake. 
Other Paddling Options:
Nevin State Fish Hatchery to Jenni & Kyle Preserve: 1.2 miles. A theoretical option.  Put-in might be questionable and logjams might be an issue.
Jenni & Kyle Preserve to Syene Road: 0.25 miles. A short simple section.
Syene Road to Hwy MM Landing: 1.0 miles. A neat stretch with some amazing natural springs, but Hwy 14 might be tricky to get under for bigger boats in higher water (reviewed here).
Hwy MM to Moorland Road Landing: 2.0 miles. A good stretch (reviewed here).
Mooreland Road to Mouth: 1.4 miles. More open but still a nice stretch (reviewed here).
Yahara River Take-out Options:

Mouth to Lake Farm County Park: 1.5 miles.  An open water paddle on Mud Lake and Lake Waubesa (reviewed here).
Mouth to Lottes Park: 0.3 miles. If you paddle north under the Beltline, you can take out at Lottes Park (close to Rutabega).
Additional Yahara adventures:  See my previous review which has an overview of almost all access options.
Trip Map
Overview Map
Video
Photos
20 Comments to "Nine Springs Creek"