Crystal River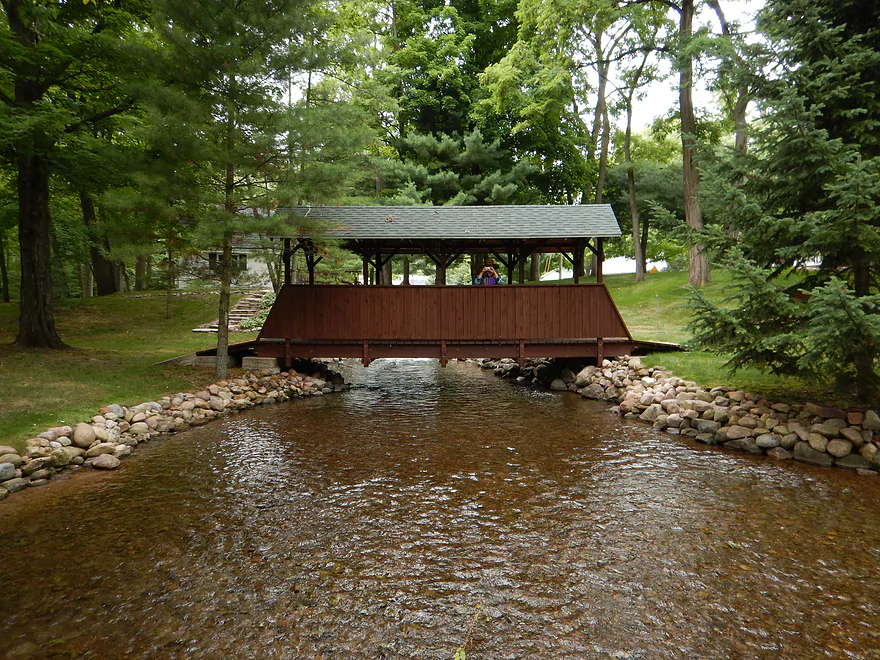 Put-in:
Marl Lake Boat Launch
Take-out:
Shadow Lake Road Bridge
Time:
6 hours 7 minutes (atypical....expect 4-5 hours)
Gradient:
Lake section negligible, river section 5' per mile
A must paddle for southern Wisconsinites!  This is actually a two-part trip that can be split in half.  The first four miles run through the terrific Chain O' Lakes and the second half consists of small river paddling with clear, riffly water and (for once) tasteful bankside landscaping.
Both sections are five star prospects by themselves.  I'll start with the Chain O' Lakes and a little background first.  It's located perhaps halfway between Stevens Point and Appleton and just south of the Waupaca River (which it joins shortly, as this is not a long river).  The headwaters of the Crystal River are really this chain of roughly 22 spring-fed lakes.  What makes this lake chain unique is the terrific clarity, water quality, and unique turquoise color caused by the mineral composition (called marl) of the water (the DNR has a better explanation). 
There are three clusters of note when it comes to the Chain O' Lakes.  The first cluster is the northern lobe, from Otter Lake down to Long Lake.  While most of these are "marl lakes," they aren't great prospects for paddlers because the area has been way over-developed and powerboaters are a serious nuisance.  Might be worth checking out on a non-summer weekend, but this shouldn't be your first priority.  The second cluster of note is the lake cluster by Hartman Creek State Park, which is nice and peaceful but not too exotic.  Two of the Hartman Park lakes are "fake" (dammed flowages) and these lakes, while without powerboaters and with good water quality,  don't appear to be marl lakes.  More on Hartman Creek State Park later…  The third cluster is the chain to the east of the park and this you want to check out, with "Marl Lake" being the crown jewel.
The put-in options for Marl Lake are more complicated than they should be.  There is a major livery (Ding's Docks) that puts in at Hwy Q, but that is at the heart of the powerboat hornet nest and you would be putting in too far north to practically tag the western cluster of lakes and the Crystal River to the east in one trip.  We put in at the southern boat launch of Marl Lake…but this launch has no parking–as if it is designed for bike shuttlers! (or the local livery company…)  Think you can just park on the road?  Nope…there are no-parking signs everywhere, which is very annoying.  You pretty much have to park at Whispering Pines (a state park access) and hike 2400′ back to the landing.  Morrall Films (their video review was a big inspiration for this trip), decided to use the Whispering Pines parking lot and hike the local trail to access a public dock on the north end of Marl Lake.  Unappetizing option, as you would have to drag your boat 900′ over concrete and down steep steps to reach the water.  This trail does, however, have the only public facilities on the lake.  A third option is to not put in at Marl Lake, but put in at the public launch on Knight Lane bridge, which should have good parking and has a good launch area.  But to check out Marl Lake (which you should do), you would have to backtrack, which would add a half mile to your trip.  You could (and a lot of people do this), just do Marl Lake to Beasley Lake as one big loop, which would be a nice no-fuss paddle.
From Marl Lake to Shadow Lake Road is a good bike shuttle–just five scenic miles on a mostly speed-controlled road that is relatively flat and without gravel. 
Getting back to the lake itself…  Marl Lake is quite a treat, with terrific water clarity and a wonderful Caribbean turquoise color.  The aquatic plants are striking, as the clear water affords a rare opportunity to see the entire plant both above and below the surface.  Fish are also easy to spot and fun to track in the clear water.  The lake is actually quite deep, with a maximum depth of 59′.  Humans are a bit of an issue on this lake, so it might not be a bad idea to visit during an off time, but the lake is no-wake, which is very nice (unfortunately, powerboats are allowed…only Hartman Creek State Park prohibits them).
Marl then connects to Pope Lake via a hidey connecting creek.  Pope is not as turquoise, but a great lake, with no development, attractive pine banks, nice aquatic plants and terrific views of the lake bottom through the clear water.  Pope then morphs into Manomin Lake, which then, via another nice connecting channel, connects to Knight Lake.  Here is where the alternate launch is.  Knight then flows into Lake Orlando where you'll come to Beasley Creek,  the "gateway" to the main chain of lakes.  The creek is really quite striking, with crystal clear water and attractive gravel substrate.  The shoreline is developed but done so in a somewhat tasteful way with attractive block walls.  One of my favorite sections of the trip, but with one caveat:  you will have to walk it (most likely).  It is super shallow and there was quite the convoy of kayakers walking their kayaks up and down this connecting corridor.  This is super easy though and not that far.  It is actually a good thing that the creek is so shallow as it keeps the invasive species out (powerboaters) that lie in the circus to the east.
Now for the low-light of the trip.  Long Lake (and by extension, Beasley Lake) were lousy paddling experiences.  The water clarity dropped (still not bad and a bit turquoise).  But the big issue was the sheer number of motorboats on the lake.  They are loud and fast and create a huge amount of wake.  Long lake is "long" (about a mile) and is not super interesting  in and of itself–kind of just open, boring and packed to the teeth with shoreline development.  If you are not careful you could be capsized by the wake of some of these boats, so you may want to hug the west shoreline for safety.  Worst part was loud thug music that could be heard across the lake (and into the river).
After finally escaping the madness of Long Lake, we finally came to the Crystal River proper–a wonderful river that retains the good water quality but is quite shallow and riffly.  For the most part, the Crystal is a pretty stable river because it is largely groundwater fed…but it can run shallow during dry times.  We ran this at a low time (160 CFS or 1.56′), but I only had to get out for Beasley Creek, and never for the main channel.  We were worried when scouting the town of Rural, as the water level looked low, but this was deceptive because of the clarity.  Canoers and deeper drafting boats might have a rougher time and they would probably want to go during a higher time.  Note, the gauge I use is on the Waupaca, maybe 3 miles to the north and on a slightly larger flowing river…but this is deceptive, too, as the Waupaca is more volatile then the spring-fed Crystal, so keep this in mind.   If in doubt, you could call the local livery (715-258-2612), but the livery reviews said they didn't like to be asked about water levels!
This upper mile of the Crystal is again very nice, with attractive tree canopies, minor boulder gardens and minor rapids.  Nothing to worry about here.  Soon, you'll encounter Hwy 22, with a choice of two tunnels.  The right tunnel is over a dam that would be a nasty ledge to go over.  The left tunnel is where you want to go (and there is a gaudy Ding's Docks sign above that tunnel to alleviate any confusion).  Here you could in theory take out or put in to split the trip in half (as suggested by canoe author Mike Svob).   The river channel after the north tunnel is a fenced off mill race, which forces you to get out of the water and use the small portage trail to join the south channel below the dam.  All pretty easy.  At the bottom of the portage path, we encountered a family that had set up lawn chairs in the river by the right tunnel (the bad one with the dam).  They didn't say…but it sure looked like they were seated waiting to see hapless paddlers who accidentally went down the right tunnel by mistake.
The next section of the river, through the little town of Rural, was my favorite.  The banks are lined with small, rounded, light-colored rocks, but done so in a tasteful organic and "feng shui" manner, with occasional stone bridges.  Even the outdoor knick-knacks were tasteful, with clever touches like a mini (and working) waterwheel, a 55 mph speed limit sign (for paddlers), and a paddle with a written warning about alligators (and with a big bite-mark in it).  The flowers and plantlife were topnotch as well.  Normally, humans don't improve a shoreline…but this is one of those rare, rare, rare circumstances where it actually worked.
Soon the fast current will slow and you'll enter Junction Lake (a natural lake, for once) and this is a nice, pleasant paddle.  The next mile of river paddling  is terrific, with attractive rocks and the best rapids paddling on the river.  Never too dangerous (because of how shallow the river is), these are quite fun, but a tad bumpy.  One of the most significant runs will be by the Hwy K and Rural Road intersection.  The first section isn't too bad, but requires maneuvering and is quite bumpy.  At the bottom there were people everywhere (this is a public access area) and many were actually sitting in the river in lawn chairs, drinking their beer and smoking their cigarettes while they watched paddlers and tubers bump down the rapids and occasionally tip over.  One local was nice enough to warn me that the next set of rapids under Rural Road was severe and a lot of paddlers had flipped on them.  The key was to stay to the left as there were rocks on the right that you didn't want to land on.  Still pictures were hard to get on this section, but some of the rapids are viewable in the videos below.
The following mile is very nice, but the Crystal is slowly starting to lose its magic.  Tubers are a problem here (although we met some who were actually not too drunk and loud which was a nice surprise).  Prior to the Parfreyville Road bridge, you'll see a massive take-out area, with not one, not two, but three gaudy, large "no trespassing" and "customers only" signs (this is for Ding's Docks' southern unit) and happily the river is free of their customers after this point.  A quick word on Ding's Docks and hopefully this doesn't sound too negative.  The reviews for this livery are not flattering.  The main issue seems to be the "unique" boats they use.  They look like homemade fiberglass canoes, but they are small, tippy and draft deep.   Customers complained about not being able to run the river because of their low clearance, and that the boats kept filling with water.  These are rickety boats and I don't recommend using them.  In fact, we saw some paddlers on this trip who were really struggling with this "bathtub" and hopefully, in the near future, Ding's will modernize to kayaks.  Also, if you use their livery, be careful of their routing…pay attention to my map (bottom of page) as it will show the good areas, but this being a business, Ding's will probably try to convince you to paddle what is convenient for them but not for you (the advantage of car shuttling or bike shuttling).
Some of my favorite Ding's Dock quotes:
After Ding's, the river opens up and takes on a very different character.  There used to be a flowage lake here, but a couple of years ago the dam was removed.  This section is going through typical dam-detox as it flushes out the excess dam silt built up over many years.  As this gets washed away, the gravel bottom should be reclaimed and it should be a very nice subsection of the river in the future.  The River Alliance used to do a great job of promoting dam removal in Wisconsin (they don't as much anymore, unfortunately), and this was one of the dam removal projects they were advocating.  Really good organization that has worked well with local governments to clear up the many pro-dam myths that are out there.
Plantlife was topnotch for this trip, with many nice aquatic plants, and wildflowers growing on the shore.  Bank quality was very good, with shady tree cover (quite a few oaks), but no log jam issues.  For animals, we kept our snapping turtle streak alive, as we saw three large snappers (next week's trip will have a snapping turtle, too!).  Some nice wild birds (like green and blue herons, and geese), some domestic animals (some kind of hybrid duck and a few chickens), and some domestic animals pretending to be wild animals–a white domestic goose was mingling with a big flock of Canadas and tried to fly away with them when we approached (which it couldn't do…).  A lot of crayfish on the river and small fish.  Also a lot of dragonflies, damselflies, clams, and snailshells.  Fortunately, biting insects weren't a major issue. 
Close to the Hwy K bridge, you'll see the remnants of the old dam.  The local government neglected to completely remove it…and there is a whitewater run over the remains.  Didn't look too bad…but the smooth dam ledge caused a hydraulic motion at the bottom which can be dangerous to paddlers, so we portaged just to be safe.  Not a great portage on the right bank…but manageable.  After the dam, you can take out at Nelson Park, which is a good option with facilities.  You would, however, miss some nice downstream attractions, with the first being a rustic old flour mill.  Very striking, the water wheel remains, but is in disrepair and the mill race has long been removed.  Soon after the mill, you'll paddle underneath an attractive covered bridge and will see a mini chapel on your left.  This complex is all part of the same private grounds and is very popular for weddings…all very nice.  The remaining mile is still nice but, again, more of the Crystal magic is lost.  A warning sign to paddlers about flying arrows from a nearby archery range and a "moose" in the weeds keep things interesting though.
Take-out is on Shadow Lake Road (northwest side of river left before the bridge).  Good take-out with nice parking.  No bathrooms though.  According to paddle author Mike Svob, the remaining two bridge access points before the Waupaca aren't great and he doesn't recommend them (don't know though).
So, all in all, a terrific trip that should be on your to-do list.  Again, the trip can be split into two, with either section being quite nice, but I do recommend combining them, as 8.7 miles isn't bad in fast current.  Be careful if doing a trip on the Crystal below our depth (the Chain O' Lakes would be fine).  Canoes and heavier boats should go at slightly deeper levels.  This is a high gradient river, so you probably don't want to go when it is too high (plus that covers up the water clarity).
As for other nearby options…  Again, don't know too much regarding the last couple miles of the Crystal to the Waupaca.  The Waupaca itself is a nice river which I recommend  (but do like the Crystal better).  You could also paddle the north end of the Chain O' Lakes, but this can be very busy.  Here is a blog that covers some of the upper lakes.  Way to the west, you can, of course, paddle the Hartman Creek State Park lakes–not exotic but peaceful and pleasant.  Don't think you can paddle between the lakes like you can to the east.  There are dams on two of the lakes and Hartman Creek (which connects most of the lakes) doesn't seem big enough to paddle.  The one exception might be after the last dam on Hartman Lake.  In theory, you could put in at  the beach, paddle east and portage the dam (easy) and enter the creek below.  The creek is small here but looks to be barely navigable.  Water definitely looked very nice here and this might have some of the magic of the lower sections.  I don't know though.  Log jams could be a serious issue as could surprise rapids.  I thought I saw a log jam from the dam and also thought I heard some rapids, so this would be quite the gamble for a canoe route.  If it worked though, you would make it to Pope Lake which would connect with the rest of the Chain O' Lakes and the Crystal River.
Crystal River Overview:
Marl Lake South Access to Shadow Road:  8.7 miles. 

Marl Lake South Access to Knight Lane Landing:  0.5 miles.  Nice paddle through Marl, Pope & Manomin Lakes.
Knight Lane to Main Street:  3.4 miles.  More nice lake paddling, although Long Lake isn't as interesting.  Then the river starts which is very nice.
Main Street to Rural Road Launch:  2.1 miles.  Great section with some fun rapids.
Rural Road to Neslon Park:  1.7 miles.  A more open section running through a former flowage.
Nelson Park to Shadow Road:  1.0 miles.  Section with a unique old mill and covered bridge.

Shadow Road to South Park: 3.8 miles. Less frequented section and might be downed trees. Take-out is actually on Shadow Lake.
South Park to Mouth on Waupaca: 3.8 miles.  Downed trees might be an issue on this section.  One flowage and dam to contend with.
Waupaca Mouth to Harrington Road: 6.0 miles.  A long paddle on the Waupaca to reach the next access.
Note, there are additional trips that can be done on the upper Chain O' Lakes and possibly even on Hartman Creek itself.  See the overview map for more information.
Trip Map
Double left-click to zoom in and double right-click to zoom out.
View
Crystal River
in a larger map
Overview Map
Video
Photos
23 Comments to "Crystal River"