Otter Creek
Otter Creek is a small farm creek west of Madison.  While logjams plague some of its stretches, a few legs are surprisingly nice for paddling.
Trip Reports
Union Valley Road to Plank Road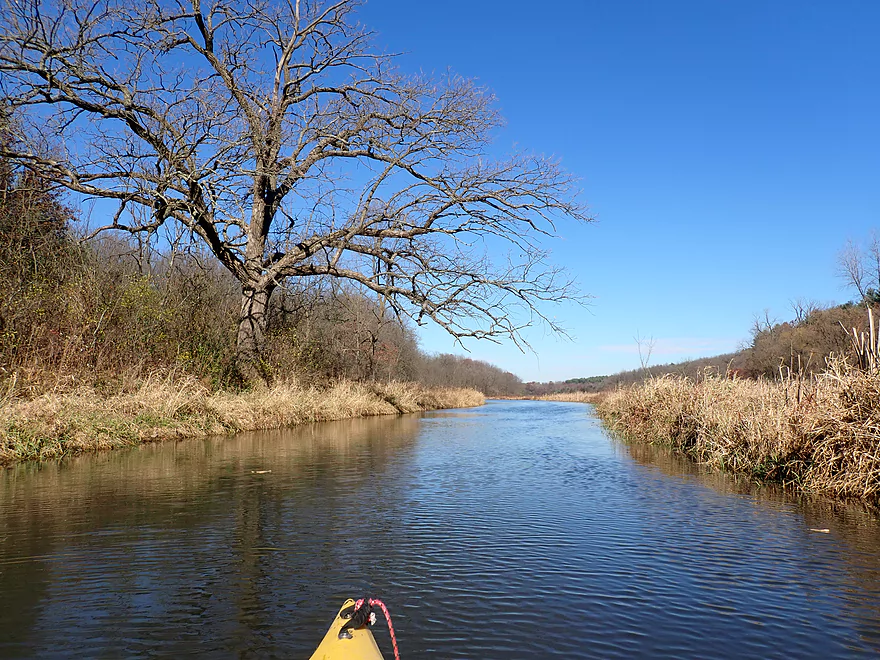 Date Paddled:
October 31st, 2020
Distance:
2.9 miles
Time:
Expect 2 hours
This was a combination trip that included parts of Upper Otter Creek and Blackhawk Lake.  Honestly it was a bit disappointing because of shallow water and strong winds.
Read More...
Hwy Q to Hwy II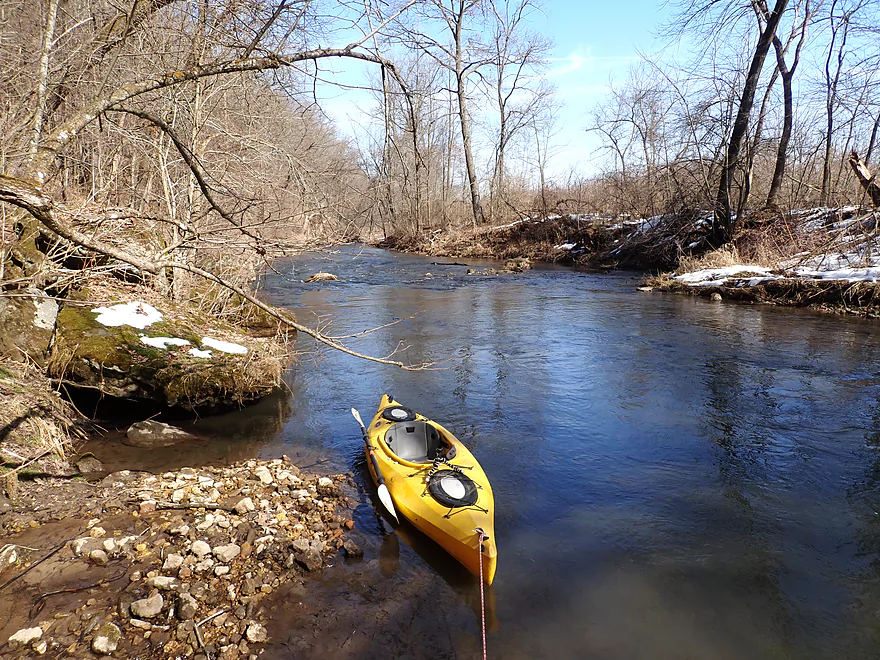 Date Paddled:
March 7th, 2020
Distance:
2.8 miles
Time:
1 hour 37 minutes
This was another "roll-of-the-dice" prospect that turned out better than expected.  Otter Creek is a somewhat obscure stream that does attract occasional trout fishermen.  As a paddling prospect it was surprisingly nice with clear water, light rapids and scenic bluffs.
Read More...
Overview Map
Detailed Overview
For additional information on access options, see my overview map.
Union Valley Rd (1) to Plank Rd:  2.9 miles.


Union Valley Rd (1) to Union Valley Rd (2):  0.7 miles.  Very tight, narrow and shallow section.  Unless there is very high water, this likely isn't viable.  There is one major logjam.
Union Valley Rd (2) to Cave Hollow Rd:  0.6 miles.  This is typically too low to be a viable paddle.  There are 2 logjams on this stretch.  Highlights include a beaver dam and some nice boulders.
Cave Hollow Rd to Plank Rd:  1.6 miles.  A flatwater paddle over Blackhawk Lake.  This is a scenic quiet lake surrounded by steep wooded hills.  Highlights include a rocky stretch in the northeast corner and a beaver dam in the northwest corner.  To continue downstream, a portage over a 30′ high dam is required but is not too bad.  There is an alternate access on the western shore.

Plank Rd to Hwy Q:  2.4 miles.  A neat creek prospect with attractive rocky sections, but very small.  Maybe four logjams, but they should be easy portages.
Hwy Q to Hwy II:  2.8 miles.  Good section with many light rapids and boulders reminiscent of Snow Bottom.  Bank erosion is an issue near the end.  No logjams.
Hwy II to Spring Valley Rd:  4.2 miles.  Maybe 5 logjams, but a good prospect.  Creek flows by a long bluff with the potential for multiple outcrops.
Spring Valley Rd to Hwy I:  6.0 miles.  Downed trees and tall mud banks start to become an issue.  Maybe 16 logjams.  If you can take out at Conway Road you may be able to avoid the worst of it.
Hwy I to Hwy 130:  2.0 miles.  More steep muddy banks.  Maybe 6 logjams.
Hwy 130 to Hwy C:  1.8 miles.  Mostly open, but heavily eroded with maybe 3 logjams.  Should be one nice outcrop.  Perhaps one difficult fence to paddle under by Hwy C.  Hwy C is a very difficult access because of the steep banks and farm fences.
Hwy C to Wisconsin River/Otter Creek Boat Landing:  2.9 miles.  A congested leg…maybe 7 logjams.
Nearby Guages
Black Earth Creek @ Black Earth
Videos
Comments
How did your trip turn out?

Questions or comments?

Feel free to leave your feedback.