New paddling blog for Northern Wisconsin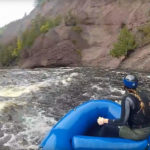 Riverdarter.com is a relatively new website that I highly suggest my readers checkout.  Really neat photography, video and guide information on some relatively unknown rivers.  My favorite review is of the Montreal River in which Jake and his group paddled through the canyons, in what has to be one of the most scenic parts of Wisconsin. 
How did your trip turn out?

Questions or comments?

Feel free to leave your feedback.
Be notified when future paddle reviews go live by subscribing!




Contact WisconsinRiverTrips.com