New Black Earth Creek landings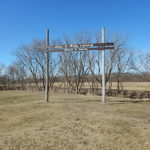 Ready for operation in 2017, two new landings on Black Earth Creek will give paddlers more great launch options.  The first landing will be located on the west end of Lion's Park in Mazomanie.  You used to be able to launch by the old creek bridge but it wasn't easy.  Plus the bridge has recently been completely removed by the Dane County Park Service as part of an upgrade process.  When you arrive at the park, just follow the signs and you can't miss the launch.  Special thanks to John Wick for his effort in setting up this landing (to which bears his name).
The 2nd launch is located in the village of Black Earth Creek on the south-east corner of Hwy 14.  This property is technically private and owned by The Shoe Box, but the owner has not only permitted paddlers to park and launch here, but he has also created a nice signpost marking the exact launch area.
Photo Gallery
How did your trip turn out?

Questions or comments?

Feel free to leave your feedback.