New Baraboo River Corridor Project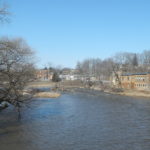 The Baraboo River Corridor Plan has been formed to promote and improve the Baraboo River for paddlers.  The corridor stretches from North Freedom to the city of Baraboo and some of the goals including improving access, a whitewater course, reducing erosion, and environmental cleanups. A new Friends of the Baraboo River group has been formed to help promote the project which you can join.
How did your trip turn out?

Questions or comments?

Feel free to leave your feedback.
Be notified when future paddle reviews go live by subscribing!




Contact WisconsinRiverTrips.com