Wisconsin River – Lower Dells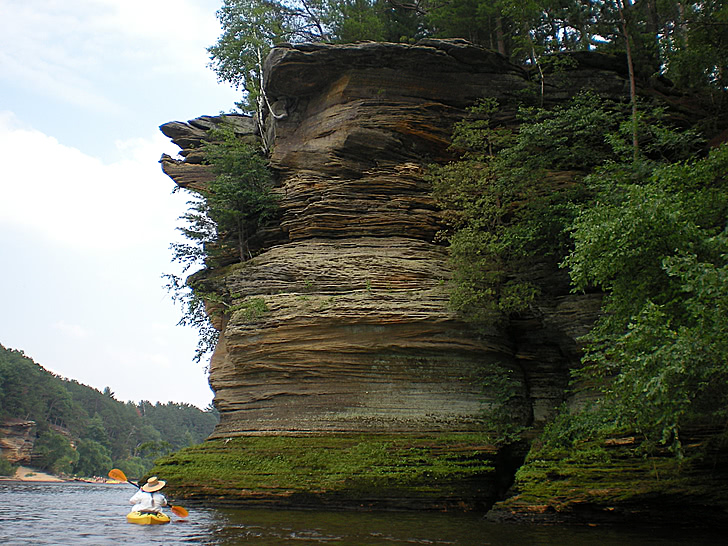 Put-in:
East of Mexicali-Rose
Take-out:
Indian Trail Landing
Distance:
6.4 miles
Gradient:
1.3' per Mile
The best place to start a trip on the Lower Dells IMO is to just put in below the Kilbourn dam on the west bank. Here is where Rivers Edge Resort drops off kayakers/canoers/tubers (they do rentals/shuttles). It's not a proper boat landing but rather a specialized tour-boat landing with a rail system…so probably won't work for big boats, but is perfect for kayaks. Parking is free. The next three miles will be pretty scenic as you go through the cool areas of the lower Dells. Word of caution…this area can be busy in the summer. To avoid the power-boats, megaphones, and wake issues…consider travelling this section very early in the morning, on a weekday, or in the spring or fall. The tour jetboats are quite dangerous, as the wake they kick up is enormous and will flip you if you don't take their wake head on (the boats can travel up to 50 mph and the boats are huge). Some jetboats will slow down for you (one driver announced on his speaker that kayaks were their kryptonite. So I suspect their may be some internal rules or even regulations determining how fast these monsters can buzz kayaks, but if there are, most ignore such rules. There boats are also serious hazards on the upper Dells as well. And because they are so fast, they can finish their trips/loops very quickly and you'll end up seeing the same jetboat numerous times. After you pass the breach on your right you'll come up on your first landing options. The new Newport landing will be just after Dell Creek and should be done by 2012. Should be very nice but costs the same.  (RIGHT next door is the private Rivers Edge Resort landing. They do shuttles and rentals…although they do charge money to use their landing.)
Taking out after Dell Creek shortens the trip too much IMO and you miss the Rocky Island Region (must-see). Keep floating around the big bend and then you'll encounter the Rocky Island section. Very cool…there are little caves and coves you can kayak in. Make sure to check out all the little islands in the area. Again, tour boats can be a problem…so be vigilant. There is a sneaky private landing on the right shore (west shore) but this is completely private and I haven't even included it on the below map. About a half-more mile and the lower Dells unofficially ends. River traffic calms down considerably as there are some shallow areas (minor-minor riffles in low water) that scare away the big boats and make this pleasant for kayaks. While nothing special, this section has nice sandbars and woods. You'll come to a big bend where the river arches sharply to the right and here you can see evidence of the homes caught in the 2008 flood. Keep traveling a couple of miles to take out at the Indian Trail landing. This is difficult to spot, as it is blocked by an island and has to be accessed from the downstream side, but this isn't too bad. Right across from the Indian Trail public landing is a public landing (more full boat ramp) on the east shore that I suppose you could use, although I think the shuttle route on the Sauk County side is more direct.
Webmaster's Update:  One of the access points may costs money.  See comments below for details?
Other Wisconsin River Trips:
For details on access locations, see my Wisconsin River Overview Map.
Castle Rock Lake to the Lemonweir River:  10 miles.  An ok section.
Lemonweir River Mouth to the Two Rivers Landing:  7 miles.  The first half of the classic Upper Dells.
Two Rivers Landing to Blackhawk Island:  6.5 miles.  Second half of the classic Upper Dells known for its fantastic outcrops.  Note, the Blackhawk Island landing is no longer accessible without special permission from the local 4H club.  
Black Hawk Island to Wisconsin Dells Dam:  2.0 miles.  More nice sandstone outcrops.  You can take out at a public ramp off Indiana Ave or portage the dam and take out SW of the dam by a launch off Wisconsin Dells Pkwy/Hwy 12.
Dells Dam to Indian Trail Pkwy:  6.4 miles.  Classic Lower Dells section.
Indian Trail Pkwy to Pine Island Boat Ramp:  9.8 miles.  Few paddle this stretch as it isn't as interesting.  But…it does have a good concentration of sandbars and few competing paddlers for them. 
Pine Island Boat Ramp to Portage/Hwy 33 Access:  6.0 miles.  Not an elite section that is lacking in cliffs and bluffs.  It does have good sandbars though.
Portage to Baraboo River/Thunderbird Road:  5.2 miles.  A good section with great sandbars, but can be crowded in the summer.
Baraboo River to Dekorra Park:  2.5 miles.  River splits into several channels which can be fun to explore.
Dekorra Park to James Whalen Memorial Park:  6.6 miles.

Dekorra Park to Camp Rest Park:  5.1 miles.  A terrific section with rock outcrops, large island deltas, hidden sloughs, and nice sandbars.  Unfortunately this part of the river is popular with motorboats and jet skis which can be a plague.  Multiple alternate access options.
Camp Rest Park to James Whalen Memorial Park:  1.5 miles.  Not a great section because of the open water paddling, powerboats and big waves.  The west shore though does have nice outcrops.

James Whalen Memorial Park to Prairie du Sac Dam:  14.5 miles.  The river turns into "Lake Wisconsin" here…an inadvisable section due to the amount of open water paddling required.  There are many intermediate access options.
Prairie du Sac to Mazomanie:  8 miles.  An ok section of the Wisconsin but lacking in sandbars. 
Mazomanie to Arena:  9.7 miles. A great section with nice sandbars and scenic bluffs. 
Arena to Hwy 14:   8.0 miles.  Good section with a high concentration of sandbars.  One of the more popular legs on the Lower Wisconsin.
Hwy 14 to Hwy 23/Spring Green:  2.2 miles.  Neat mini-section with sandstone outcrops.  Very popular in the summer.
Spring Green to Lone Rock:  7.4 miles.  Another fine sandbar/bluff section with some nice rock outcrops too.
Lone Rock to Gotham:  8 miles.  This stretch has super impressive rock outcrops and sand banks.
Gotham to Muscoda: 7 miles.  Cool limestone rock outcroppings.
Muscoda to Port Andrew:  7 miles.
Port Andrew to Boscobel:  9 miles.  Wooded islands start to get massive.
Boscobel to Woodman/Big Green River:  9 miles and start of the less paddled stretch of the Lower Wisconsin.  Far fewer sandbars from here to the mouth, but good bluffs and side sloughs to explore.
Woodman to Adiantum Woods State Natural Area:  3.9 miles.
Adiantum Woods State Natural Area to Millville:  3.8 miles.
Millville to Bridgeport:  5.3 miles.
Bridgeport to Wyalusing (the mouth): 9 miles.
Trip Map
Overview Map
Video
Photos
Share
13 Comments to "Wisconsin River – Lower Dells"
How did your trip turn out?

Questions or comments?

Feel free to leave your feedback.