Popular Fox River trail closed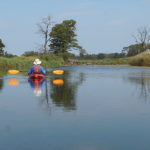 For decades the Marquette Segment of the Ice Age Trail allowed hikers to trek from the Portage Canal, 4 miles north to the Governor's Bend Park.  It was a neat trail because it afforded scenic vistas of the Fox River to its east.  Sadly, one of the new property owners along the trail decided they didn't like the idea which resulted in the entire trail being shut down.  Hopefully this can be re-opened at a future date.
4 Comments to "Popular Fox River trail closed"
How did your trip turn out?

Questions or comments?

Feel free to leave your feedback.