Andy's Wisconsin River FKT Thing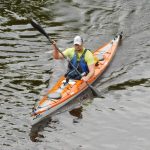 Starting June 3rd, Andy Nevitt will attempt to set a record for the fastest end-to-end paddle of the Wisconsin River.  The goal is to do 430 miles in 4-6 days which is a blistering 70-100 miles each day and will include night paddling.  His exact location will be posted on Raceowl.com and he'll post updates on his Facebook page.  Andy previously raced in the Missouri River 340 and came in second solo at the inaugural Mississippi River 140 race in Minnesota, with a finishing time around 18 hours, 30 minutes.  That's 140 miles in 16 hours, in a mostly overnight race with 6 portages, several of which were around a mile long.
—
On June 8th Andy completed his trip and set a new solo record of 5 days, 2 hours, and 19 minutes.  He posted a PDF summary of his trip with photos that I highly recommend reading.
3 Comments to "Andy's Wisconsin River FKT Thing"
How did your trip turn out?

Questions or comments?

Feel free to leave your feedback.